How the Kansas City Chiefs can take down the Cincinnati Bengals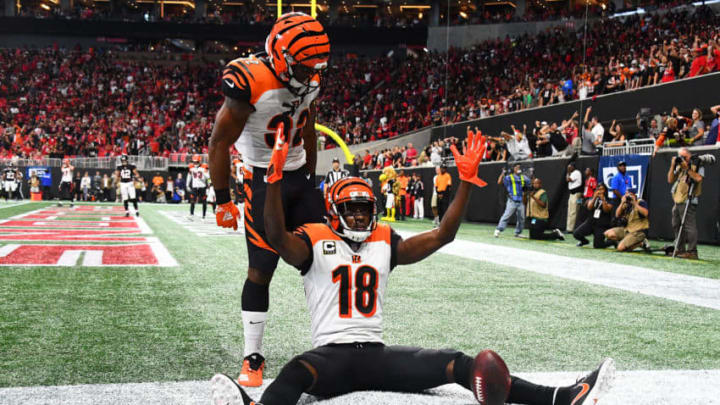 ATLANTA, GA - SEPTEMBER 30: A.J. Green #18 of the Cincinnati Bengals celebrates the game winning touchdown during the fourth quarter against the Cincinnati Bengals at Mercedes-Benz Stadium on September 30, 2018 in Atlanta, Georgia. (Photo by Scott Cunningham/Getty Images) /
KANSAS CITY, MO – OCTOBER 7: Orlando Scandrick #22 of the Kansas City Chiefs is cheered by teammates after defending a pass during the second quarter of the game against the Jacksonville Jaguars at Arrowhead Stadium on October 7, 2018 in Kansas City, Missouri. (Photo by Peter Aiken/Getty Images) /
Defensively:
Linebackers must be disciplined, yet aggressive. (Watch)
Everyone knows how bad the Chiefs have been against the run. Now, I expect the Chiefs to get exploited if they do not fix it early. Anthony Hitchens and Reggie Ragland will need to attack downhill, but also be wary of misdirection plays.
On this play, the Bengals run a cutback play. The offensive line flows left, prompting the Steelers defense to run with it. This creates an opening for Mixon to gash through for yet another big gain. This will be yet another challenge for the struggling defense.
Protect the sidelines from big wide receivers. (Watch)
Needless to say, the Bengals receivers are talented. What makes them unique is how enormous each of their catch radiuses are. The wide recievers are dangerous anywhere on the field, but have had a lot of success on the sidelines. This will be an interesting test for the Chiefs cornerbacks who have played well to this point.
On this play, the Bengals run a go route with AJ Green. With no help over the top, Green flows to the sideline making it impossible for the defender to gain ground. With great seperation, Green catches the pass in stride.
The defense must flow to the ball quickly. (Watch)
I feel sad saying this over again, but the Chiefs linebackers are playing soft. I have never seen the linebackers look hesitant and wait for runners the way they have looked this season. If they hesitate against Joe Mixon, he will destroy them.
On this play, it is just a quick handoff to the weakside. The Steelers are slow to rotate and ultimately pay the price. On any play like this that the Chiefs linebackers are hesitant, they will see the same result.