KC Chiefs have exciting postseason benchmarks within reach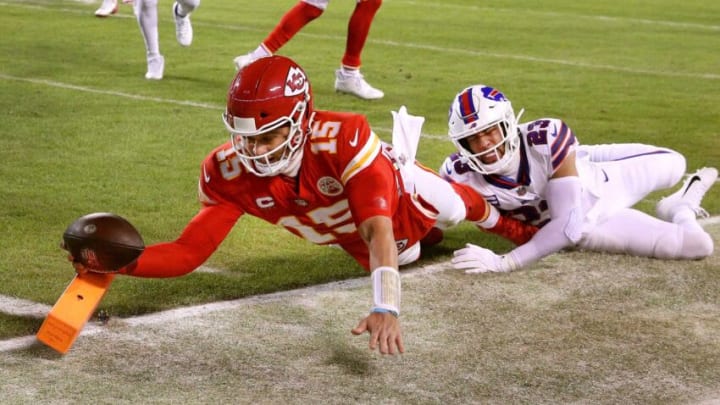 Chiefs quarterback Patrick Mahomes dives into the end zone for an 8-yard touchdown against the Bills Micah Hyde. The Chiefs won 42-36 in overtime.Ag3i5513 /
With the KC Chiefs set to play in the divisional round, what are some playoff benchmarks that the team and players could hit this year?
The Kansas City Chiefs are set to make their 2022-23 playoffs debut this weekend in the divisional round and are the current favorites to take home the Lombardi Trophy in Super Bowl LVII. But to win at all, they have to win three postseason games, which gives them and their players ample opportunity to set career playoff benchmarks. These range from the team climbing up the ranks in all-time playoff wins to surpassing NFL legends in several vital statistics.
Ever since Patrick Mahomes became the starting quarterback for this franchise, the Chiefs have been Super Bowl contenders and have hosted every single AFC Championship Game, winning two. Mahomes and Travis Kelce have also shattered numerous franchise records and are on their way to making NFL history as well.
Without further ado, in no particular order, let's review potential benchmarks that the Kansas City Chiefs can set this postseason.
The Kansas City Chiefs
Tied-7th all-time in Super Bowl victories
Current Total: 2 (Tied with Tampa Bay, Baltimore, Indianapolis, Miami, and LA Rams)
Benchmark: 3 (Las Vegas, Washington, and Denver)
This one is low-hanging fruit but I had to include it. With a successful playoff run, the Chiefs would then be tied for the 7th most titles in the Super Bowl era. They would also become the 10th team in the NFL to win a third Super Bowl.
15th most playoff wins in the Super Bowl era
Current Total: 16
Benchmark: 17 (Seattle)
I realize that "15th all-time" doesn't sound too impressive considering there are 32 teams in the league, but it should at least be acknowledged. Winning playoff games is incredibly difficult in this sport, and seven teams have yet to win their 10th, so potentially hitting 19 this year would be impressive when you put it in perspective. If they advance to Super Bowl LVII, they will move into 15th all-time, or tied for 15th if Buffalo wins two playoff games. If they win Super Bowl LVII, they will be in sole possession of 15th or tied for 14th if the Eagles go one-and-done. This is also assuming that Seattle doesn't make the conference championship.