Danny Shelton brings thicc presence to Chiefs defensive front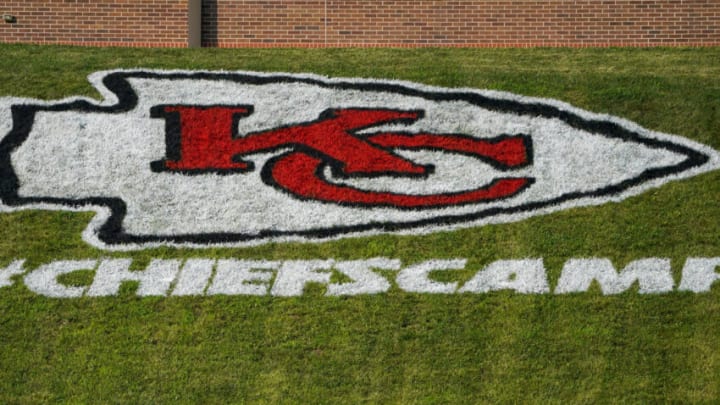 Jul 28, 2021; St. Joseph, MO, United States; A general view of the camp logo during training camp at Missouri Western State University. Mandatory Credit: Denny Medley-USA TODAY Sports /
The Kansas City Chiefs officially added defensive tackle Danny Shelton on Monday and he was looking as big as advertised in his first practice.
The Kansas City Chiefs took the field on Monday for training camp practice number 14, their first since the team's 19-14 loss to the Chicago Bears in the preseason opener. In attendance was the newest member of the KC defensive front and Hall of Fame thicc boi, Danny Shelton.
Shelton will bolster a defensive front that looked surprisingly strong on Saturday against the Bears. Khalen Saunders flashed some exceptional speed, Taylor Stallworth showed he is not here to collect free gear, but to collect a roster spot with a couple of tackles and half a sack in 39 snaps, and Chris Jones obviously did Chris Jones things.
In the not-so-distant past, the front four felt like an Achilles heel for the Chiefs re-tooled defense heading into 2022. The loss of Jarran Reed and the lack of Brett Veach overextending for players like Calais Campbell, Ndamukong Suh, or Linval Joseph had many in the Kingdom concerned that the Chiefs would enter 2022 with a soft spot in the heart of the defensive front.
As is the case with most social media reactions, it would appear that the rumors of the Chiefs defensive demise were premature. And that's without seeing Shelton in action yet.
Shelton brings, if nothing else, an immense physical presence to the Kansas City front 4. At 6'2″ and 344 pounds, Shelton is a load to move for any interior offensive lineman. He'll be entering his 8th season in the NFL with the Chiefs in 2022, after being drafted number 12 overall by the Cleveland Browns in 2015 out of the University of Washington.
Shelton has and will continue to be predominantly effective against the run. It's hard for any defensive tackle not named Aaron Donald or Chris Jones to rack up attractive sack numbers, Shelton included. In his seven years in the league, he has registered only 6 sacks. Half of those came in his two seasons with the New England Patriots, where he won a Super Bowl in 2018.
Who was Shelton's defensive line coach during his first, most successful season in New England? Kansas City Chiefs linebackers (and former defensive line) coach Brendan Daly. There is some familiarity for Shelton in Kansas City with Daly on staff, and he's a welcome addition to a roster that all of a sudden appears—dare I say?—deep at defensive tackle.
The Chiefs will be able to deploy Shelton as a change of pace for opposing lines and predominantly, as he's been used in the past, as a run stopper. Opposing offensive guards and centers will have a unique experience blocking players like Tershawn Wharton and Chris Jones who can abuse you with size and quickness. Derek Nnadi, Saunders, and Stallworth bring an entirely different set of experience and tools to the table in how they can attack an interior offensive line.
Then you have to deal with a face full of 345 pound bull rush. I don't think anyone in the league would look forward to catching these huge mitts to the side of the helmet.
Shelton will almost certainly be used in sub packages in Steve Spagnuolo's defense this season. The highest snap count percentage he's racked up in his career was in 2016 with Cleveland where he was on the field for 67% of the Browns defensive snaps. In 2018 and 2019 with New England he was on the field for just 43% of the teams defensive snaps, in 2020 with Detroit he saw 59% utilization, and last year in Detroit he was on the field for just 29% of the Lions snaps.
This is not surprising and not necessarily cause for concern. With a player of Shelton's age and size you would expect his snaps to be more limited. Ideally you want to get the most bang for your buck from a player like Shelton, and having him on the field for long sustained drives by opposing offenses is not the answer. Expect Spags and new defensive line coach Joe Cullen to feature Shelton in heavy formations against teams who operate under more of a run first offensive system. You will also almost certainly see Shelton in short yardage and goal line packages.
Shelton will not be someone who comes in gets you 10 sacks, nor will he play every down. However, he will bring a much-needed depth piece to the Chiefs defensive interior. The ability to rotate players and create confusion up front for opposing offenses is something that will benefit the Chiefs defense at every level, and he could be a catalyst to a much improved 2022 campaign for Steve Spagnuolo and the team's defense.