Imagining a minor-league system for Kansas City Chiefs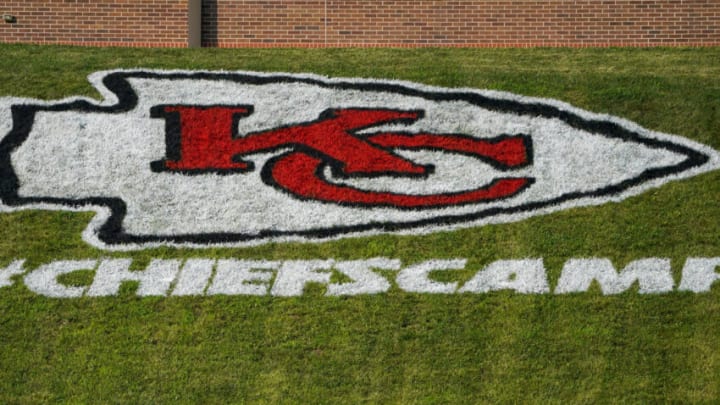 Jul 28, 2021; St. Joseph, MO, United States; A general view of the camp logo during training camp at Missouri Western State University. Mandatory Credit: Denny Medley-USA TODAY Sports /
In a fever dream, let's look at how a football minor-league farm system would look for the Kansas City Chiefs.
Is it possible? Yes. Is this ever going to happen? No. But, it is fun to dream about what a farm system would look like for the Kansas City Chiefs.
Football fans have been looking for more football options for years. While the fall is packed with NFL and college football, the calendar's remaining months lend opportunity for football alternatives. However, no consistent alternative has emerged for a large fanbase. The Fan Controlled Football League has an interesting approach but is not for serious football fans. The XFL is the gimmick football that never dies from wrestling icon Vince McMahon. The USFL came back in 2022, but a lack of marketing has made it dead on arrival. Something has to stick, right?
Let's look at an option that, while improbable, would give fans a steady stream of football and individual teams the setting to develop players and a more intense fanbase. It's minor-league football, baby.
NFL developmental football hasn't been an option since 2007 when NFL Europe folded. Several factors, including consistent rebrandings, poor play, and inflated budgets caused the league's demise. Even the NFL giant could not keep the doors open. But, several football leaders and figures support a return to developmental football.
""We've reached a point where we really should be looking more at a developmental league, and I really expect that to begin here in the next year or so," Dallas Cowboys executive vice president Stephen Jones, a member of the league's competition committee, said. "We lost a lot of money on NFL Europe, but there were a lot of things the league did well and for all of those reasons – coaches, officiating, players, quarterbacks in particular – it's something we really do need to be looking at and studying. The time might be right to do it.""
The three other major sports leagues (NBA, NHL, and MLB) all have developmental systems of some sort. Sure, all have their flaws and shortcomings, but they provide a steady stream of talent and fans to the primary clubs. An NFL developmental league would likely look more like NBA's G-League.
This is a one-to-one developmental league, save for a few independent teams. This means that each professional team has one direct G League franchise. The benefit is that these fringe roster players continue playing and progressing under a team's tutelage, rather than being stagnant once released. That can happen to more than 1,000 players when teams go from the preseason 90-man roster to a 53-man version in early September. These players can get reps during OTAs or training camp, but former NFL defensive end Jason Hall advocates for a "full-speed" experience.
""The value was just in terms of [the fact] guys that are on the lower end of the roster, you're not getting much better in OTAs," Hall said. "You're not getting much better, honestly, in camps. Maybe just in position-drill work, but in terms of your overall game, you're talking about team stuff, 11-on-11 … you're just not getting the quality reps that you need. It's one thing to do things in shorts and helmets and all that, but football, especially when you're talking about line play — this is all physicality, this is all hand-to-hand combat. And if you're not getting that stuff at full-speed, full-tilt, it's just not the same.""
Sure, each team has a practice squad, but is that the best place to build NFL-level talent? There are few success stories from practice squad beginnings, while NFL Hall of Fame players graced NFL Europe. With the NFL focusing on protecting player health, these full-speed reps Hall talks about are becoming rarer. If a player wants a chance, why not let them prove themselves on a developmental team? It is the ultimate avenue for players to invest in themselves.
But, for players to invest, they need a reason. They need a supportive, competitive environment that they feel will produce an NFL opportunity for them. How that is built and funded can be left to more knowledgeable minds. For now, what could be some details around how the team looks and who would be on a developmental Chiefs team in 2022?