Five things for Chiefs Kingdom to be thankful for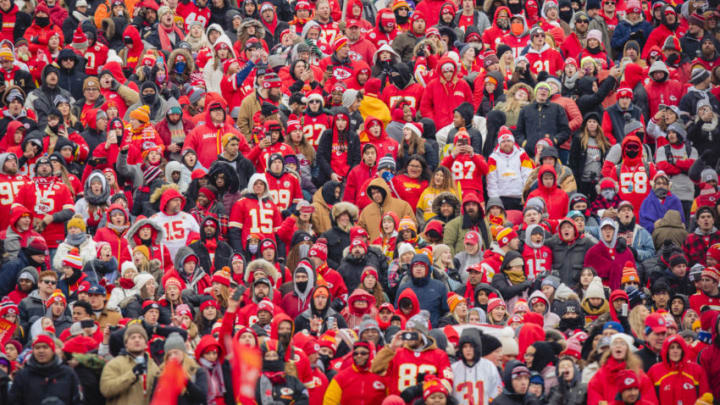 KANSAS CITY, MO - FEBRUARY 05: Fans stand for several hours in below freezing temperatures for the Kansas City Chiefs Victory Parade on February 5, 2020 in Kansas City, Missouri. (Photo by Kyle Rivas/Getty Images) /
Turkey or ham, fresh cranberries or canned. Regardless of your interpretation, Thanksgiving carves not only birds, but a day that gathers family and inspires gratitude. We are all fortunate to be members of Chiefs Kingdom, and this year there is plenty to be grateful for.
Here are the top five Chiefs-related things to say when your name is called at the table to share what you are thankful for this year.
Resilience
Once again, the Chiefs' comeback ability is in the limelight. In 2018, Patrick Mahomes introduced Kansas City to the never say die era, and since then has consistently displayed what that means.
From the all-time great comebacks against the Houston Texans, Tennessee Titans, and San Francisco 49ers en route to the Super Bowl LIV title, to the corner this group has turned over the past six weeks bringing their record from 2-3 to 7-4, resilience has defined the Chiefs for three straight years. Give thanks for that, because it keeps us on the edge of our seats as fans, and reminds us year-over-year to never give up.
Familiarity
It gets lost on a lot of folks how difficult it is to retain superstar talent in the NFL, let alone for as long as the Chiefs have. Patrick Mahomes, Travis Kelce, Tyreek Hill, Tyrann Mathieu and Chris Jones are names that individually have the ability to bring an organization to new heights. Clark Hunt and Brett Veach have paved the way for them to build a legitimate dynasty together in Kansas City.
The dog-eat-dog nature of professional sports as a business handicaps owners and general managers across the country. When it comes down to it, these athletes are performing a job—at the highest level—and have vested interest in securing as as big of a bag as possible throughout their careers. Be grateful for this savvy and competitive front office for providing us with familiarity on the field for as long as they have.
Sweet Youth
Creed Humphrey, Trey Smith, L'Jarius Sneed, Nick Bolton, Willie Gay. Three are rookies, two are sophomores, and all five are Pro Bowl-caliber talents. What's the best way to ensure continued success? Continuous growth. The NFL draft is a giant crap shoot, and boy have we gotten lucky. From preexisting health conditions to boom-or-bust labels and backup grades, these five dudes have met and exceeded every single expectation.
We will be enjoying the bullish run-blocking talents of Humphrey and Smith, the elite tackling ability of Sneed and Bolton, and the raw athleticism of Gay for years to come. They may well be the meat and potatoes of the next phase of Chiefs greatness, so share your appreciation for these young fellas while you're passing the gravy.
Andy Freakin' Reid
The slow start to the season that featured an abysmal offense, a seemingly disinterested defense, and a total lack of apparent discipline had talking heads across the nation shooting arrows at every possible target in the Chiefs organization. Granted, frustration was boiling over with the expectations that have been set in recent history, but anybody and everybodywhothat took a shot at Coach Reid during that stretch has tucked their tail and run for the hills.
Reid has once again kept a level head and a steady hand through turbulence, and his leadership deserves all the praise for how this ship has been turned around. Don't take Big Red for granted. Give thanks, and enjoy the blessing while it's here.
Community
Without your ice chest, your neighbor's smoker, and your brother's pick-up, there is no Chiefs Kingdom. There is no "greatest atmosphere in sports." There is no Guinness World Record for stadium volume. It is all of us; the boots on the ground and the shouts from the nosebleeds that make all of this so doggone special.
Take a moment this Thanksgiving to acknowledge how lucky you are to be a part of Chiefs Kingdom, and to be forever surrounded by folks with a cold beer and an extra rib with your name on it.