K.C. Chiefs: Larry Warford is an overlooked free agent guard option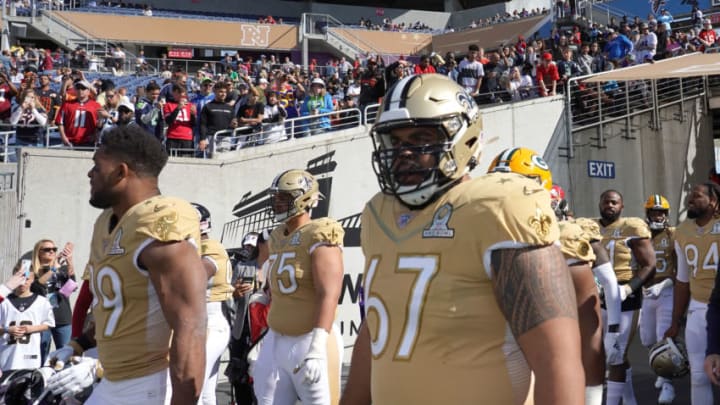 Jan 26, 2020; Orlando, Florida, USA; NFC guard Larry Warford of the New Orleans Saints (67) enters the field during the 2020 NFL Pro Bowl at Camping World Stadium. Mandatory Credit: Kirby Lee-USA TODAY Sports /
The K.C. Chiefs already have one veteran guard coming back after opting out of the entire 2020 season in Laurent Duvernay-Tardif. As they consider free agent options to join him in a front line rebuild, one forgotten name is a veteran guard who did the same thing as LDT: Larry Warford.
Warford had made three consecutive Pro Bowl rosters to represent the NFC from 2017 to 2019 before the New Orleans Saints decided to release him last spring in order to save salary cap room. The team had just drafted Cesar Ruiz in the first round and decided to get younger and cheaper along the offensive interior. At that point, reports stated he had multiple offers, which makes sense given his productivity and the fact he was only 29 years old, but instead he decided to sit out the season due to the COVID-19 pandemic.
Now it's unknown whether or not Warford would want to return to the game, but he's yet to officially retire and was reportedly going to train and keep an eye on the upcoming season. If that's the case, a team like the Chiefs would be looking at a player who stopped while still making Pro Bowls who just took a year off to rest and is just now hitting the age of 30.
While both he and LDT would need to work their way back into shape to play meaningful snaps. there's plenty of time for the team to come together and help toward that goal. Meanwhile, Warford has never played in a Super Bowl and could be motivated to play for a team like the Chiefs. It also might help the Chiefs that Warford is somehow being overlooked as an option, at least in the media.
Larry Warford is often overlooked as a free agent guard option for the K.C. Chiefs.
If the Chiefs were to sign Warford, someone would have to change positions given that he and Duvernay-Tardif have both played right guard during their careers. Some adjustments would have to take place, but that shouldn't prohibit the Chiefs from considering the option. There's time to begin the switch for someone with o-line coach Andy Heck and the growth curve would be smaller given their experience. Both players will have to get used to the rigors of the NFL once again as it is.
The Chiefs are facing a complete rebuild along the offensive front given the release of long-term starters Eric Fisher and Mitchell Schwartz that created openings at tackle. The team already needed a new left guard, and reports say they're letting Austin Reiter walk in free agency as well, leaving the center position open, too. It's conceivable that the Chiefs will be starting five new players up front in Week 1.
Warford, who turns 30 in June, has made 101 starts in his NFL career with the Saints and Detroit Lions.