Arrowhead Addict Podcast: Tyreek Hill and the Kansas City Chiefs draft class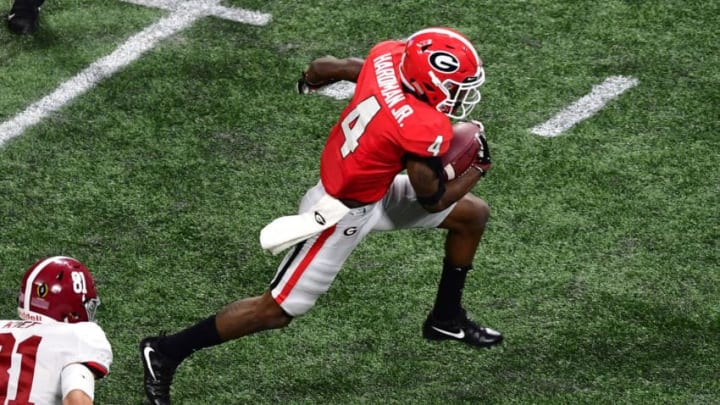 ATLANTA, GA - JANUARY 08: Mecole Hardman #4 of the Georgia Bulldogs carries the ball against the Alabama Crimson Tide in the CFP National Championship presented by AT&T at Mercedes-Benz Stadium on January 8, 2018 in Atlanta, Georgia. (Photo by Scott Cunningham/Getty Images) /
In this mega-edition of the Arrowhead Addict Podcast, Rylan Stiles and Grant Tuttle discuss the Tyreek Hill conundrum and the results of the NFL Draft.
In this week's jam-packed edition of the Arrowhead Addict Podcast, Rylan Stiles discuss everything surrounding Tyreek Hill and the NFL, the NFL Draft, Chiefs needs post-draft, AFC West storylines, a mailbag and more!
To start the podcast, we discuss the troublesome recordings of Tyreek Hill and the investigation surrounding him. We talk about whether Kareem Hunt's immediate signing has anything to do with Hill still being on the Chiefs as well as what the NFL can do to fix the epidemic of domestic violence from a league standpoint.
On a much lighter note, we discuss the newest Chiefs by way of draft and undrafted free agency. Rylan discusses his love for the selection of Mecole Hardman while I give expectations for the incoming class. We reiterate the importance of the Juan Thornhill pick and his ability to play alongside Tyrann Mathieu.
After we discuss the draft and what talent the Chiefs received over the weekend, we examine what positions still need to be addressed before training camp. We consider free agents such as Michael Crabtree and Pierre Garcon and how they could benefit the Chiefs going forward. We also look at the probability of getting another cornerback before training camp.
Next, we discuss the draft classes of the AFC West. Rylan goes on a rant about Drew Lock's comments over the weekend regarding the Chiefs. I examine the Raiders three first round picks and the Chargers ability to draft well every season.
Finally we take a look at the NFL's biggest storylines from D.K. Metcalf sliding to the last pick of the second round to Josh Rosen being Miami Dolphin. I discuss the hilariousness of the Daniel Jones selection from the Giants and how the Arizona Cardinals have a long way to go. After this discussion, we close out the almost 90 minute show with a mailbag.
Or you can download the episode here.