Matching Kansas City Chiefs players to Halloween characters and horror film icons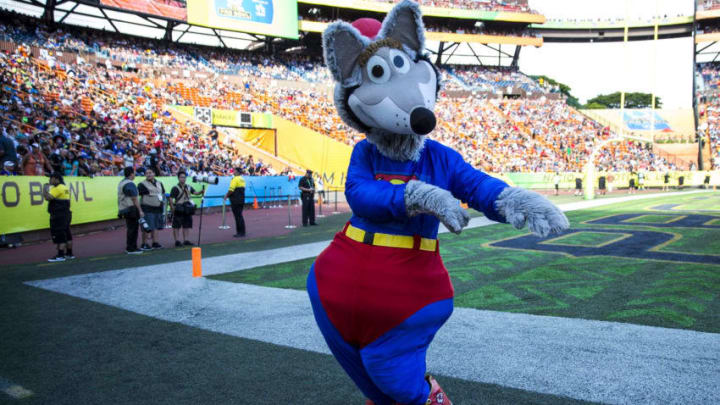 HONOLULU, HI - SUNDAY, JANUARY 31: K.C. Wolf, mascot the the Kansas City Chiefs dances the hula on the sidelines during the first half of the 2016 NFL Pro Bowl at Aloha Stadium on January 31, 2016 in Honolulu, Hawaii.Team Irvin defeated Team Rice 49-27. (Photo by Kent Nishimura/Getty Images) /
KANSAS CITY, MO – DECEMBER 18: Strong safety Eric Berry #29 of the Kansas City Chiefs is introduced prior to the game against the Tennessee Titans at Arrowhead Stadium on December 18, 2016 in Kansas City, Missouri. (Photo by Jamie Squire/Getty Images) /
In honor of Halloween and the Kansas City Chiefs, staff writer Grant Tuttle decided to cast the Kansas City Chiefs as various horror movie icons.
While local stores prematurely prepare for Christmas and Thanksgiving, we are very much in the Halloween spirit here at Arrowhead Addict. With some help from the rest of the AA staff, I have pulled together several icons from classic Halloween and horror films and compared them to current Chiefs coaches and players. They might not wear the actual costumes this holiday season but we can see them for who they really are.
Eric Berry as Peanut's "The Great Pumpkin"
"He'll come here because I have the most sincere pumpkin patch and he respects sincerity." – Linus
We are all a little bit like Linus. I identify with Linus on a spiritual level sometimes. In the Peanuts movie It's the Great Pumpkin, Charlie Brown, Linus spends the majority of the movie waiting around in the pumpkin patch hoping to see The Great Pumpkin, whom he considers to be Halloween's Santa Claus.
While his gang of friends goes out trick-or-treating, he waits for the Great Pumpkin to come to his pumpkin patch and give him presents. He declares this the best day of the year and is convinced that he will see him. When he believes that the Great Pumpkin decided to go to another patch, he writes him a letter asking him if he is real. Immediately after asking the question, Linus says, "P.S. If you aren't real, don't tell me. I don't want to know."
The Chiefs fan base is a bit like Linus. We are just kind of sitting here hoping and wondering if and when Eric Berry will come and fix the defensive backfield. While waiting, we have seen other teams make moves to better their defense during the season. As Chiefs fans, we have a childlike faith that one day Eric Berry will return and give us presents and it will be like a second Christmas. At this rate, who knows if he will even be back by Christmas? Nobody knows, but we can hold out hope and wait in the pumpkin patch.