Chiefs vs. Cowboys betting odds: Vegas says pick your favorite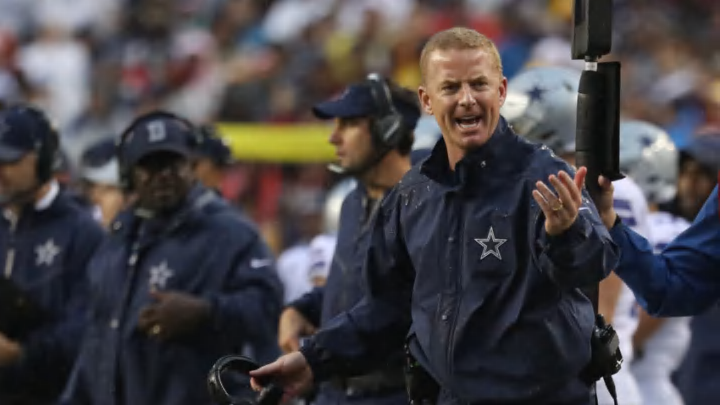 LANDOVER, MD - OCTOBER 29: Head coach Jason Garrett of the Dallas Cowboys argues a call against the Washington Redskins during the second quarter at FedEx Field on October 29, 2017 in Landover, Maryland. (Photo by Rob Carr/Getty Images) /
At this point, oddsmakers are allowing sports bettors to simply pick who they think will win between the Kansas City Chiefs and the Dallas Cowboys.
There are a lot of positives and negatives to consider for both sides when the Kansas City Chiefs suit up to face the Dallas Cowboys on Sunday. The Chiefs have the better overall record, but they're also on the road. The Cowboys can put up points with the best of them, but have serious trouble keeping their opponents out of the end zone. Given the way both defenses have looked lately, fans could be in for a shootout on Sunday afternoon, and oddsmakers have decided to allow bettors to simply pick their favorite in this game instead of moving the odds in any team's direction, per Sportsbook Review.
The Chiefs enter the contest having reversed their recent fortunes, a losing streak that dropped them from the NFL's only undefeated team to a several-way tie for the AFC lead. In losing to the Oakland Raiders and Pittsburgh Steelers, the Chiefs ceded the No. 1 seed overall to Pittsburgh at the halfway point given they now own the tiebreaker. The Steelers also have a very easy second-half schedule.
More from Arrowhead Addict
That said, the Chiefs have played the NFC East very tough this year. They have the only victory over the Philadelphia Eagles, who have the best overall record in the league. They also beat the Washington Redskins on the road. Both teams are the primary contenders for the division title alongside the Cowboys, which has to make Jason Garrett and company respect the team coming into town.
Now that Ezekiel Elliot has been ruled out for certain for this Sunday as he sits another 6 weeks from his once-appealed suspension, the Cowboys rushing attack will be much less effective on paper. After all, Elliot has looked unstoppable behind the Cowboys incredible offensive line. But the Chiefs have allowed several teams to move the chains at will on the ground and it wouldn't surprise anyone if Alfred Morris and Darren McFadden still enjoy success against K.C.'s defensive front.
Related Story: How each deadline trade affects the Chiefs
If the Cowboys win on Sunday, they will move to 5-3 on the year and take a key position toward the wild card in the NFC while remaining in position for a potential run at the Eagles in the second half for divisional supremacy. If not, they slink to 4-4, jostling with the Redskins, Rams, Falcons, Panthers, Lions and Packers for a potential playoff spot.