Chiefs 2016: When it rains, it pours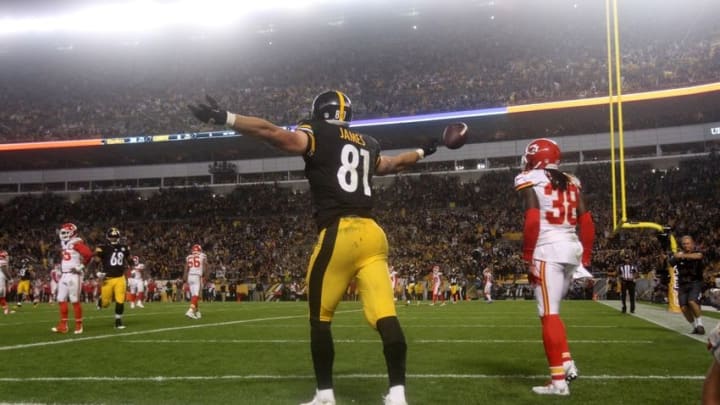 Oct 2, 2016; Pittsburgh, PA, USA; Pittsburgh Steelers tight end Jesse James (81) celebrates a touchdown in front of Kansas City Chiefs defensive back Ron Parker (38) during the first half at Heinz Field. Mandatory Credit: Jason Bridge-USA TODAY Sports /
When it rains, it certainly pours on us Kansas City Chiefs fans.
I doubt I will be the only Chiefs writer using this phrase to describe Sunday's game, but it's just too fitting for this Chiefs performance. This oh so bad Chiefs' performance.
As soon as the Steelers raced out to their 22-0 lead, you knew this game was over. That's right! This game was over by the end of the first quarter. I had barely finished my first beer, and already I was thinking about many I would need to drown my sorrows? Another Steelers touchdown scored, another beer downed. Then another.
Time for some comfort food. Hot wings ordered. Food and drink had become the only two things that could cheer me up. The players certainly weren't going to do it for me. I watched the game in a casino and pondered with the idea of trying my luck on one of the tables. Given the fact I was wearing a Chiefs jersey I wisely decided against flashing my wallet. This wasn't my night.
The stat line for Alex Smith reads 287 yards, 2 touchdowns and an interception. Not an awful night on paper. But there lies the problem, this game isn't played on paper. In reality this was one of the worst games I have seen him have. For some reason his happy feet have returned this year, whilst the dink and dunk approach was predictable and uninspiring.
When Dustin Colquitt has a bad night you know you're in for a rough time. Normally the most dependable player on the team, Dustin had arguably his worst game under Dave Toub. Don't get me wrong, I am not putting this loss on him. I am just pointing out that this no one could avoid the plague of terrible play . . .
Except Chirs Conley and Tyreek Hill.
The only bright sparks from this debacle. Tyreek Hill continues to showcase his lightning pace, breaking out another return touchdown. Unfortunately taken away yet again due to penalties. Conley continues to prove why he leapfrogged Albert Wilson in the depth chart. The second-year receiver had himself a nice day catching six passes for 70 yards.
The Steelers have their stars. Sometimes you just have to hold your hands up and accept that you are playing against genuine superstars. Le'veon Bell, Antonio Brown and Ben Roethlisberger warrant this kind of respect.
Sammy Coates does not.  Coates is not a great football player. Quick of course, but technically he is miles of the pace. Based on last night alone, you would have been forgiven for thinking that Coates is the next 'big thing' at the wide receiver position.  That's how bad the Chiefs defense were in coverage today.
The main problem with Andy Reid is that this type of performance (or lack there of) can turn up any time.  It doesn't matter how well the team played the week before, there is always a chance that team will play badly. And when this team plays badly, they stink.
I am a big fan of Reid and Dorsey, but until we find a way to turn up on national TV against a better than average Quarterback, then I am afraid there is no way this team can win a championship.