Ask Me Anything is back for round two, and once again we've got some great questions. I'll save you a long introduction and get straight to the question. Let's get this thing started.
@ArrowheadAddict #AAMA any chance we move down or make a trade to get an extra pick…we could use it

— jonathan johnson (@JonnySwagadelic) March 26, 2014
% chances of trading down and your % confidence in that happening. #AAMA

— Jerry Revenaugh (@jwhojrev) March 25, 2014
It is though to put numbers on something like this because there are so many variables. For instance, the Chiefs may have a 100% desire to trade down to add more picks but there are zero teams willing to make a deal. Or maybe a player John Dorsey has ranked in the top five on his board falls to the Chiefs at 23.
With that said, there is a really good chance the Chiefs make a deal to add a pick(s) at some point during draft weekend. Both Dorsey and Andy Reid have been very adamant about their desire to build the team through the draft and it is much easier to do that with more picks. KC may not be about to trade down from the first round but may be they can trade down from their picks in the third or fourth round. This draft is deep enough that adding picks in the middle and late rounds could land KC with some good players.
Remember, last years draft was not considered to be very deep but the second and third days of draft may end up producing a starting tight end, starting free safety, backup running back, and a pass rush specialist for 2014. And that doesn't include whatever Nico Johnson turns into or Tyler Bray. KC needs to try to add some picks but trading down from the first round isn't required to make that happen. But I do think the Chiefs will take the opportunity to trade down if it is there.
This year the nfl is cutting a lot of big names due to salary cap…. Is any big star on the chiefs in danger of freeing up cap space #aama

— Dallas Bennett (@Dallas_Bennett) March 19, 2014
Not this season.
Next year could be a different story with Tamba Hali and Brandon Flowers. Those two will be more cuttable/tradable next off season. Letting go of one of those two would give the Chiefs plenty of room to re-sign or franchise tag Justin Houston. It isn't a requirement for the Chiefs to let one of those two go in order to re-sign Houston but it would give the Chiefs more room to work with for the rest of the roster.
@ArrowheadAddict interested? @JasonLaCanfora: Eagles are seeking a 3d rd pick for Evan Mathis. Possibly a 4th. Otherwise Philly keeps him.

— Anthony Mo (@AlaMode4884) March 26, 2014
We discussed this a little bit earlier this afternoon so you can read more thoughts by clicking right here.
Evan Mathis, 32, is a great guard and would be a perfect fit for what Andy Reid likes to do. We know this because he was drafted by Reid to play guard in his scheme. The issue here is age and money. It isn't that the Chiefs couldn't make it work but is it worth it to try and make it work. What other players to the Chiefs risk losing in the future because they'll be overpaying an offensive lineman who is close to retirement?
This was mentioned in the post about him this afternoon but it is worth repeating: The two top guards in Pro Football Focus' grading system – Mathis and Josh Sitton – were drafted by Reid and Dorsey respectively. Mathis was drafted in the third round while Sitton was drafted in the fourth. It may be smarter for us to rely on Dorsey's talent evaluation and Reid's ability to coach offensive linemen than to trade a draft pick for a 32-year-old who will take up $5-7 million in cap space.
Should the chiefs use their first round draft pick on a receiver? #AAMA @ArrowheadAddict — Austin Roth (@ToastRoth) March 25, 2014
@ArrowheadAddict #AAMA How likely is a move up in the draft for a big time WR?

— Adam Schwinn (@AdamSchwinn) March 26, 2014
I'm not on the first round receiver bandwagon. This doesn't mean the Chiefs don't need to find a receiver in the draft or upgrade the position, because both of those things are true. The only receiver the Chiefs had last season who ended up with a positive PFF grade was Dwayne Bowe (min. 315 snaps). This includes Junior Hemingway (-6) and Dexter McCluster (-0.6). So, yes, the Chiefs need to improve at wide receiver.
The thing about receiver is the Chiefs scored 44 points in a road playoff game, and did so without Jamaal Charles. Reid's scheme doesn't demand great wide receivers as much as it demands smart quarterback play. As Smith became more comfortable with the offense, the Chiefs started taking more risks and became a more explosive offense.
Consider this: Bowe has as many 1,000-yard seasons as DeSean Jackson and Jeremy Maclin combine. And the best quarterback to ever throw a pass to Bowe before last season is a debate between Matt Cassel and Kyle Orton.
Point here is the Chiefs need depth at receiver more than they need a "number one" receiver. There are plenty of guys in this draft who can fill the depth role on this team. Then consider A.J. Jenkins and Weston Dressler are also already in the mix to more snaps. And don't forget the Chiefs will have a healthy Anthony Fasano and Travis Kelce this year to add to the passing game.
It may be better for the Chiefs to spend a resource like a first round pick on trying to get an elite pass rusher than an elite wide receiver.
@ArrowheadAddict Keep an eye on Weston and mays my North Dakota boyz they make big time plays — Joe (@Joecrack2009) March 26, 2014
@ArrowheadAddict , Fisher struggled mightily at RT last year. Will he be put on a short leash if the team/he is struggling? #AAMA

— jarad souders (@Jarad1KC1) March 26, 2014
Here's the thing to remember about Eric Fisher: He struggled mightily in the first half of the season. From week 13 to the end of the season Fisher had a +2.1 PFF grade and allowed only one sack. There were indications as the season went on that he was getting better and more comfortable with playing tackle in the NFL.
Next season he'll be moving to his natural left side with an offseason in a NFL weight room under his belt. One could argue he'll see better pass rushers on the left side but he was already seeing them on the right side as teams were trying to create matchups against him.
If we get through the full 2014 season and Fisher is still struggling then, yes, it'll be time to start wondering about finding a replacement for him. However, I'd be surprised if we end up having that conversation next year.
@ArrowheadAddict Are you guys looking for another pass rusher — Scott Summers (@Fierro610) March 26, 2014
Yes. In fact, it may be the direction they go with their first round pick.
@ArrowheadAddict how do you feel as of right now, pre draft, about next season? — Brian Jennings (@05BrianJennings) March 26, 2014
This may be a surprise to some, but the team may be better now than it was when the season ended. No doubt losing Branden Albert will cause some unease on the left side but it is not out of the question Fisher could be just as good on the left side as Albert.
Aside from Albert, what have the Chiefs really lost? They've improved their pass rush ability with the quality Vance Walker signing; potentially improved their middle linebacker situation with Joe Mays taking over for Akeem Jordan; the Chris Owens signing has gone under the radar a little bit but he's an upgrade over Dunta Robinson without a doubt; the combination of Jenkins, Dressler, and a draft pick will fill the role left empty by McCluster.
As Lyle Graverson said earlier this week, the key for the Chiefs is to continue to develop in the system. This is the first time the Chiefs will have the same head coach, offensive coordinator, and defensive coordinator since the 2006-2007 season. Instead of learning new schemes, the Chiefs will be building on what they already know. This may mean more than anything roster change the Chiefs make this off season.
The schedule will be a lot harder so the win total may be closer to nine or 10 than 13 but the team as a whole should be better.
@ArrowheadAddict #AAMA What position will we draft in first round? — Michael Baldus Jr. (@MichaelBaldus) March 26, 2014
There's more work to be put into this but my semi-educated guess is the Chiefs will go either offensive tackle or a defensive front seven player.
When you look at the holes of this team, the history of Dorsey and Reid's drafts, the philosophy of how they believe games are won, it would seem the answer is Kansas City will take someone who will play on or close to the line of scrimmage.
Now, this would change if the Chiefs were to trade out of the first round. The likelihood the Chiefs take a wide receiver increases, I think, if the Chiefs' first pick end up in the second round. There is a reason for that line of thinking that'll discuss in a later post, but if you're on the "draft a wide receiver" bandwagon then root for the Chiefs to trade down.
@ArrowheadAddict #AAMA who do you guys think will be a good fit to replace Kendrick Lewis?? — Oliver Gokgoz (@LAswagMAN) March 26, 2014
Sanders Commings. Sanders Commings. Sanders Commings. The more and more you watch film of the way Seattle and San Francisco play, the more and more one realizes why the Chiefs are so anxious to get Commings on the field.
In short: speed, size, toughness, ball skills. That's what Commings brings to the table and that's what the Chiefs need at the free safety spot.
@ArrowheadAddict How much of the Chiefs inactivity in free agency is a result of cap and how much is a result of liking guys in-house? #AAMA — ALEXXX (@Just4Ponies) March 25, 2014
It is all about philosophy.
Kansas City's cap situation doesn't help, but Dorsey isn't going to overpay players to keep them here unless they are vital to the team's success. None of the players the Chiefs lost to free agency would fit that description.
Dorsey believes in building through the draft and making small, strategic free agency signings. This will not be the last time the Chiefs will be this "inactive" in free agency. This is the new norm.
@ArrowheadAddict How big of an impact will the new defense signings (walker, mays, owens) make next season? May be forgetting some. #AAMA — Cody Miller (@CODYMIWWA) March 25, 2014
All three of those signings are upgrades from the player they are replacing. They're not necessarily significant upgrades, so expecting massive production would not be wise, but they are all better at filling the role the Chiefs need them to fill within the scheme Bob Sutton runs.
Walker is going to bring pressure on passing downs on the defensive line. This is something Tyson Jackson could never figure out. Kansas City's entire defensive scheme is predicated on bringing consistent pressure up front. If you're not contributing to the pressure then you're not contributing anything.
Owens is a quality cornerback who can contribute in different ways – special teams, pass rush, coverage, run defense. He'll take Dunta Robinson's spot on the roster, a guy who could not play special teams, pass rush, cover, or run defend.
This is what Joe Mays brings to the table: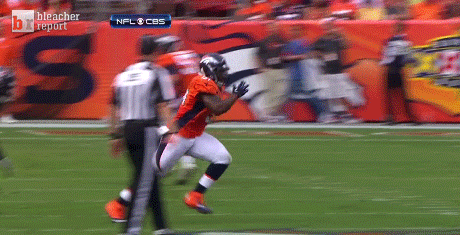 Tags: AAMA Kansas City Chiefs