The Kansas City Chiefs hit the practice field for the third straight day yesterday but this time, they did so in pads.
We know you are anxious to know how things went so lets get straight to our practice reports from AA camp reporters Mike Gooding and Ryan James.
Ryan: It was wonderful to hear the pads thumping today. There is nothing better than watching football in the middle of July and listening to the sounds of pads poppin', players gruntin' and coaches yellin'. Even thought today was 100 plus, the players were excited to be in pads. Many gave fist pumps and waves to the crowd as they came out. Jonathan Baldwin was extremely pumped when he came down this afternoon.
Because of the heat, I did not get to walk around as much as I would of liked. I had my wife and daughter with me for a little bit of the day but the wife had to leave early to get our girl out of the heat. She absolutely loved it though!
Offense
Personally, I am coming into camp interested to see how the offense will look this year under new OC Brian Daboll. Perfection is not expected in the first day of pads with a new offensive scheme. Its hard to tell whether the defense is just really good (which it is), or the offense has a ways to go. It is probably a little bit of both. There was really no wow plays today. When Cassel was at QB, most of the throws were the intermediate throws that we have seen the past years and when he did attempt a deep pass, it wasn't on target. On one play Baldwin was lined up on Routt and Baldwin gave a hard step to the outside and cut in for an in route and Cassel was off on the pass. Routt bit extremely hard on the step and became off balance and would of gone for big yards if completed. Of course Cassel still needs to develop the right timing with his receivers. Hopefully by the end of the week, we start seeing some better continuity.
Charles was held out of the contact portion of the drills today. Hillis took all the first team snaps. It is interesting to see that McCluster has yet receive a carry in the first three days of camp. He has been working exclusively at WR. With the addition of rookie Cyrus Gray and Shaun Draughn McCluster looks to get most of his looks in the slot and specialty packages.
It is interesting to see that Rookie Donald Stephenson got the nod at starting Left Tackle today with Albert not fully padded up do to not reporting on time due to family reasons. One would think that veteran Tony Ugoh would get that look but Ugoh served as Stephenson's backup today. What a first day for Stephenson. Welcome to the Chiefs Donald, now go block that number 91 over there! Stephenson's first day in pads in the NFL, he was tasked with blocking Tamba all day.
Rookie Junior Hemmingway, definitely is looking as if the Chiefs got great value with that pick. Hemmingway pulled in some beautiful catches today from both Quinn and Stanzi. It is also notable that in Bowe's absence, Steve Breaston is getting the looks at split out WR.
Rookie WR Josh Bellamy has definitely caught my attention. He will make this team as a special team player and will have the chance to start creeping into the offense on sub packages. During the special team drills, he is extremely athletic and sports a filled out 6'0 206lbs frame with quickness and speed. It should be interesting to see how he progresses. His other Rookie counterpart, Devon Wylie is having a little trouble getting off the line but he is improving. Special teams will be a definite for Wylie to start out with until he shows better route running.
Alex Tanney has looked very good so far. He hasn't been able to test his arm strength yet, but his intermediate accuracy is definitely noticeable.

Defense
It is extremely relieving seeing the defense step up every day. I need to correct one of my tweets today as Flowers interception was against Brady Quinn, not Ricky Stanzi. Flowers stepped in front of a pass intended for Devon Wylie and took it the distance on an out route. Javier Arenas also had a pick today as he picked off Cassel pass intended for McCluster.
Dontari Poe was able to show off his upper body strength today as he took on multiple blocks and ran some 2 gap drills. I stand by my statement that Poe will be the starter by the end of camp. Seeing this mans tree trunks for legs in pads is a sight to see. For the third strait day, he was the last to leave the field and signed autographs again today.
Some of you have been asking about Routt. Routt is extremely aggressive and very fast. We have not seen this type of corner for the Chiefs in a long time. However, in his aggressiveness he sometimes is out of position. During some passing drills today, he broke on a pass on a comeback route and instead of going for the sure tackle or try to poke at the ball as caught he tried to breakup the pass but went over the top of the receiver to do so. It definitely would of been pass interference. I will however make the prediction that he will lead our team in interceptions by the end of the year.
Eric Berry and Kendrick Lewis were both held out of the contact portion of the day. In their place Jason Elam subbed for Berry and Dequan Menzie subbed for Lewis. Berry did not go unnoticed though today as he had an amazing breakup in the endzone on a pass intended for Baldwin. Can't fault Baldwin on that one, Berry is just that good.
Observations
Crennel definitely has the respect of the players. After the horn has blown to switch stations, the offensive side were not getting to the other side very fast and RAC went off. The team promptly made it to the destination.
Both Javier Arenas and Steve Breaston made their way to the training tent toward the end of the day due to the heat.
After speaking with a friend who is an EMT at camp, he said "people were dropping like fly's out here today". Please, if you make it to camp BRING WATER and don't drink alcohol. Also if you are feeling too hot, make your way the the EMT tent and the have a tent that is air conditioned to 70 degrees to cool down.
Overheard from Camp
Someone asked Poe, "Hey Poe, how do you like KC?!" Poe responded, "I don't like it……….I LOVE IT!"
When Quinn was asked what he thought the best BBQ in KC was he responded with "Oh. Dude. Oklahoma Joes! It's not even close. By a long shot".
Someone, I believe it was a AA reader, told Poe that he looked slim. Poe said, "Looks can be deceiving".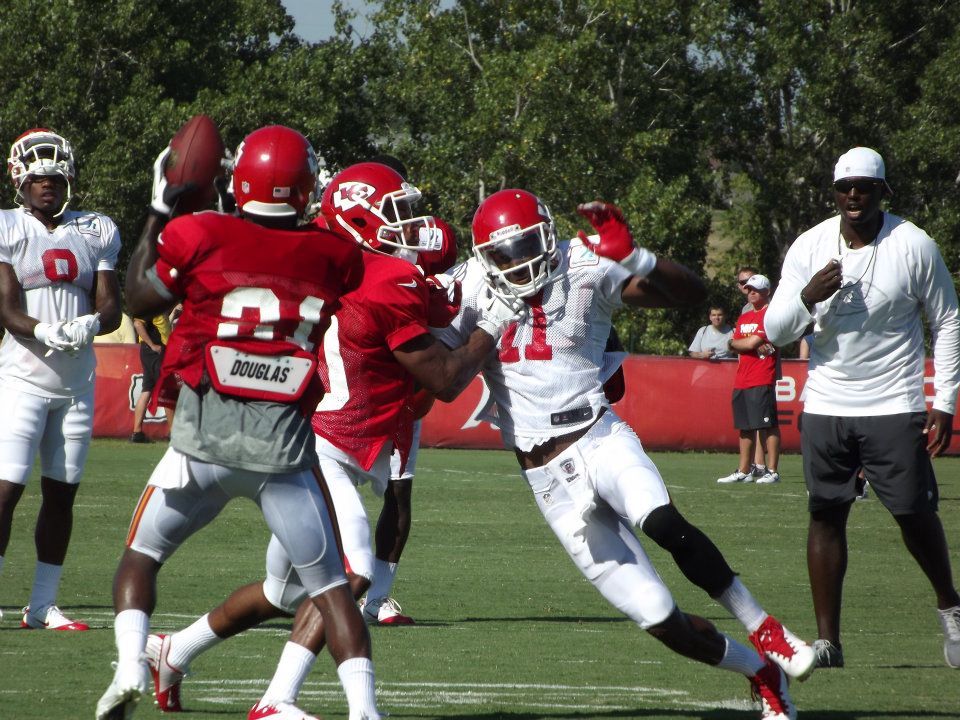 Mike:
Little exhausted after the 100 + degree day and the 3 hour drive home tonight. Getting up and heading back down tomorrow with a neighbor and AA's Big Jim to Season Ticket Holder Day. My thoughts for Day #3:

Overall:
Please remember that I am a Homer but I like to think that I use sound reasoning and facts to support my optimism. I am feeling a sense of destiny. There is a quiet confidence about the players and coaches alike. There is a feeling of team UNITY. I love the way they break from each drill by clapping once in unison. The players are coaching each other up. I saw DJ in an extended conversation with lots of pointing out actions during plays with fellow LB Leon Williams, I overheard Flowers telling Baldwin about his body position after breaking a TD attempt in the front corner, Albert has been all about helping Stephenson. Everywhere I look I see them encouraging each other. It appears that they have bought into RAC's team first direction whole hog.
I panicked to see Brandon Albert in shorts and a helmet but he did the running and conditioning drills then worked out on the sideline with strength and conditioning coaches. Word was that it was a contract thing or heat sickness. I believe it was the former. Houston was back full force and looking good. I asked him how he was feeling as he made the hike up the hill after practice and he gave me a big smile, thumbs up and said great thanks!
No one got hurt but DB McCarthy wasn't back and appears he may be done with a knee injury – tough break for him making him #2 IR with TE Rucker. Sounds like we are looking at a hybrid DE/LB Edgar Jones from the Ravens
Our strength & conditioning coach used great caution and the running drills were shorter.
It was freaking scorching and while I didn't see anyone overcome by the heat there were more breaks, brief trips to the cooling tent and an overall slower pace. It was even warmer than the previous days with even less breeze. The difference in the conditioning of the players from last year is allowing the team to focus much more on what needs to be accomplished on the field. Last year on the first day like this many players went down – even Hali was seen down on all fours, then stumbling into the port-a-john before being carted off for fluids. Hell it was what 10 days to 2 weeks before they even had pads on.
Practice was in helmets and PADS today and they were a poppin'. While there was definitely more contact today, especially with the big uglies but there wasn't full tackling and contact was light between the WR/DB. No one lost there cool (Haha) as I thought would happen when the pads went on but the competition was fierce! Practice started at 3:20 and ran for 2 hours.
Lewis, Charles, Moeaki, Berry, Siler and Cassel ALL practiced full speed the entire practice. I see NO signs of hesitancy by any of them and no one on the coaching staff holding them back. NO ONE on the bikes again!
I spoke to Mitch Holtus while he he filmed a segment on the QB competion for KCChiefs.com. He said he is very excited with the number of weapons the QB's have to work with and that it way to early to tell how the BACK UP position will work out. We agreed that our situation is drastically better than last year.
There were a few very loud and serious ass chewings – one for Stephenson and one for Stanzi.
My son got to do the Helmet Walk up the hill after practice with WR Jamar Newsome. Kids who are members of the Chiefs Kids Club get to carry a players helmet up the hill to the locker room and get to talk a player. Last year he got to walk with The Pope and Houston joined. Newsome was coming off probably his best day yet and was excited for his opportunity. He talked about my son's FB program which starts tomorrow and shared with him the importance of getting an education. He said there were plenty of guys back when he was a kid up though high school and even in college that were better athletes than he was but couldn't get this far because their grades held them back. Thanks Scott Pioli for bringing in such a class act! Even our UDRFA's are humble and appreciate the opportunity to play for us while setting a great example for our kids. Thanks also to whomever created the program that gives back to the fans and to the great people running it at camp.
Offense:
Stephenson is going to make Pioli look like Einstein's smarter brother! He was like a road grader on 2nd team yesterday and today filled 1st team LT in Albert place. He was head to head and one-on-one with Hali all day and while the elite vet schooled him some I honestly can say Stephenson held his own just as much while actually overpowering Hali on a couple running plays to his side. Charles, Hillis, Draughn, Gray AND Eachus all looked great! Eachus, who Daboll singled out for praise numerous time, made a catch out the backfield and turned it up field with an incredible burst splitting between 2 defenders for what would of have been a sure TD. Bannon looks strong too. It is going to incredibly hard to cut any of these guys.
Still no multiple back sets were run – can't wait to see JC, Hills & DMC together but Dexter did have some carries during a drill where they had three 7-on-7's going at once across the south field.
Draughn looks like Thunder2 and Gray looks like Lightening2 – Eachus looks like a hybrid of the two – what great depth.
Cassel looked the best he has so far, maybe he just need the pads and the potential for contact! He had many good tosses and some nice deep balls and was good about getting rid of the ball. He did throw an Int to but only from an incredible effort by Arneas. Then he came right back firing a beauty deep to Hemmingway who made a great catch. He threw a perfect deep ball to Josh Bellamy #8 who HAS to be under serious consideration to make the roster.
Stanzi looked very good yesterday & even better today. Quinn looked great too but Ricki is definitely the #2 so far. Tanney had a fewer throws – hopefully the practice squad? Stanzi was interviewed and signing autographs after practice and hie is definitely the crowd favorite.
Wylie looked great today getting separation and seemed faster – more confident – maybe some of these guys just needed pads.
I have not seen Baldwin drop a ball yet and his size/strength gives him space to make the catch. He made an outside back in move today that left Routt scratching his head. HE IS THE beast! Bowe better get his ass to work or who knows.
Josh Bellamy #8 is really looking great and excelled again today. Clean routes, separation, excellent hands and body control. Hemingway and Newsome also are making plays and catching Daboll's attention. Horne is SO FAST, is able to get past the jam but has NOT been able to hold onto the ball dropping at least 3 today (which cost him last year).
Boss is VERY impressive getting open, making the catches, YAC and blocking. Maneri was back at it again today blocking well and making great catches.
Daboll is really focusing on the basics, techniques are the emphasis with the skill players with more focusing on assignments today. There were quite a fewer dropped balls and very few bad passes.
Winston was very good Again. Allen and Hudson are beginning to gel. Defenses will not be able to game plan against us or be able to stop our rushing attack.
I am confident the line is not just going to be strong and deep but the chemistry is developing too.
Defense:
Less sled work and more physical contact drills for the big uglies. Jackson looks like a redwood tree and has to be twice as quick as I have seen him. Dorsey looked his best also to date. Pitoitua, Bailey continue to impress. Poe looks better every day – I am predicting he will be the starter by the 1st week of regular season even though Toribio isn't about to give in.
I love Tamba but he is not engaging with the fans at all. I heard he has a meeting 45 minutes after practice ends but he just runs right by us needy bitches without a look or a waive – feeling very snubbed especially compared to how some players just keep on giving. Poe has been so gracious EVERY day – Another man of character thanks to Pioli & RAC.
Siler and Heyman really stood out in run defense and showed an incredible burst to slice past a block and pick off Cassel's screens pass for a pick 6.
Routt (looking better today), Arenas, Flowers. Flowers had a pick 6 off of Quinn that brought the crowd out of it's heat induced comma with a roar of support. Lewis and Berry broke up many a well thrown pass. I don't think I have mentioned Jalil Brown – who I was ready to part ways with after too many penalties on ST's last year. He is all over the field, really developing giving us a future starter and great depth now. Berry looks so much bigger yet just as fast – people are going to feel some pain – hopeful lil Stevie in Buffalo! Another area of difficult decisions to be made with many other young guys looking promising. Flowers had a pick 6 off of Quinn and Arenas made a hard break on a ball Cassel threw that looked to be low and in a position that only Dexter could get it, cut under Dex and dove scooping up the ball before it hit the ground – the crowd and the entire D erupted and Coach Thomas made sure Arenas was congratulated. I have seen Coach Thomas one-on-one with a few of the DB's – Arenas and Berry both today.
Amon Gordon was vocal and aggressive today – I know I'm sounding a bit like a broken record but DL and DB are both areas where we are strong and deep.
Would really like to see more from Powe – he appears to be slower in his development.
Special Teams:
Back to KO coverage like Day 1 with a focus on the tracking and forcing of defenders. There were drills focusing on the gunners. Our blocking was so poor last year that if Coach McMahon can improve that area will will have both kick off and punt return TD's and will have much better field position especially with the fantastic talent we have in Dex, Arenas, Breason, and Wylie.

**Please join me in thanking Mike and Ryan for taking the time to give us these incredibly detailed reports on their own time.