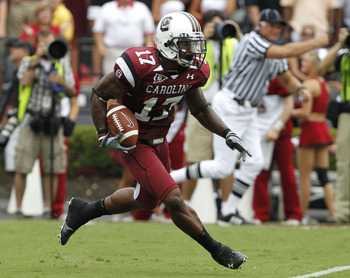 Per the National Football Post, the Kansas City Chiefs plan to workout South Carolina CB/Safety Chris Culliver. Culliver is a 6-foot, 200 pound CB who has also spent some time playing free safety. He is currently being projected as a 4rd round draft prospect by NFL Draft Scout but after a strong showing at the NFL Scouting Combine, Culliver may have worked his way into the 3rd round.
I've been expecting the Chiefs to look at versatile DB's in the mid to later rounds because their current depth at those positions is very shallow. The Chiefs have a pretty good lineup with Brandon Flowers, Brandon Carr, Javier Arenas, Eric Berry and Kendrick Lewis but after those guys the drop off is pretty steep. The Chiefs appear to be assembling a defense full of fast and versatile athletes and Culliver appears to fit that mold. He ran a 4.36 40 at the combine and demonstrates very good sideline to sideline speed according to most scouting reports I've read.
Another feather in Culliver's cap is his versatility, another attribute we know the Chiefs look for. He has played both CB and safety so his experience at those positions would make him a great swingman should the one of the starting CB's or safeties go down with an injury.
That isn't to say that Culliver doesn't have the chops to be a starter. Pioli and Haley are very big on competition and bringing in Culliver could really help push Javier Arenas or Kendrick Lewis, depending on how the Chiefs planned on using him.
On top of his ability to play both CB and safety, Culliver is also the all-time leader in return yardage for South Carolina.
You can see where having a guy like Culliver would give the Chiefs a lot of flexibility in their secondary on defense. If they could get him in the 3rd round, he might be a pretty valuable pickup. If they can get him in the 4th, he'd likely be a steal.
As far as concerns go, Culliver had some injury problems while in college. He missed some games with various injuries, most recently a pectoral muscle that ended his season after playing 7 of 8 games. Some scouts think he has questionable instincts and is not always the surest tackler. He can sometimes be susceptible to play fakes and often takes poor angles to the ball carrier.
The Chiefs have a lot of needs so I don't know if I'd be wild about them taking him in the 3rd round. I suppose it would depend on who is available. It sounds like this guy could at least be a solid backup at a couple of positions. It may not be the most exciting idea to think of the Chiefs using a 3rd round pick on a backup but we have to remember how lucky KC was in the injury department last season. For a team that lacks depth, Culliver could be a solid addition.
What do you think Addicts? Yay or nay to Culliver? If the Chiefs did take him, would you like to see him used more as CB depth or safety depth?
Check out some of his return highlights below. The 2nd one, which looks like a punt return, is simply ridiculous.