KC Chiefs have exciting postseason benchmarks within reach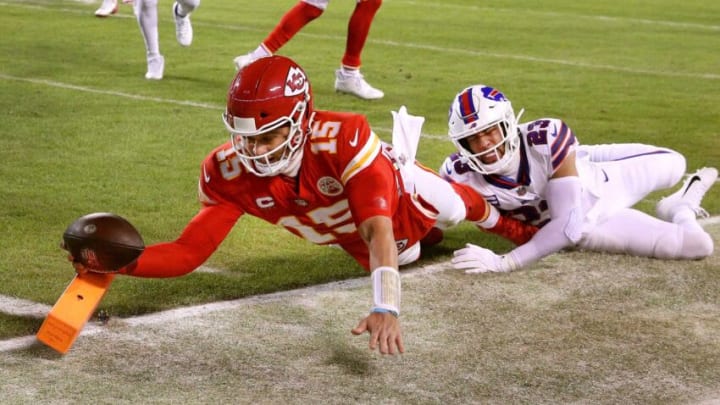 Chiefs quarterback Patrick Mahomes dives into the end zone for an 8-yard touchdown against the Bills Micah Hyde. The Chiefs won 42-36 in overtime.Ag3i5513 /
Kansas City Chiefs head coach Andy Reid  Mandatory Credit: Denny Medley-USA TODAY Sports /
Andy Reid
2nd most postseason in NFL history by a head coach
Current Total: 19
Benchmark:  20 (Tom Landry)
Andy Reid has this reputation as a head coach that tends to blow it in the playoffs. While that is partially true, he is only two wins away from having the second most postseason victories by a head coach in the history of the NFL. He's tied with the late Don Shula for third all-time with 19 playoff wins and only trails the late Tom Landry by one for second all-time. If the Chiefs can win their third Lamar Hunt Trophy in four seasons, then Reid will be all alone in second place.
Reid does trail Bill Belichick by 12 wins for the top spot in history, and it's unlikely that he will ever pass the Patriots' head coach since he is in his mid-60s. But I'm not going to put it past him because Patrick Mahomes is his quarterback.
15th most field goals in NFL postseason history
Current Total: 16
Benchmark: 18 (Morten Andersen, Josh Brown, Rafael Septien, and Jeff Wilkins)
Given Kansas City's inconsistency in the red zone this season, three field goals may not be unrealistic for Harrison Butker to accomplish in even one game this postseason. Three will put him in 15th place for most field goals in playoff history and five could put him tied for 11th all-time. Since 49ers kicker Robbie Gould is currently tied for 11th at 21, it's unlikely Butker will pass him this year but could find himself inside the Top 10 if he can successfully convert seven field goals this postseason.
For various reasons, ranging from injuries to potential holding issues, Butker has struggled on all types of kicks this season. He's made only 42.9% of his attempts greater than 50 yards this year, something he's never done in his career, and has made only 92.7 % of his extra points this season, though not his career-worst (2020 at 88.5%).
If Harrison Butker can stick around on the team for a couple of more seasons, he could very well end up in the Top 6 or 7 all-time in postseason field goals. But with how shaky his regular season was, that isn't a sure thing.