Around the AFC West: Chiefs dominate while the division sputters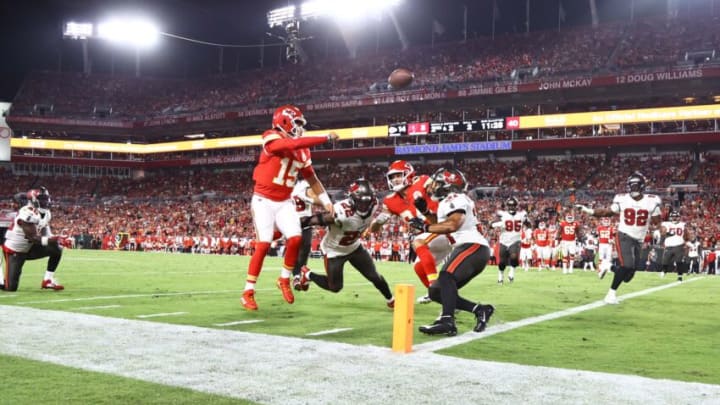 Oct 2, 2022; Tampa, Florida, USA; Kansas City Chiefs quarterback Patrick Mahomes (15) throws the ball in for a touchdown against the Tampa Bay Buccaneers during the first half at Raymond James Stadium. Mandatory Credit: Kim Klement-USA TODAY Sports /
Let's tour the AFC West again as the Chiefs have a dominant bounce back performance and the rest of the AFC West sputters heading into Week 5.
Welcome back to another edition of Around the AFC West. If you're like me, I'm sure you are feeling a lot better at the conclusion of Week 4.
Look, I'm not going to lie when I say that the Colts' win over the Chiefs really had me questioning things. Did this team really improve in the offseason or are we starting to see cracks? Well, it looks like I was jumping the gun—although forgive my years of Chiefs fandom since it comes with the territory.
Before we get into the dominant performance of the Chiefs, let's take a look at the rest of the fairly interesting AFC West.
The story of the Chargers' game in Week 4 was two-fold. First, this was the game that stopped the Chargers' two-game losing streak. The Chargers were the talk of the town this offseason and, frankly, I think some of that talk was deserved. However, with the rash of injuries the Chargers had faced, they were running into some serious problems. Justin Herbert, Jaylon Guyton, Rashawn Slater, Keenan Allen, Joey Bosa—these injuries are really piling up. The Chargers needed to bounce back in a bit way and what better way to bounce back than to play the winless Texans?
The second story was the breakout of Austin Ekeler. He had a slow start to the season but stopped being quiet in Week 4.
Ekeler ended the day with three touchdowns and certainly looks like the Ekeler we have come to know. Now, don't get me wrong, I would not award them a Lombardi off this game because the Texans stink, but still.
In more injury news, the Joey Bosa injury looks worse with the star pass rusher likely out 8-10 weeks. I never want to hear the words "groin tear" again. Regardless, the Khalil Mack-Joey Bosa duo that was going to terrorize seems to have hit a snag. I ain't mad.
Next week, the Chargers travel to Cleveland to take on the Browns. The Browns are not a good football team and are down their starting quarterback for suspension. However, they can surprise me at times. They are both 2-2, but I do think the Chargers pull this one out and get above .500.