NFL: No planned changes yet for Chiefs-Buccaneers for Hurricane Ian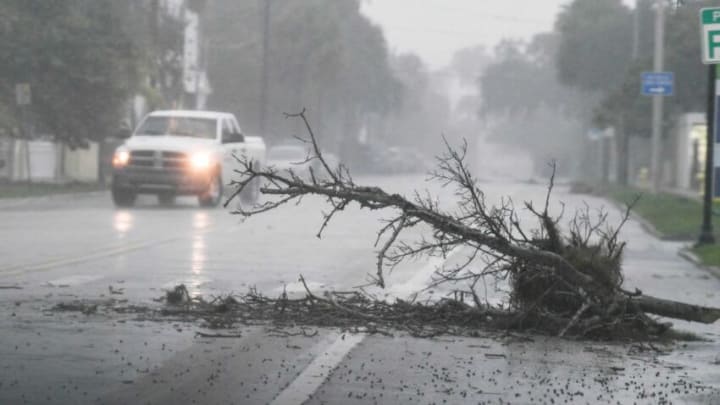 A broken tree limb lies in the street along Highland Av. in the Eau Gallie area of Melbourne. Craig Bailey/FLORIDA TODAY via USA TODAY NETWORKHurricane Ian /
The National Football League is not planning any changes as of yet to the location of the Chiefs-Bucs game scheduled for Sunday.
The Kansas City Chiefs and Tampa Bay Buccaneers are scheduled to anchor the primetime slate on Sunday Night Football on NBC for the NFL's slate in Week 4. However, Mother Nature might have some plans of her own.
For now, the National Football League has yet to make any planned changes due to Hurricane Ian, a storm set to hit the Gulf-facing side of Florida on Wednesday. Since the game is scheduled to play in Tampa, and since an NFL broadcast is such an involved event, the league has found an alternate site back in Minneapolis just in case of emergency.
For now, Hurricane Ian is not forcing the league to make any shifts, and NFL reporter Ian Rapoport says there are no planned changes for now.
If it sounds funny that a team from Kansas City and another from Tampa could end up in Minnesota to play a game, well, it is. However, it's also a stadium that remains ready to host an actual NFL broadcast. The league forces teams that are traveling overseas to play NFL games (e.g. in London) to have their home stadiums at the ready in case of emergency. That means US Bank Stadium is ready to host NFL football for someone, even if it's not the Minnesota Vikings. (The Vikes, by the way, are playing the New Orleans Saints in London.)
The Sunday night element here gives the league several extra important hours to work with when gauging how things might play out. It looks like the Bucs might be able to keep their home-field advantage here, but storms like this can often shift at a moment's notice and foil anyone foolish enough to make bullish plans around it.