Imagining a minor-league system for Kansas City Chiefs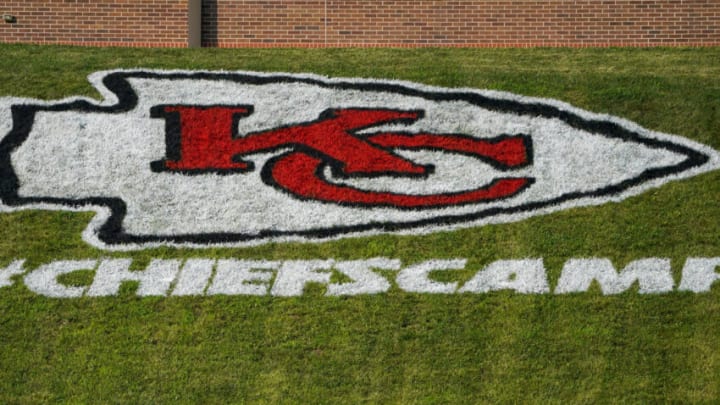 Jul 28, 2021; St. Joseph, MO, United States; A general view of the camp logo during training camp at Missouri Western State University. Mandatory Credit: Denny Medley-USA TODAY Sports /
St. Louis, MO /
Team Location and Details
Let's say the Chiefs have one developmental team, shared with another NFC team. Some logical pairings are the Chicago Bears, Minnesota Vikings, or maybe the Dallas Cowboys. If the NFL wanted to be both petty and rebuild relationships, the Chiefs and Los Angeles Rams putting a developmental team in St. Louis would be possible.
Outside of the Rams, a developmental team needs to be somewhat close for both teams. So, here are some city options dependent on who Kansas City joins forces with.
Minnesota Vikings: Developmental team in Des Moines, Iowa
Des Moines Mascots: Shuckers, Sliced Bread, Shiner, Osprey
Market Size: 719,146 as of 2020
Ideal Stadium: Valley Stadium
Des Moines might not be the sexiest pick, but the city would be advantageous for both teams. Des Moines is nearly perfectly halfway between Minneapolis and Kansas City, allowing for fans and team officials to easily travel. Omaha, Nebraska, and Cedar Rapids, Iowa are both within two hours drive, easily accessible for football fans to drive on game day.
Des Moines is already home to the Indoor Football League's Iowa Barnstormers but would provide a solid fanbase. The NCAA's Iowa Hawkeyes and Iowa State Cyclones are both Power-5 teams with great fans and positive national reputations. Both also produce an NFL-caliber talent, such as current Chiefs player Mike Rose.
Iowa's proximity to the Vikings, Chiefs, and Bears lends itself to two of the three pairing for a developmental team. Any team would likely be welcome for its entertainment and financial benefits.
Dallas Cowboys: Developmental team in Oklahoma City, Oklahoma
Oklahoma City Mascots: Lightning, Oilers, Wranglers, Rattlers
Market Size: 1,441,647 as of 2021
Ideal Stadium: Taft Stadium (with modifications)
Oklahoma City is one of the country's largest markets without a professional football, baseball, or hockey team. The Oklahoma City Thunder's success in the 2010s shows how the city and area rally around any team. The Cowboys and Chiefs teaming up to provide another successful sports team would be an instant money-maker and one of the NFL's strongest developmental teams.
There is no football presence in Oklahoma City, outside of the Sooners. While the Sooners' impending move to the SEC will see more NFL-caliber talent playing in the area, it would also provide a promising pipeline for developmental players. If powerhouses like Alabama, LSU, and more consistently visit Oklahoma City, prospects could be intrigued by continuing their football career there.
One drawback is the drive from Kansas City is longer than it is from Dallas. Few locations are perfect, but a five-hour drive will make several Chiefs fans reconsider the trip. However, the Cowboys' financial status could make the pairing worth Kansas City's while.
Chicago Bears: Developmental team in St. Louis, Missouri
St. Louis Mascots: Toasted Ravioli, Explorers, Sounds, Spirits
Market Size: 2,809,299 as of 2021
Ideal Stadium: The Dome at America's Center
While the Chiefs and Rams teaming up in St. Louis would be more interesting, Kansas City and Chicago would be the most practical. Football would be welcomed back into St. Louis with open arms, especially after the Rams' departure. The team's departure left deep wounds, emotionally and financially, on the city's residents. St. Louis is more than a baseball town, but Rams ownership claimed otherwise and left the city with a massive tax bill.
Like Oklahoma City, there are no competing football teams in St. Louis. It is more devoid of collegiate football talent though, which may make recruiting prospects to St. Louis slightly more challenging. But, it would also provide a big stage for college players with name recognition but shaky NFL draft profiles. St. Louis is clearly the largest market on this list and is the nation's third-biggest without an NFL team.
Like Des Moines, St. Louis is nearly an equal drive from Chicago and Kansas City. Plus, St. Louis is very much within both teams' markets already. A St. Louis developmental team would satiate Chiefs fans in eastern Missouri, an often forgotten arm of the Chiefs' fanbase.