Denver Broncos make awkward 'draft call' video with Russell Wilson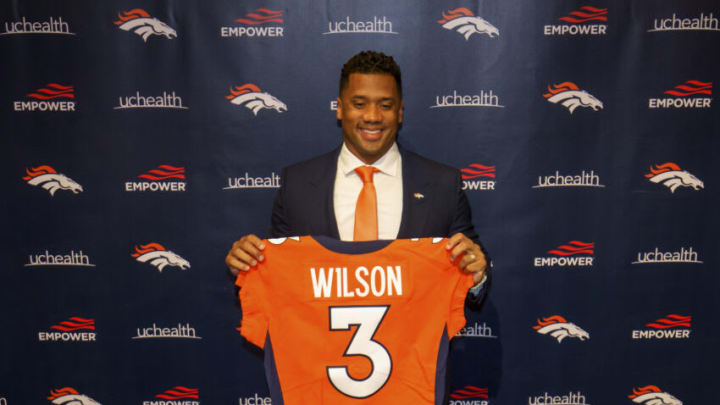 ENGLEWOOD, CO - MARCH 16: Quarterback Russell Wilson #3 of the Denver Broncos poses with his jersey after speaking to the media at UCHealth Training Center on March 16, 2022 in Englewood, Colorado. (Photo by Justin Edmonds/Getty Images) /
Look, maybe if your head is affected by the altitude of living in a Mile High setting, things are funnier than if you're at sea level. Or maybe the overexcitement of having competency at quarterback for the first time in seven or eight years has made an organization euphoric. It's also possible that Denver Broncos fans are awkward as it is.
What we do know is that the Broncos were clearly feeling left out as the 2022 NFL Draft got underway on Thursday and Friday. While they watched a team like the Kansas City Chiefs, who have owned their respective division—the AFC West—for six consecutive seasons, reel off one pick after another in each round, the Broncos were forced to sit and watch after having dealt several picks to the Seattle Seahawks in the blockbuster trade for Russell Wilson.
Now, no one should question the merits of that deal. General manager George Paton of the Broncos did what the organization has needed to do for years: acquire a franchise quarterback. Every team needs one, but the carousel of Brock Osweiler, Paxton Lynch, Trevor Siemian, Drew Lock, Joe Flacco, etc. made the need even more glaring. Paton did a great job there and deserves credit. Unfortunately, he couldn't just relax in his office knowing the draft was the cherry on top of the offseason.
Instead of just making the few selections they have and then celebrating those new players, the Broncos decided to release a "draft call" video featuring Wilson. If it sounds lame, just know the execution is even worse.
It's like the producers of Full House were tasked with a team's PR or something. The only downside here is that Wilson's play won't be nearly as cringey.