KC Chiefs draft rumors: Brevin Jordan draws interest at tight end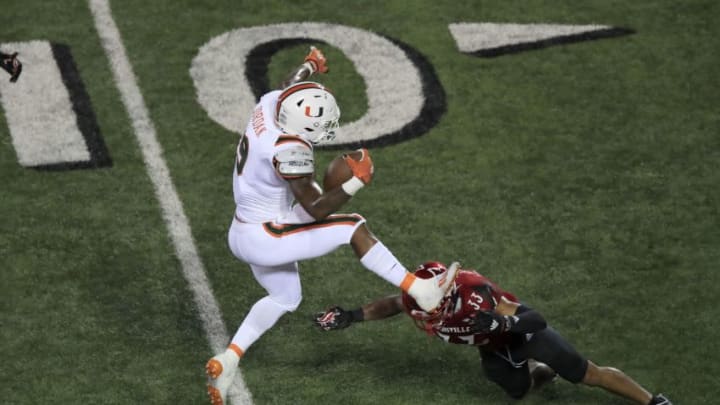 LOUISVILLE, KENTUCKY - SEPTEMBER 19: Brevin Jordan #9 of the Miami Hurricanes runs the ball against the Louisville Cardinals at Cardinal Stadium on September 19, 2020 in Louisville, Kentucky. (Photo by Andy Lyons/Getty Images) /
As the pre-draft season really gets underway, Chiefs Kingdom is going to hear about a number of interactions between the team and various prospects for the coming 2021 NFL Draft. One of the earliest mentions for the K.C. Chiefs comes from Justin Melo of The Draft Network who has word that Miami (Fl.) tight end Brevin Jordan has earned some interest from general manager Brett Veach and company.
Specifically, Melo says the Chiefs are one of a handful of teams with some acknowledged interest in Jordan. That said, most teams are likely to check out Jordan, given his draft status, and every team is going to do their due diligence on every player.
When it comes to the tight end position in the draft, Kyle Pitts is an easy pick at the top of prospect rankings, but he's also expected to be a potential top 10 pick for some team anxious to get their hands on such an obvious offensive mismatch. From there, tight end rankings will differ on the order, but Jordan is always within the top tier of tight ends.
That said, Jordan is a bit of an odd fit at the position. He's more of an offensive jack of all trades, who can line up in multiple spots for great effect. He's smaller than most tight ends at only 6'3, 245 lbs., and even with a bit of added weight, he's not going to have the stature that others in the league (or draft) possess. Still, Jordan had 38 catches for 576 yards and 7 touchdowns last season in only 8 games for Miami, and he's got a well-rounded skill set for the team that has the imagination to use him well.
The Chiefs are showing interest in tight end Brevin Jordan.
As for the Chiefs, it's a bit odd to consider taking a tight end so early when Travis Kelce looks so good and remains so productive even as he will turn 32-years-old in October. Tight end isn't exactly the primary position at which teams worry about a succession plan, and the Chiefs hardly ever utilize their second or third tight ends offensively. This means any selection of Jordan—or another highly rated tight end for that matter—will likely include an offensive shift for the Chiefs in 2021 and beyond,. Last year, only 20 total targets went to tight ends not named Kelce.
That's not to say the Chiefs are out on Jordan. Clearly they like something here, and fans shouldn't expect them to use Jordan in some traditional inline way if taken. It will be interesting to see how much more interest the Chiefs seem to have in Jordan as the pre-draft season continues and if they're also linked to other tight ends in the process.