Las Vegas Raiders have changed the narrative about them in 2020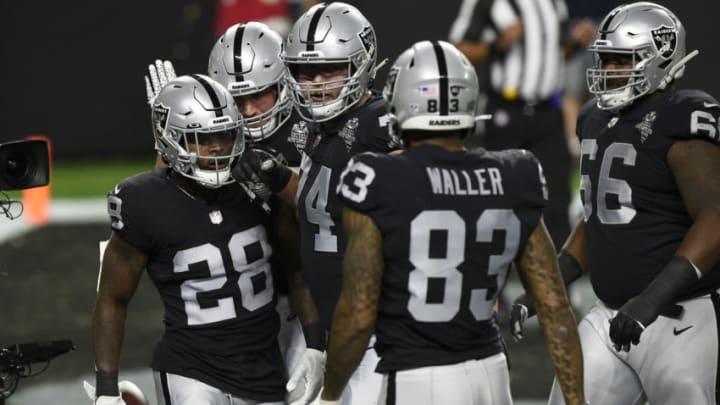 LAS VEGAS, NEVADA - NOVEMBER 22: Running back Josh Jacobs #28 of the Las Vegas Raiders celebrates a two-yard touchdown run with his teammates during the first half against the Kansas City Chiefs at Allegiant Stadium on November 22, 2020 in Las Vegas, Nevada. (Photo by Chris Unger/Getty Images) /
After two games against the Chiefs, it's clear that the Las Vegas Raiders have changed their narrative in 2020.
Coming into the 2020 season, very few people were ready to take the Las Vegas Raiders seriously.
This isn't just coming from Chiefs Kingdom, by the way. The Raiders have been a relative laughingstock of a franchise for years now—years—with only four winning seasons since Y2K was a thing. Even worse was that three of those four seasons came in 2000, 2001, and 2002 and Jon Gruden coached two of those seasons.
No one thought Gruden would be the one to get them back to those winning ways.
Think on this: After Jon Gruden left the Raiders back in 2001, the team immediately went to the Super Bowl in Bill Callahan's first season (where they actually lost to Gruden's new team, the Tampa Bay Buccaneers). Since that magical season in '02, the Raiders have averaged 5.4 wins per year. Five. That's what you get when you take 92 regular season wins and divide it by seventeen seasons.
For the sake of comparison, Andy Reid has 86 regular season wins for the Chiefs in just over 7.5 seasons.
Let's take this and stretch it out for effect, because I don't think we can overemphasize how mediocre (or worse) the Raiders have been for so, so long. Averaging 5.4 wins per season for that long, looks like this if you lay it out over a number of seasons:
2003: 5.4 average wins
2004: 5.4 average wins
2005: 5.4 average wins
2006: 5.4 average wins
2007: 5.4 average wins
2008: 5.4 average wins
2009: 5.4 average wins
2010: 5.4 average wins
2011: 5.4 average wins
2012: 5.4 average wins
2013: 5.4 average wins
2014: 5.4 average wins
2015: 5.4 average wins
2016: 5.4 average wins
2017: 5.4 average wins
2018: 5.4 average wins
2019: 5.4 average wins
As a fan, that's a brutal streak to sit through. As an outsider, however, I think it's important to set up in this way because it so clearly illustrates just how accustomed we've become to overlooking the Raiders. No one took the Raiders seriously for a very, very long time. It's the reason we laughed at a retread head coach like Jon Gruden re-entering the game for a whopping sum of $10 million per season. It's the reason we similarly chuckled when the team reached into the broadcast booth again to make Mike Mayock their general manager.
Look who's laughing now.
Mark Davis deserves credit here for thinking so far outside the box that it sounded like a joke. Gruden won four games in his first season (2018) and seven last year (2019). Not only was the record improving but the Raiders were also adding some decent young talent to the mix as well. However, the Raiders have always had a few impressive pieces even as they were also devoid of a true franchise quarterback. It's what kept them at five wins per year.
This year, however, one thing is clear: the narrative of the Raiders franchise has changed. After multiple cities and a revolving door of head coaches, somehow a return to the past and a reach into a television set has yielded a roster and coaching staff who are giving the defending Super Bowl champs everything they can handle—and even some things they cannot.
Derek Carr looks like a completely different player in Gruden's third season. Whether it's new tricks learned, old habits unlearned, comfort with the offensive system, or the addition of new talent, it's clear that Carr is not only accurate underneath but he's also moving the chains better than he has in years. The Raiders vertical passing game is an added element, and the Raiders scored almost at will on the Chiefs defense even without a single target from Henry Ruggs III—by far, the Raiders best deep threat—until late in the fourth quarter.
In some ways, the Raiders have the Chiefs figured out. They nullify the Chiefs pass rush, throw the deep ball as often as they like, and convert third downs like they're classroom puzzles. But what's notable here is the Chiefs defense looks very solid if you remove the two games against the Raiders this year. Somehow the Chiefs have a top 5 pass defense DVOA, but yet it's also the same unit that surrendered 71 points over two games to a team largely relying on Nelson Agholor.
The Chiefs aren't the only solid team the Raiders have rolled this season. They beat the New Orleans Saints by 10 and did the same to the Cleveland Browns. They also knocked out every team they were supposed to so far—the mark of a good team—like the Denver Broncos, L.A. Chargers, and Carolina Panthers. Their losses this year came from K.C., the Tampa Bay Buccaneers, the Buffalo Bills, and New England Patriots.
That's a tough slate of competitors.
The Raiders might not be an elite contender just yet, but the Chiefs would testify that maybe Jon Gruden's team is the one they wouldn't want to see again in 2020. Even with a 6-4 record, they are beginning to figure some things out and a couple Super Bowl hopefuls have already fallen to this young roster. The Raiders still have six games left in the regular season to decide their postseason fate. More importantly, it's another third of a season in which these young players can grow into a unit capable of doing much more than any of us likely believed possible in 2020.
It's a new narrative at work in Sin City.