Tyreek Hill tries to increase hurdle rating in real life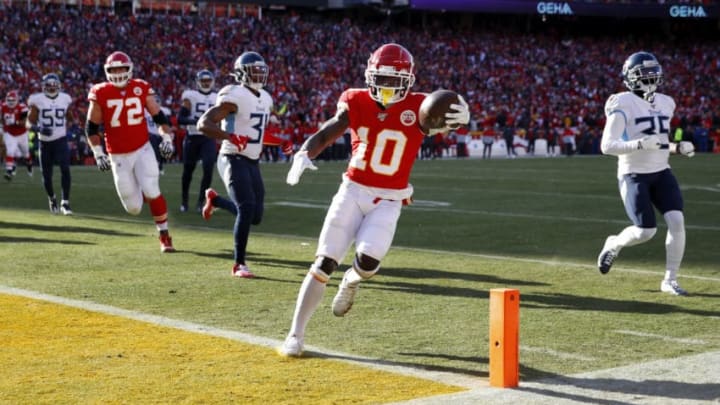 KANSAS CITY, MO - JANUARY 19: Tyreek Hill #10 of the Kansas City Chiefs runs the ball into the end zone for a touchdown during the AFC Championship game against the Tennessee Titans at Arrowhead Stadium on January 19, 2020 in Kansas City, Missouri. The Chiefs defeated the Titans 35-24. (Photo by Joe Robbins/Getty Images) /
We're here for all summer long for Tyreek Hill's insane workouts.
If you need a few minutes, we understand. After watching any workouts of Tyreek Hill this offseason (or really, at any time at any point since he first arrived in Kansas City), we tend to need a moment to pick up our jaw off the floor or to stop laughing at the idea of just how great of an athlete he is. This particular offseason, he seems to be outdoing himself.
Maybe it's just because we're quarantined up, but we're extra-appreciative these days of the chance to see Hill working out and improving his game. The Kansas City Chiefs wide receiver is already an annual Pro Bowl performer who is known as the single fastest player in the league (and an well-earned nickname of Cheetah). But lately he's been honing other skills in case he wasn't already enogh of a danger to take it to the house any time he has the ball in his hands.
Check out the following video where he's clearly working on his real life hurdle rating:
https://twitter.com/brgridiron/status/1273700863035486208
This author is pretty sure that even with a running start after consuming energy drinks, I'd still never come close to clearing that same obstacle.
Fortunately for fans, we've seen other glimpses of Hill's offseason that show just what a marvel he is in the weight room and on the field. Perhaps the most impressive is this hamstring workout that brought out the competitive spirit in other players who posted similar workouts of their own.
https://twitter.com/overtime/status/1260252777076477953
Earlier this week, Hill was showing his skills on the court by throwing down this dunk.
https://twitter.com/thecheckdown/status/1273719202344366081
Then there's this ridiculousness, perhaps the most memorable of them all. J.J. Watt of the Houston Texans had posted a workout video and then coach Anthony Blaine, Sr., who is clearly helping Hill with this offseason workout, posted this in response.
https://twitter.com/coachablaine29/status/1234262039738114052
With four Pro Bowl nods in four seasons, Hill's unparalleled skill set and production are on a Hall of Fame trajectory. Workouts like these show exactly why he excels even at the highest level of his sport.