Be careful to read too much into Chris Jones negotiation updates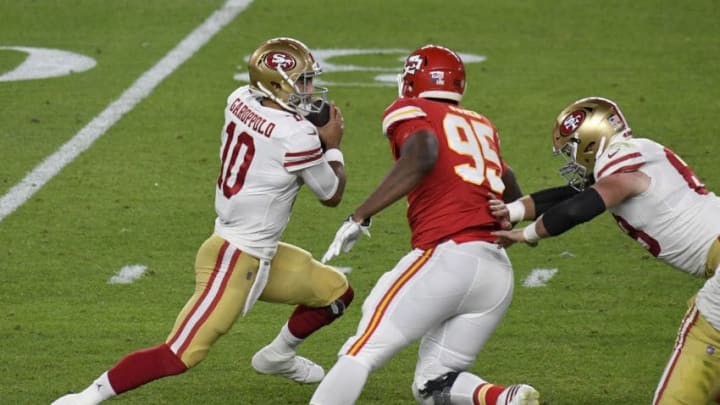 MIAMI, FLORIDA - FEBRUARY 02: Jimmy Garoppolo #10 of the San Francisco 49ers looks to avoid the pressure from Chris Jones #95 of the Kansas City Chiefs in Super Bowl LIV at Hard Rock Stadium on February 02, 2020 in Miami, Florida. The Chiefs won the game 31-20. (Photo by Focus on Sport/Getty Images) /
Don't worry if you read things that insinuate the Chiefs and Chris Jones aren't working things out.
There are plenty of things wrong with the world right now—from coronavirus to corruption. Don't let anything related to Chris Jones and the Kansas City Chiefs get you down.
The latest reports regarding any contractual talks between the Chiefs and their star defensive tackle are insinuating only negative things at this point. In recent days, Jeremy Fowler reported the lack of "traction" involved in this stage of any negotiations.
On the heels of Fowler's report, Ian Rapoport then weighed in on Friday and offered a bit more perspective.
If you read the reports last week, it's understandable if you became a little jittery regarding the long-term status of Jones with the Chiefs. These reports insinuate all sorts of bad news. It's only a matter of time until we start hearing nonsense based on such bits of news. Perhaps we'll see opinions columns about Jones needing to be a team player or less selfish. Or maybe we'll see something about the Chiefs being cheap or hear about a mismanaged cap. Who knows? Maybe Patrick Mahomes will be called out for hamstringing the team with his own expensive deal.
It's all ludicrous (and I'm glad we're not there). So trust me when I say, "Don't worry."
Here's the reality. The Chiefs have zero urgency to get a deal done in the next month or so. They really don't even need to rush things with Mahomes' deal. However, the team has stated a goal to work things out with Mahomes this summer, and they've reportedly started those talks at this point. From there, Jones will also get done.
If you find yourself doubting your favorite team and lineman, just remember that both sides have stated intentions of remaining in a long-term relationship. Then remember that Kansas City skipped every decent chance they had to trade Jones for maximum return this offseason and didn't even sign or draft a single player who could remotely take his place.
A Super Bowl team intent on "running it back" does not decide, after the bulk of transactions are finished in an offseason, to suddenly move on from Jones for the sake of, say, Khalen Saunders. Nor is it in their interest to say publicly for months how much they want to keep Jones long-term only to secretly upset him by forcing him to play out the season on the franchise tag.
The offseason is long—so very, very long. Jones and the Chiefs have until July 15 (or more than a month-and-a-half). It's not as if Jones will asking for anything that's not already fairly predictable given recent deals handed out to Frank Clark by the Chiefs and DeForest Buckner by the Indianapolis Colts. There are wrinkles to smooth out, yes, but there's also plenty of time for the iron to heat up.
Not only will the Chiefs and Jones work out their nuptials and find a way to stay married, but these sorts of short-term reports will be long-forgotten by the time a new season begins. If you find yourself worried about the Chiefs salary cap or future plans or Jones' future or any other such subjects, you can relax. Save your worries for basically everything else these days.