Chiefs lack a single player on Pro Football Focus' All-Clutch Team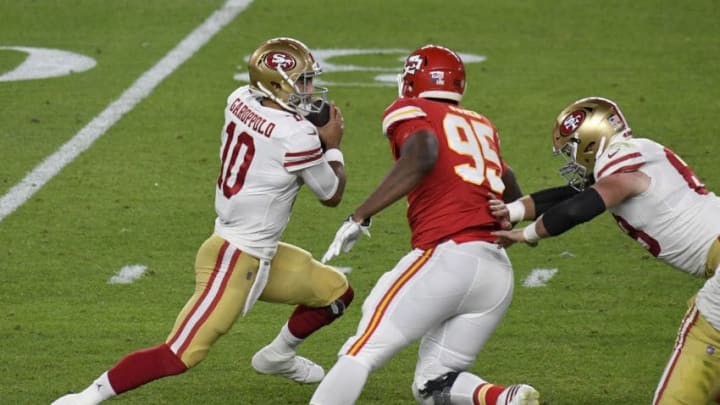 MIAMI, FLORIDA - FEBRUARY 02: Jimmy Garoppolo #10 of the San Francisco 49ers looks to avoid the pressure from Chris Jones #95 of the Kansas City Chiefs in Super Bowl LIV at Hard Rock Stadium on February 02, 2020 in Miami, Florida. The Chiefs won the game 31-20. (Photo by Focus on Sport/Getty Images) /
Analytics-driven analysis indicates that no Chiefs are among the "most clutch".
Despite winning three consecutive win-or-go-home postseason games while coming back from double-digit deficits, the analytics utilized by Pro Football Focus have determined that no players on the Kansas City Chiefs 2019 Super Bowl Championship team are amongst the top at their position as it relates to being "clutch."
Maybe that means their formula is broken.
Analytics can be a useful tool for analyzing data and creating general categories of rankings and statistics. Sometimes, however, they are just truly inadequate at measuring what is truly happening on the field during a given sporting event. This is one such example of the latter.
To be fair, it's not as if Pro Football Focus set out to intentionally exclude the Chiefs. Their definition of "clutch" just happens to have an odd scope: "selecting the players who graded the best in the fourth quarter and overtime of one-score games (within eight points)." This means teams who played with leads late in games, or who did not play in overtime games, were disadvantaged.
Given this data set, it irks me that data analysts refuse to acknowledge shortcomings in their approach and instead just defer to the numbers and mathematics as ultimate arbiters. Football is about so much more than individual grades or hand-picked metrics. It's a team game and winning on the biggest stages should matter the most.
Anyone who watched the playoffs can discern some issues immediately with PFF's rankings. The first and second team quarterbacks, for example, both collapsed when it mattered most, despite holding double-digit leads in the playoffs over the Chiefs. Were Deshaun Watson (1st Team) and Ryan Tannehill (2nd Team) good for their teams in 2019? Absolutely. Can you really be the most clutch quarterback in football if your team blows a 24-0 lead in a playoff game? The answer is no.
Despite how obvious this conclusion is, PFF is not the only one who feels this way, apparently. ESPN's Skip Bayless defended the analytic-conclusion on Undisputed:
Bayless, of course, is known for his absurd daily takes and the premise of his show with fellow analyst Shannon Sharpe is that they disagree on literally everything. But Bayless should have let this one go and selected a different topic, because this is a ridiculous argument.
Unfortunately the shortcomings of PFF's All-Clutch roster do not stop at the quarterback position. The Chicago Bears boasted the most clutch right tackle in football in 2019, according to these numbers. Yet Chicago quarterback Mitchell Trubisky was sacked on average almost three times per game in 2019, which ranked 21st in the NFL. Their right tackle, Bobby Massie, also missed six games during the season.
Kansas City also defeated both "All-Clutch" tight ends during their 2019 playoff run, as neither 1st Team selection George Kittle or 2nd Team tight end Jonnu Smith were able to be clutch-enough to knock off the champs. How clutch was Kittle? Four receptions for 36 yards in the Super Bowl clutch. Too small of a sample size? Okay, sure. How about eight catches for 71 yards in 3 total postseason games?
It continues on the defensive side of the ball. None of the four interior defensive linemen on the All-Clutch roster played in the playoffs last year. The starting edge rushers from the Tennessee Titans and New England Patriots registered one combined sack in three games against Kansas City in 2019 when Harold Landry took down a severely-limited (in terms of mobility) Patrick Mahomes returning from a dislocated knee in their Week 11 contest. Neither of the starting safeties appeared in the 2019 playoffs, either.
We get the appeal of analytics, but the flaws in an analytics-only method are clearly flawed.