KC Chiefs report 95 percent renewal rate for season tickets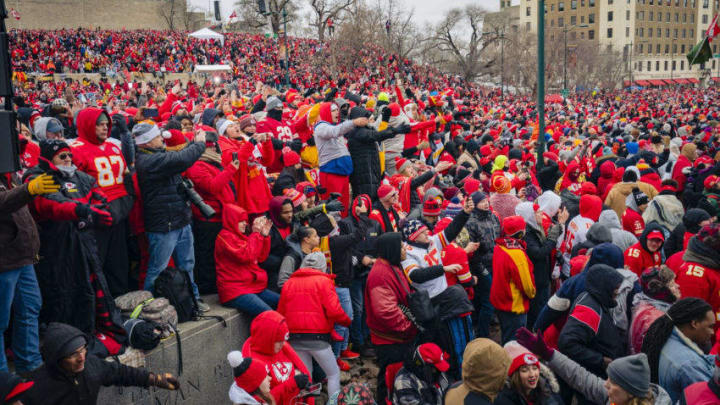 KANSAS CITY, MO - FEBRUARY 05: Fans do the tomahawk chop during the Kansas City Chiefs Victory Parade on February 5, 2020 in Kansas City, Missouri. (Photo by Kyle Rivas/Getty Images) /
The Kansas City Chiefs are reporting an impressive 95 percent renewal rate for the upcoming season after basking in Super Bowl glory.
Just as the Kansas City Chiefs front office and coaching staff are preparing now for the 2020 regular season in hopes of ultimately defending their championship run—their first such title in 50 years—fans in Chiefs Kingdom are doing the same by renewing their season tickets at a very impressive rate.
Sports Business spoke with Chiefs owner Clark Hunt who said the team had already seen a 95 percent renewal rate from season ticket holders less than one month after the Super Bowl.
""We're definitely seeing there is more demand in the Chiefs, not only in the Kansas City area but on a national level as well as internationally. Being the Super Bowl champs, we have a chance to really grow the international brand of the Chiefs.""
Last year at this time, the Chiefs had came this close to making the team's first Super Bowl appearance since their win in 1970. However, the famous Dee Ford offsides penalty (along with a number of other defensive miscues) kept the Chiefs from making such a plunge. That means one year ago at this time, fans of the Chiefs were optimistic about the future while also curious as to whether or not this franchise was too cursed to ever make it all the way.
On this side of things, there's not a single team set up for success in the near future like K.C. Patrick Mahomes has won an MVP and Super Bowl MVP trophy already before the age of 25. Weapons like Tyreek Hill and Travis Kelce are still in their primes, earning Pro Bowls with each passing year. The defense finally came together enough to win it all in the first year together for Frank Clark and Tyrann Mathieu and company.
Further development under Steve Spagnuolo's leadership should help the defense gel even further, and the chemistry between head coach Andy Reid and his favorite quarterback are a match made in heaven in today's NFL.
If the team's financial picture doesn't get too cloudy (as in if the Chiefs can stay savvy when it comes to the cap), fans will likely keep coming back for more (and then some) for such an exciting team. These Chiefs are already becoming household names and tickets will only become more difficult to obtain in Arrowhead from here on out.