How to watch the Kansas City Chiefs Super Bowl Parade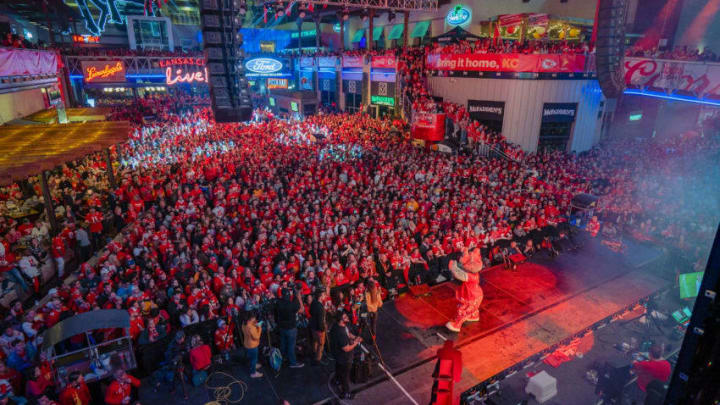 KANSAS CITY, MO - FEBRUARY 02: Fans cheer on the Chiefs at the Power and Light District as the Kansas City Chiefs play the San Francisco 49ers in the Super Bowl on February 2, 2020 in Kansas City, Kansas. (Photo by Kyle Rivas/Getty Images) /
Whether you're going in person or watching from afar, here's all you need to know to make sure you don't miss the Chiefs Super Bowl parade.
The Kansas City Chiefs went out, did their jobs, and won the Lombardi Trophy. Now it's time to bring it home.
Details have been released for the team's celebratory parade commemorating their win in Super Bowl LIV over the San Francisco 49ers. On Wednesday, Kansas City is going to resemble an incredible sea of red for several blocks down Grand Blvd. Based on the massive crowds that showed up to cheer for the Royals as they brought home a World Series title back in 2015, it's a safe bet that crowds will swell to record levels.
The Chiefs Super Bowl parade, which is expected to last 90 minutes, will begin at 11:30 a.m. on the corner of 6th and Grand and will continue south along Grand until Pershing before heading to Union Station where a fan rally will be held for Chiefs Kingdom. Roads along the route will be shut down, but pedestrians can cross at 9th St., 12th St., Truman Rd., and 18th St.
If you're going to the parade, make sure to dress warm. The weather forecast is calling for snow and temperatures will be below freezing.
For those who want to look at a comprehensive overview of the parade route, you can see the complete list of closures as well as positions for restrooms, medical tents and child reunification areas here on this map:
If you're watching from afar, here are your choices:
TV: If you want to watch on television, KSHB is your lone source and will be providing coverage beginning at 4:30 a.m.
STREAM: You can download a 41 Action News app on any phone/tablet or smart TV (Roku) and stream the coverage there.
ONLINE: You can watch the parade online at KSHB's site or on their Facebook page.
You can find plenty of further information on parking, live music, handicap accessibility and more here.