Former Chiefs cornerback Marcus Peters signs extension with Baltimore Ravens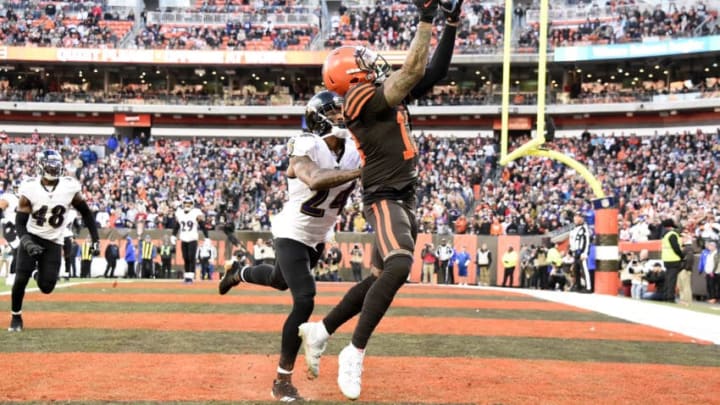 CLEVELAND, OHIO - DECEMBER 22: Odell Beckham Jr. #13 of the Cleveland Browns catches a touchdown pass against Marcus Peters #24 of the Baltimore Ravens during the fourth quarter in the game at FirstEnergy Stadium on December 22, 2019 in Cleveland, Ohio. (Photo by Jason Miller/Getty Images) /
The Baltimore Ravens apparently love what they've seen in their first year with cornerback Marcus Peters because they just signed him to a new extension.
Marcus Peters has found a permanent home with the Baltimore Ravens.
Over the last few years, Peters, the mercurial cornerback, has found himself switching uniforms and home cities after trades brought him from the Kansas City Chiefs to the Los Angeles Rams and now to the Ravens. On Saturday, NFL reporter Adam Schefter released word that the Ravens had committed up to $42 million over the next three seasons to Peters.
Per Schefter, $32 million of the contract for Peters is guaranteed, and there are two sides to be seen on this deal. If you consider Peters a top cornerback, and he certainly played like one this year for the Ravens, hence the reward, then an average of $14 million for a Pro Bowl performer is a solid below-market deal for Baltimore.
On the flip side, the Chiefs traded Peters nearly two years ago for a pittance (a fourth round in 2018 and a second round pick in 2019) when Peters was on a Hall of Fame trajectory as a turnover machine while still playing on a rookie deal. His attitude was seen as divisive and there were clear issues with his defensive coaches. To be clear, the Chiefs themselves decided to flush those same coaches the next offseason.
The Rams traded for Peters only to flip him for even less than the Chiefs received (linebacker Kenny Young and a 5th round pick), so that shows just how much the Rams had also soured on Peters as a long-term investment. Instead, they moved Peters and then decided to go all-in on importing Jalen Ramsey instead. From there, the Ravens seized the chance to grab a low-risk asset which has paid off in spades.
History says the Ravens might regret this deal, but Peters himself might be on his best behavior with a team like Baltimore. It's a good fit for both player and franchise and the Ravens have made their commitment in order to keep Peters from hitting the open market.
Only time will tell if the Ravens will end up shaking their heads with the Chiefs and Rams after committing the money to Peters.