Chiefs vs. Jaguars: Hurricane Dorian unlikely to move Week 1 game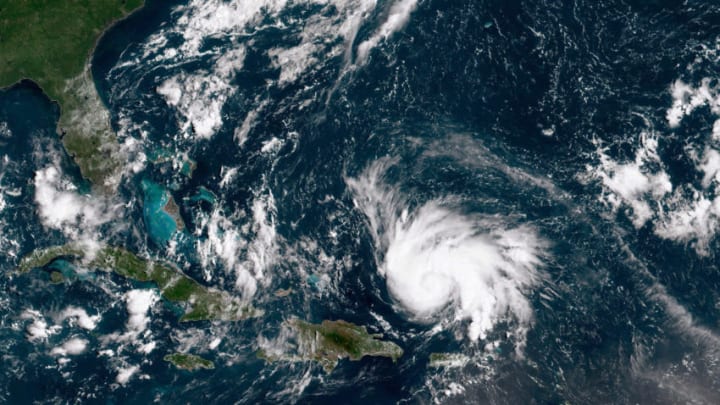 ATLANTIC OCEAN - AUGUST 29: In this NOAA GOES-East satellite image, Hurricane Dorian leaves the Caribbean Sea and tracks towards the Florida coast taken at 14:20 UTC August 29, 2019 in the Atlantic Ocean. According to the National Hurricane Center Dorian is predicted to hit Florida and the northern Bahamas as a Category 3 storm, bringing heavy rains and sustained winds of 125 mph. /
The Kansas City Chiefs and Jacksonville Jaguars are set to play in Florida in Week 1 with Hurricane Dorian on the way.
Many persons in Florida these days are planning on leaving the area. The Kansas City Chiefs are preparing to visit.
For the Chiefs opening game for the 2019 regular season, they are scheduled to visit Jacksonville to play the Jaguars in Week 1 just over a week from now. Unfortunately, Hurricane Dorian has also decided to visit at the same time, raising concerns about the ability to host a number of events—including the team's opening game.
Early rumors online swirled that the teams could replay the game at a later date, perhaps by giving up each team's bye week. Others wondered whether the game would move to Kansas City. Sam Mellinger of the Kansas City Star, however, hears that nothing substantive has been discussed at all.
Dorian is being called "extremely dangerous" at this point, and everyone would agree that no football game is worth putting anyone in harm's way.
It's a bit surprising to hear no real talks have been held, since Dorian is expected to make landfall early next week. It's impossible to tell what the damage might be from the storm, but in a league where field conditions are a point of focus, it's hard to imagine the NFL being comfortable allowing such unpredictable elements in play.
The storm has already affected one college football game between Florida State and Boise State. The game will be moved from Jacksonville to Tallahassee, although the contest was scheduled one week before the Chiefs-Jaguars. It is just an example that some moves have already been made in advance of Dorian's arrival.
Further updates will be given, even if that means keeping things as they are. It will be interesting to watch weather reports through the lens of damage and potential game readiness.