Kansas City Chiefs rank among 50 most valuable sports teams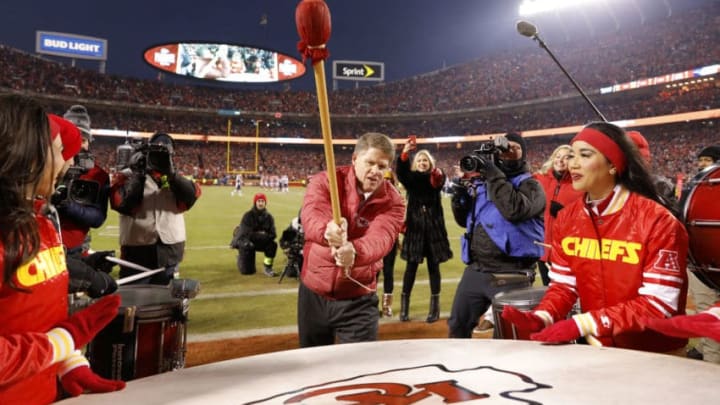 KANSAS CITY, MISSOURI - JANUARY 20: Kansas City Chiefs owner Clark Hunt bangs the drum before the AFC Championship Game against the New England Patriots at Arrowhead Stadium on January 20, 2019 in Kansas City, Missouri. (Photo by David Eulitt/Getty Images) /
The latest list of the 50 most valuable sports teams is out from Forbes Magazine and the Kansas City Chiefs narrowly made the cut.
Every year the folks at Forbes Magazine make a list of the most valuable properties in professional sports and every year the National Football League dominates the list. Some teams from the National Basketball Association make the cut, and a few from Major League Baseball as well. The world's most well-known soccer franchises are also an annual part of the list. However, by and large, it's a list of NFL teams for at least half the rankings.
This year, the Kansas City Chiefs just made the cut at No. 47 overall out of 50. A couple things stand out that are interesting about this year's entry.
First of all, the franchise is valued as the same this year as it was last year. Note that the Chiefs have appeared in primetime television as much or more than any single other team in the last two seasons and they have the NFL's brightest young star at the most important position who just won the Most Valuable Player award in Patrick Mahomes. Still, that somehow doesn't move the meter for Clark Hunt and his family as the one year change remains at zero percent. Go figure.
Beyond that, the Chiefs are tied for No. 47 overall and, of all the teams that they could be paired with, it's the other Missouri-based franchise that settles in as well at 47: the St. Louis Cardinals. William DeWitt Jr.'s team experienced an 11 rise in value over last year, per Forbes, and that brings the Cardinals to the Chiefs level.
Last year, the Chiefs were No. 24 on the list of NFL teams and remain in the same position this year. The Dallas Cowboys are No. 1 overall for both the NFL and general sports lists.