Patrick Mahomes is working on footwork, pocket presence with Chiefs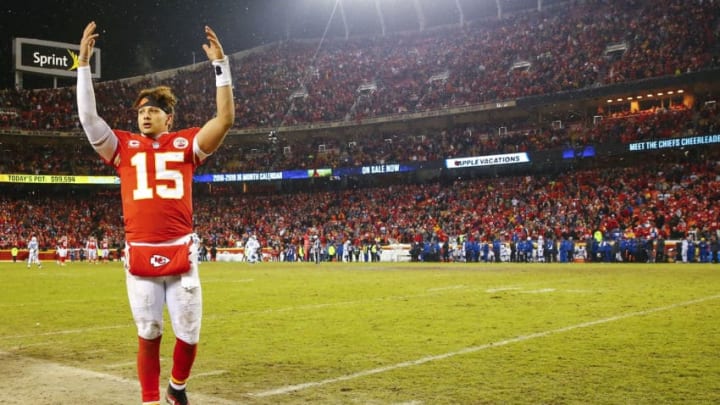 KANSAS CITY, MO - JANUARY 12: Quarterback Patrick Mahomes #15 of the Kansas City Chiefs celebrates in the final minute of the 31-13 victory over the Indianapolis Colts in the AFC Divisional Playoff at Arrowhead Stadium on January 12, 2019 in Kansas City, Missouri. (Photo by David Eulitt/Getty Images) /
Eric Bieniemy spoke to reporter Sam Wyche and detailed what the Kansas City Chiefs are pushing from Patrick Mahomes in 2019.
What more can the Kansas City Chiefs ask from their wunderkind quarterback?
Patrick Mahomes lit up the NFL last season with a performance for the ages as he put up literally one of the best full-season stretches by any starting quarterback in league history. With 50 touchdowns and 5,000 passing yards, Mahomes had only one other player who could boast the same statistics in future Hall of Famer Peyton Manning—and that only happened once.
What made Mahomes' season that much more incredible was that it was his first look at it all. Each week presented a series of new firsts for Mahomes. It was his first time seeing certain defensive schemes up close. It was the first tour through the team's division rivals. It was the first time he got to understand the proclivities of different players and defensive coordinators.
The head-shaking reality of it all is that Mahomes put those tremendous numbers in starts number 2 through 17 of his NFL career. What will starts 18 through 33 hold? The sky is the limit.
For the Chiefs coaching staff, a player like Mahomes presents an interesting conundrum. How do you allow a player with such natural talents to do what he can while also wanting to coach him up?
Imagine a point guard with an awkward release point who somehow makes it work on every level. Imagine that same kid coming into the NBA and leading the league in scoring. Every coach likely wants to correct that form to make him even better, but then again, is that the secret sauce, so to speak? Would messing with the release point and correcting his form to be more efficient actually limit his abilities? Would the game become mentally draining rather than instinctual?
Chiefs offensive coordinator Eric Bieniemy says the Chiefs are well aware of Mahomes' talents but they're still trying to drive home the fundamentals that will only enhance those natural skills. Here's what he said in a recent interview with Sam Wyche while attending an NFL coaching summit.
"First and foremost, Pat is a great kid. Pat had a tremendous year last year. But Pat also understands it's all about getting back to the fundamentals and being detailed in the little things we're expecting him to do. We've focused on making sure that his pocket presence and his footwork in the pocket remains consistent.There's a lot of different nuances that we want to make sure he's staying in tune with. At the end of the day, he's a great kid. When you coach him hard, he understands. The beauty of it is he's receptive to it and he understands, hey, it's time to chop wood."
If the prospect of facing Mahomes wasn't already a scary enough proposition last season, imagine how much better he will be with a full season under his belt. This time around, Mahomes will be more efficient, more experienced, more able to trust his instincts because the speed of the game and the trust of his receivers has been developed during the previous season and another full offseason.
That sounds like a a beautiful thing for Chiefs fans and a nightmare for opposing teams.