Mecole Hardman invited to 25th annual NFLPA Rookie Premiere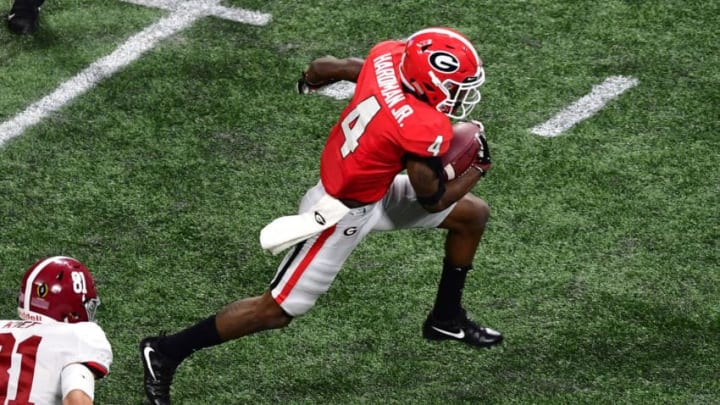 ATLANTA, GA - JANUARY 08: Mecole Hardman #4 of the Georgia Bulldogs carries the ball against the Alabama Crimson Tide in the CFP National Championship presented by AT&T at Mercedes-Benz Stadium on January 8, 2018 in Atlanta, Georgia. (Photo by Scott Cunningham/Getty Images) /
Every year, the NFL's top rookies are invited to a long weekend of business symposiums and marketing opportunities as they adjust to life in the league.
Kansas City Chiefs wide receiver Mecole Hardman was one of 40 rookies invited to take part in the 2019 NFLPA Rookie Premiere, the 25th anniversary of the annual event.
Every year, the NFL gathers dozens of the most exciting rookies from the draft to come together for a myriad of opportunities, all put together by the National Football League's Players Association. At the event, rookies will see the debut of their jerseys for the first time and they'll also take several photos for sports card with Panini.
For the most part, the weekend is the Players Association's way of helping rookies acclimate to the pro level and the business opportunities in front of them. These players are all in their younger twenties stepping into generational wealth for the first time. They're going to be inundated by investment opportunities, marketing schedules and the like. The NFLPA has created the Rookie Premiere to help build safe bridges for the players as well as offering coaching, etc.
For many corporations and organizations, it's also an exciting opportunity to have 40 of the most exciting rookies in the same place at the same time.
It's great to see Hardman given the opportunity to attend even as a second round pick. It likely helps that he's the first pick by the Chiefs and that he's catching passes from the NFL's Most Valuable Player and that Andy Reid is his head coach. Depending on what happens with Tyreek Hill, Hardman has the possibility of putting up some serious numbers for the Chiefs. Remember it was only 2 years ago that Kareem Hunt led the NFL as a rookie in rushing yards as a member of the Chiefs. Hill set the franchise record for receiving yards last season, so there's plenty of stats to go around.
You can read more about the Rookie Premiere here.