Breaking down the AFC West schedules to predict final standings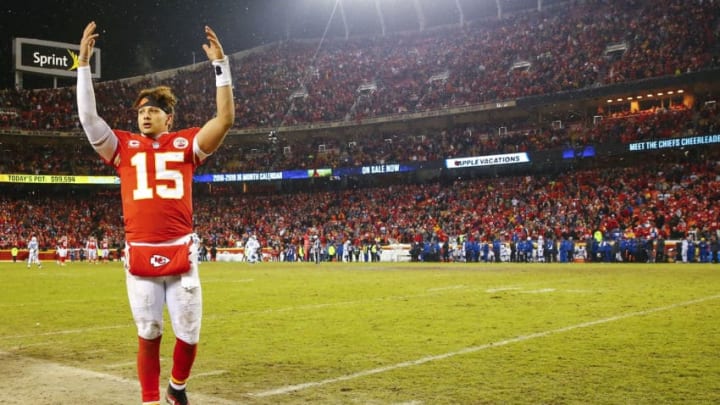 KANSAS CITY, MO - JANUARY 12: Quarterback Patrick Mahomes #15 of the Kansas City Chiefs celebrates in the final minute of the 31-13 victory over the Indianapolis Colts in the AFC Divisional Playoff at Arrowhead Stadium on January 12, 2019 in Kansas City, Missouri. (Photo by David Eulitt/Getty Images) /
The NFL has now released the official schedule, which revealed many exciting AFC West matchups. Let's take a closer look and compare the AFC West schedules.
On Wednesday night, the NFL revealed the official schedules for all teams. The Kansas City Chiefs schedule is full of anticipated matchups and includes five primetime games. Meanwhile, the Los Angeles Chargers earned themselves four primetime games. For the rest of the AFC West, the Denver Broncos and Oakland Raiders only have two scheduled primetime games.
There are not only plenty of exciting primetime games scheduled, but also a lot of intriguing AFC West matchups. One of the more anticipated divisional games in the national spotlight will be when the Chiefs travel to Mexico City to take on the Chargers on Monday Night Football.
The Broncos and Raiders' only primetime games will be AFC West matchups, beginning with each other on MNF in Week 1. Denver's' other primetime game will be on Thursday Night Football against the Chiefs, while the Raiders' will also appear on Thursday Night Football against the Chargers.
While division matchups are always challenging games to win for any team, every AFC West team will have a tough schedule this season. Even before the schedule release, AFC West teams knew their schedule wouldn't be easy based on their opponents. The Raiders have the hardest upcoming schedule, as their opponents' combined win percentage is .539. Coming in a close second is the Broncos, whose opponents' combined win percentage is .537.
The Chiefs are tied with the Chicago Bears for fifth hardest schedule, again based on last season's standings, facing opponents with a combined win percentage of .520. The Chargers have the easiest schedule in the AFC West and are tied at 16th with the Carolina Panthers. Their opponents' combined win percentage is .502.
Despite the tough schedules, AFC West teams will surely stay in fierce competition to win the division. Taking a closer look and comparing each team's schedule could tell us who might come out of the division on top.