Chiefs fans will have a chance to buy old Arrowhead Stadium seats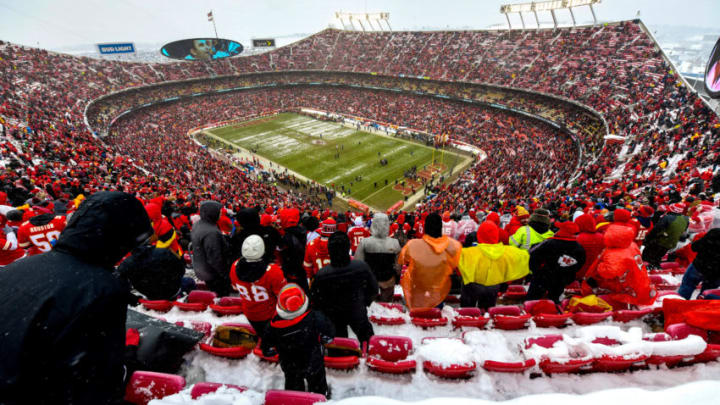 KANSAS CITY, MO - JANUARY 12: Fans begin to filter in prior to the game between the Kansas City Chiefs and the Indianapolis Colts at the AFC Divisional Round playoff game at Arrowhead Stadium on January 12, 2019 in Kansas City, Missouri. (Photo by Jason Hanna/Getty Images) /
Fans of the Kansas City Chiefs will be able to buy old seats from the nosebleeds at Arrowhead Stadium where renovations are being made this offseason.
Arrowhead Stadium is having some work done this offseason in preparation for another regular season, and the Kansas City Chiefs are going to give some nostalgic fans the chance to bring home some keepsakes if they'd like.
Ten years after the last major renovation work at Arrowhead, the Chiefs are sinking another $10 million into the structure. Scoreboards will be brighter and clearer. The Arrowvision scoreboard is going to be redone and "modernized." The concrete will be weatherproofed. And finally, fans who sit in the nosebleeds of the upper deck will finally get some cup holders and wider chairs to improve the experience up top.
So what happens with the older materials taken out? Unfortunately, contractors weren't feeling particularly nostalgic themselves as they took out the seats. In fact, reports that seats have been destroyed after being ripped out of place has been stated on more than one occasion, which likely leaves less-than-desirable artifacts for Chiefs fans.
At first there were questions as to whether or not fans would be able to purchase these chairs, especially given their condition. However, a new report from KCTV states that the team will make old chairs, or at least what used to be old chairs, available to fans who want them. While some fans might not be interested if the seats aren't in working order, other fans likely just want to take home a keepsake and find alternate ways to use or display it.
Plans have not yet been announced as to where/how fans will be able to purchase old Arrowhead seats, but the announcement is likely to come in the weeks to come.