Matt Nagy says Joey Bosa, Melvin Ingram are best bookend tandem in NFL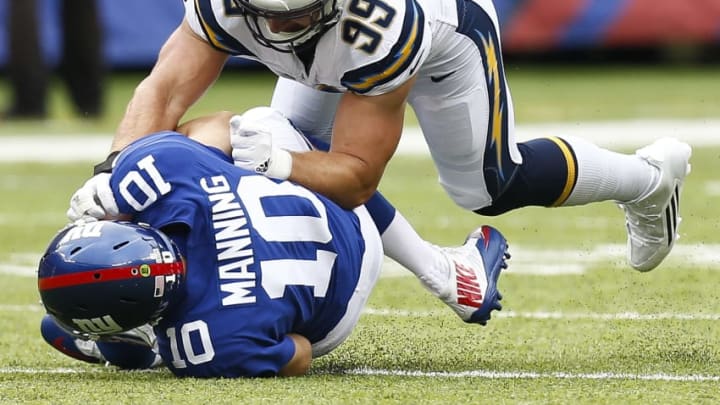 EAST RUTHERFORD, NJ - OCTOBER 08: Joey Bosa /
The Kansas City Chiefs are going to have their work cut out for them on Sunday as the offense goes up against the pass rushing tandem of Joey Bosa and Melvin Ingram.
Every team in the AFC West has the fearsome pass rusher that so many franchises lack. The Kansas City Chiefs have Justin Houston. The Oakland Raiders have Khalil Mack. The Denver Broncos have Von Miller. As for the Los Angeles Chargers, they're fortunate enough to have a pair: Melvin Ingram and Joey Bosa.
In what feels like an unfair bounty of riches, Bosa and Ingram force offensive coordinators to try to game plan for both, which means that either another defender is often completely free in blitzes to come through the offensive line or that opposing game plans are completely rewritten in order to counter the pass rushing prowess of those two specific players.
As offensive coordinator Matt Nagy of the Kansas City Chiefs prepares for Saturday night's showdown between the teams, he admitted how tough it will be to stay on top of where they're at and succeed on the other side.
"They're, as a tandem right now, playing in my opinion probably the best in the league as far as bookend guys. We understand that and it's been a theme, you guys know, I've been saying it all year long that these defensive lineman are aggressive across the board in the NFL. But when you have two guys playing in the style that they play, a lot of spin moves, a lot of games that they do and they create lanes by doing that, then on top of that they're just full of energy. They're very successful this year."
Of course, the Chiefs have succeeded in defeating the Chargers and these players before. The Chiefs have won seven consecutive games against the Bolts, so the series right now feels lopsided. But the momentum at this point in the 2017 also feels lopsided in the opposite direction as the Chargers are red hot while the Chiefs recently stopped the bleeding from a season-altering losing streak.
Even more importantly is that defensive coordinator Gus Bradley now has three quarters of a season with the Chargers. He's learned best what his players can and cannot do. Compared to the Chiefs win in Week 3, Bosa and Ingram both are being utilized more intelligently than ever before, which raises their level of effectiveness.
On the season, Bosa has 57 total tackles, 11.5 sacks and 4 forced fumbles. Ingram has 43 total tackles, 9 sacks, 1 forced fumble and 2 fumble recoveries—including one he ran back for a touchdown.