Chargers vs. Chiefs: Week 17 storylines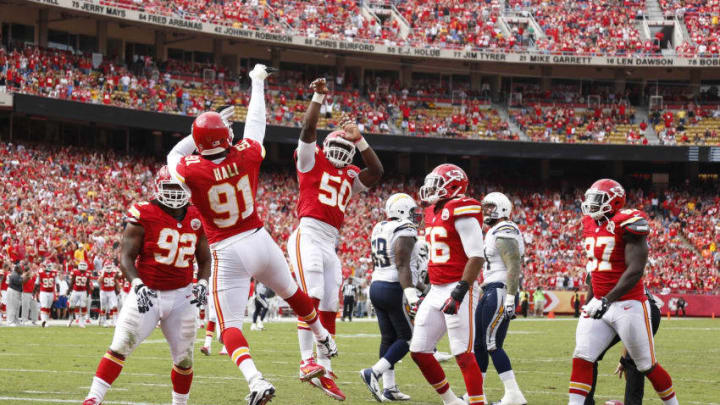 KANSAS CITY, MO - SEPTEMBER 30: Tamba Hali /
NFL: Kansas City Chiefs at San Diego Chargers /
 Spencer Ware's  1,000-yard season?
Chiefs have not had a 1,000-yard rusher since Jamaal Charles had one in 2014. Spencer Ware just needs 79 yards today to hit 1,000 against the 10th ranked rush defense in the NFL. However, Ware has yet to top 79 yards since Week 6 against the Raiders when he rushed for 131 yards.
On top of that Ware is dealing with a rib injury he suffered last week, and was limited in all three practices this week. Ware will be expected to be limited today as well if he plays at all. Expect Charcandrick West and Tyreek Hill to get a fair number of touches out of the backfield.
Speaking of Hill…
Tyreek Hill Rookie Touchdown Record?
Tyreek Hill is just two touchdowns away from beating former Chiefs rookie Abner Haynes record of 12 touchdowns. If the name doesn't sound familiar to you it's probably because the Record was set back in 1960. In 1960 the Chiefs were in their first year of existence as the Dallas Texans.
Over the last three weeks Hill has four total touchdowns with two by ground, one by air, and one by return. Hill hasn't had a reception since Week 14, but has had seven rushing attempts for 163 yards and two touchdowns since then. Spencer Ware is expected to be limited for the game today. Look for Tyreek Hill to continue to get looks out of the backfield.
Final Week
We've had 16 weeks of exhilarating football this season, and I have to say I'm very proud of what Andy Reid and the Chiefs have accomplished this season. It's hard to pick what has been my favorite storyline of the season. So please, in the comment section below tell me what was your favorite moment of the season. Also, what are you looking forward to most next season? Let us know!
Thank you again to Arrowhead Addict and Matt Verderame for hosting my articles this season. Can't wait to see you all in the playoffs!