Terez Paylor on Locked On Chiefs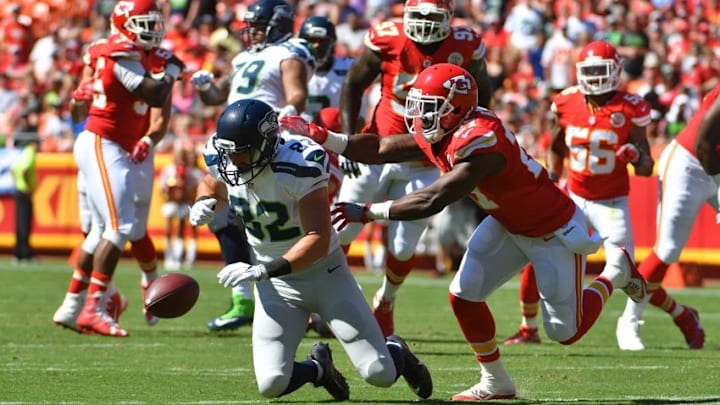 Aug 13, 2016; Kansas City, MO, USA; Seattle Seahawks tight end Luke Willson (82) can /
Today, we start with our takes on the defensive performance in the preseason contest against Seattle. Then we welcome Terez Paylor, Chiefs reporter for the Kansas City Star, to the show for Monday. The Chiefs have a high number of intriguing players in camp working for a roster spot. We follow up on some of them in the secondary, along the offensive line and with the skill players.
Get Locked On Chiefs early!  Subscribe on AudioBoom or on iTunes
Locked on Chiefs is a daily podcast show that drills down to the bottom line in Kansas City. We will post five compact shows a week which let you get important Chiefs analysis quickly and easily. Hosts Ryan Tracy and Chris Clark give you a 360-degree view of the Kansas City Chiefs looking at on-field performance, stats & injuries. With an eye on the front office, we'll look at trends and transactions that build the Chiefs roster including free agency and the NFL Draft. Lastly, we will keep an eye out on important storylines in the AFC West and give you the hard truths.
Check back here every weekday for a post for the day's Locked on Chiefs episode.  Take a few minutes to hear your Chiefs. We want to cover the topics you want to hear about, so reach out to us on twitter @RyantracyNFL and @ChrisClarkNFL with questions and for up to the minute analysis and episode information.
Thanks Addicts!