Chiefs recent moves analyzed before preseason games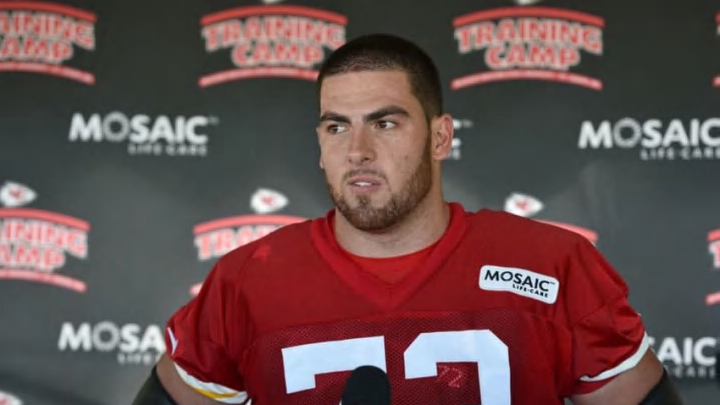 Jul 30, 2016; St. Joseph, MO, USA; Kansas City Chiefs tackle Eric Fisher (72) talks to media after the Kansas City Chiefs training camp presented by Mosaic Life Care at Missouri Western State University. Mandatory Credit: Denny Medley-USA TODAY Sports /
Since we last spoke, our beloved Kansas City Chiefs have made two moves.
One move long term (Eric Fisher) and one move immediate (Nick Foles). We will quickly, through my eyes, explore those moves and what it means going forward.
First, we'll analyze Eric Fisher's contract extension. 4 years / 48 million / 22 million guaranteed.
First off, it should be noted there are a slew of guarantee and pay raise triggers in his contract that have not fully been documented well enough for me to explain here, but I'll summarize that while $22 million is guaranteed at signing, there is actually close to $40 million in the contract.
It's an interesting extension, in that Fisher gets a bunch of money, especially guaranteed, and if he plays and starts most if not all the games this season, will help to guarantee his contract numbers in 2018 and beyond. So he gets good money, and the Chiefs get about $4 million dollars in cap room in 2017, lowering his cap number to basically $9.5 million down from the offer sheet he was due. That conceivably aids in the Chiefs efforts to resign Dontari Poe,  but, in all likelihood, really helps this team just with some financial flexibility.
It's a curious move, to a degree, from Fisher, taking the extension now and not playing it out until at least this off season, when the looming cap number could aid in leverage in a negotiation. However, with $22 million guaranteed at signing, and a possibly (and I'm guessing likely) fairly easy to reach guarantee triggers, it's the opportunity get the money now and not risk not getting a pile of money later.
For the Chiefs, this is a blatant run at creating cap room next year, which they have none. They didn't really need to do an extension, as Fisher's play has been uneven at best throughout his career, and the extension essentially guarantees Fisher will be in KC for awhile. Hopefully what we saw at the end of last year is an indication of what's to come.
Next, we will look at Nick Foles signing as the backup for Alex Smith.
This is a signing that the reaction depends on your view of the position. For those that are looking strictly at this season, signing Foles makes sense, as he's a decent backup quarterback strictly for the upcoming season.
The curious aspect of the decision comes to the future. The signing of Foles means the near certainty that the Chiefs will have to let go of both Aaron Murray and Tyler Bray. While Murray was likely headed out the door regardless, losing Bray is a big loss for the future, as he was, far and away, the best looking quarterback not named Alex in training camp.
A kid with arm talent this organization hasn't seen in awhile, Bray was a cheap and physically talented kid for the roster. Unless the Chiefs are willing to find a way to 'injure' Kevin Hogan to get him to IR, the Chiefs future at the quarterback position is murky at best.
In no way is Hogan a potential starter in the NFL. He's Byron Leftwhich, in that in practice and on occasion his arm strength will excite, but his motion and accuracy will greatly hinder his true ability to ever truly produce.
We'll see how everything shakes out.