2016 Chiefs: Is bargain shopping the best policy?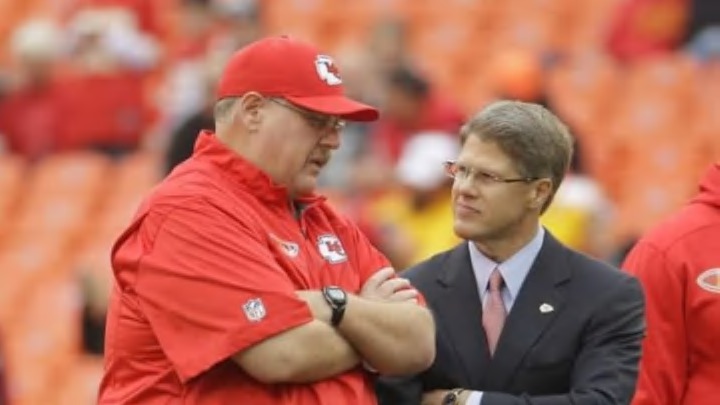 The Red Files Home Banner /
Roughly 27 hours from now, the new league year begins, and teams will dive headlong into the NFL's version of March Madness. At 4 p.m., Eastern time, front offices around the league can start wheeling and dealing for the latest crop of unrestricted free agents to hit the open market. It's currently unknown how active the Kansas City Chiefs will be during the first wave. After franchising Comeback Player of the Year Eric Berry and voiding the contract of six-time Pro Bowler Tamba Hali, the team is estimated to have approximately $18 million of available cap space. With a half-dozen significant contracts set to expire, I'd venture to guess they'll be fairly quiet in the early days of free agency.
Don't expect the same kind of big splash signings the team's had in each of the past three years. Having success this spring is likely going to require some bargain shopping on general manager John Dorsey's part. The roster has fewer holes than its had in recent memory, but the franchise needs help at a few key positions: safety, guard, wide receiver, and outside linebacker. Luckily for the Chiefs, a plethora of affordable options should be available at those spots.
This is a special time of the year for fans across the league. Hope springs eternal in every NFL city. If your beloved team can snag the right free agent, the addition just might help elevate them to the next level. Sure, buyers are encouraged to spend wisely, but few fans of faltering franchises will be satisfied with frugal front office work. I'm here to warn you that the first wave of free agency may be uneventful and rather inexpensive for Kansas City, but that shouldn't be cause for concern. Every year, teams make low-profile signings that pay major dividends. Don't believe me? I'll prove it to you.
Next: The hits in 2015...