2016 Chiefs free agency: Part 1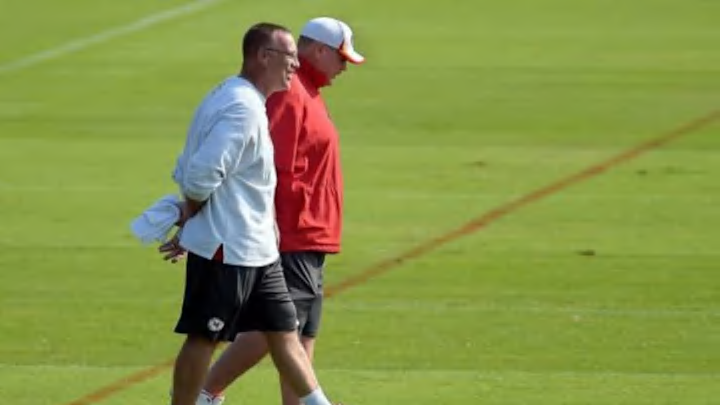 Mandatory Credit: Scott R. Galvin-USA TODAY Sports /
Pass Catchers
Anquan Boldin (WR): Sure, he'll be 36 before the Chiefs' bye week in 2016, but can you honestly say that his 789 receiving yards and four touchdowns last season wouldn't have been of major benefit to the Kansas City Chiefs? Having a third reliable option in the passing game keeps teams from bracketing either Jeremy Maclin or Travis Kelce.
It also keeps your offense going should one of them go down. It helps that Boldin has spent a number of years in west coast offenses throughout his career. He'll be able to contribute right away and makes a Chiefs offense, with a healthy Jamaal Charles and De'Anthony Thomas, a formidable group.
Travis Benjamin (WR): Benjamin might be my favorite receiver option available in this year's free agent class. Despite a quarterback situation that leaves much to be desired in Cleveland, the former University of Miami wideout had a standout year for the Browns. Benjamin snagged 68 balls for 966 yards and five touchdowns in 2015.
Given how thin the team is along their receiver corps it's hard to imagine they'll let him get away, but if he does become available, the Chiefs should make him a priority to sign. It's rare that ascending players like him are on the open market at just 26 years of age.
Marvin Jones (WR): Jones, like Benjamin, is another rising star in the NFL. Setting aside a 2014 season wiped away due to foot and ankle injuries, Jones amassed over 1,500 receiving yards and 14 touchdowns in the last two seasons he was healthy. Jones isn't the prototypical WCO receiver.
He doesn't have the kind of explosion necessary to quickly create separation like Maclin, but he does have some moxy to get open by stemming routes. He's more of a possession receiver by nature, but has some long speed to occasionally get behind a safety down the field.
Alshon Jeffery (WR): Jeffery's likely going to be the top receiver available if he isn't re-signed by the Chicago Bears. He's set to command a significant contract and may be just outside of the Chiefs' reach in a season with so many key players needing new contracts.
In 2015, Chicago ran an Erhardt-Perkins scheme, but his two most productive seasons (from 2013-2014) were from a WCO-based system. Signing him will be a chore for Kansas City, and I doubt he'll even be available, but bringing him in to pair with Maclin would give the Chiefs perhaps the most explosive offense in the AFC.
Next: The big uglies and another pass-catcher...