Arrowhead Addict's camp reporters are back in action at Kansas City Chiefs training camp this week. Mike Gooding and Ryan James were in attendance yesterday as the Chiefs entered their first "game week" of the 2012 season.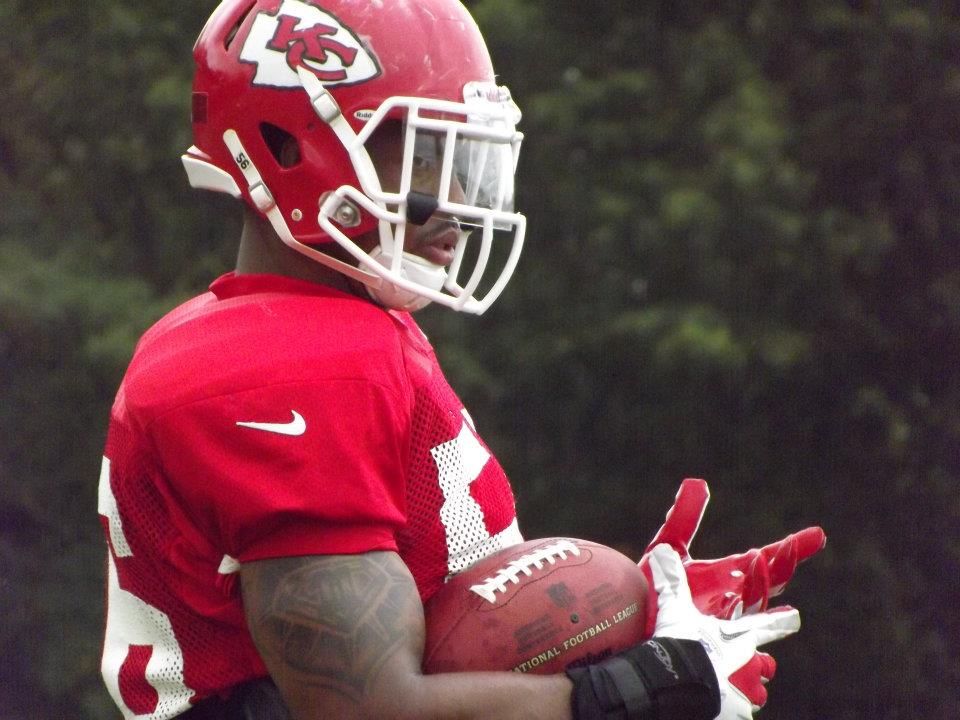 Ryan:
It was great to back at camp today! Sorry for the lack of information over the weekend, I got sick and was held out of practice. So last Friday was the last practice I saw and I was was having intense withdraws. However, what was seen today was the same story as Friday. DEFENSE! Defense really has been putting on a clinic. With the exception of Jon Baldwin putting on a clinic everyday, the defense has dominated. Matt Cassel throws at least one interception every day.
Derrick Johnson had a beast of a day today. He was in on every run and he even picked off a pass in the endzone that was deflected. Travis Daniels also had two interceptions today. Both Daniels and Jalil Brown have filled in nicely for the injured Brandon Flowers.
Injuries today were: Shane Bannon, Junior Hemingway and Brandon Flowers. It is noted that Flowers walked down to practice in padded out but did not participate in any drills and was soon seen in training area with pads off.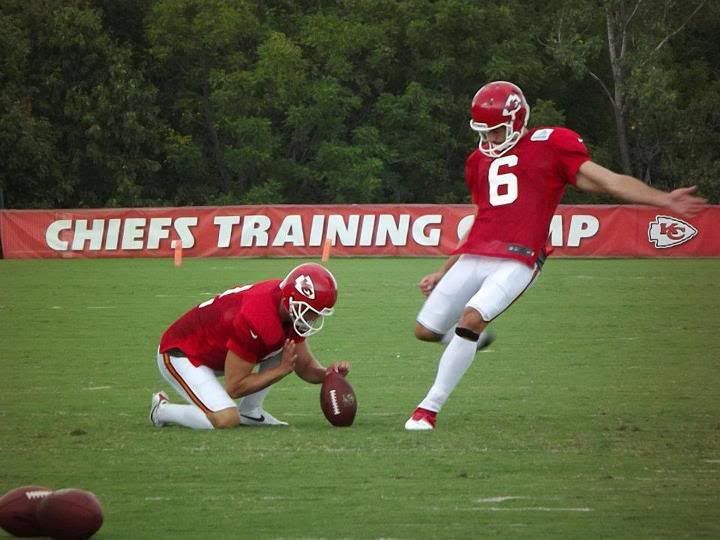 After discussing practice with Mike Gooding today, we both realized that the Chiefs are putting a huge emphasis in special teams this year at camp. They probably practice special teams an equal, if not more, amount then they do offense and defense. Hopefully this year we will have a bountiful harvest in special teams with the amount they are sewing into it.
The offensive side of the ball was either great or interception today. Baldwin put on a clinic in both one-on-one and team drills. Charles got to display a lot of his quickness and speed today. Moeaki had a beautiful diving catch for the last play for the day against Berry.
Jeremy Horne did not have a good day today. Multiple drops and "F" Bombs came crashing down. With any more days like this, it will be extremely tough for him to make the roster.
Overheard at camp
Without a doubt the funniest thing overheard at camp today was when a kid tried to throw a football back onto the field. When he did, it was quickly rejected by the center beam of the goal post. It got a good laugh out of all of us around. The funniest thing was yet to happen. The Special Teams Coach, I believe it was Derius Swinton, came over and picked up the ball and looked at us and said, "Maybe you could teach Matt how to do that." It was absolutely hilarious. The look on his face said that he did not trust Cassel as the QB. Cassel has had both great and horrible moments at camp this year.
Once again, thank you guys for the feedback. Toward the end of camp, I am going to put out a report on who I would cut on the first wave of cuts. I am really excited about this and it should be interesting. Any ideas or thoughts, tweet at me @ryanjames28. Also don't forget to let Allen know what shots you would like to see. Follow him for updates @savagechiefs92.

Mike:
Flowers was out during the walk through this AM yet came down in pads ready to go this afternoon. RAC wasn't having any of it and so he worked out on the bikes with Bannon and Hemingway (who looks no where near ready to get back into action which concerns me as far as his ability to make the team at a position we are so deep at).
Mims looked like he got hurt but he continued playing but was clearly in pain.
Charles, Moeaki, Berry and Cassel ALL practiced full speed the entire practice
Practice was, as we have become accustomed to, well organized, very upbeat with not a second wasted. Many fans commented on the difference from last year.

Offense:
Charles was going full steam, making the cuts and looked explosive!
Tony Moeaki made a diving TD grab during red zone drills from Cassel. Both were very fired up but Cassel looked like a kid on Christmas morning.
Cassel looked good. Quinn looked ok but got picked twice. Quinn definitely got more reps than Stanzi. I feel bad for Tanney.
Cassel fired two TDs to Baldwin – a bullet AND a great deep ball I caught on video.
Baldwin is making it easy to not miss Bowe!
Dexter looked more comfortable running routes, Wylie and Breaston had good days.
Defense:
The defense as a whole looked very strong against the run with many plays getting stuffed in the backfield as the practice progressed.
Houston was strong, fast and had a couple nice pass defenses.
The pass rush got to all of the QB's numerous times – Quinn and Stanzi both held the ball way too long.
Special Teams:
It felt like the majority of practice was spent on ST's today. Onside KO, major attention on coverage, punt and KO returns. Lots of focus on basics, techniques and assignments. This tells me that RAC knows how critical STs will be to our success and that he is willing to give McMahon the time he needs to improve us. We have added some really strong ST players and I expect big things from this group.
Colquitt was booming the ball with some serious hang time. Succoup was inconsistent – again.
Breaston, Arenas and McCluster and Wylie getting some reps too.