Kansas City Chiefs training camp continued last night and Arrowhead Addict camp reported Ryan James was on hand once again. Here is his report. Enjoy. -PA
The first night practice of the year has come and gone. It was an entertaining night highlighted again by Jon Baldwin. Baldwin's focus is amazing and does not drop a pass. A huge hit to the team happened tonight as Flowers went down with an injury after a Baldwin touchdown catch.
The injury is undisclosed, but they were looking at his lower left leg and it looked possibly like an ankle injury. He walked off the field and all the way down the sideline under his own power. We was walking gingerly on the leg, but did not have a noticeable limp. They carted him the rest of the way to the MWSU Indoor Practice Facility but only because of the inclined hill between the hill and the building. He will be fine.
Offense

Matt Cassel for the second day in a row is definitely separating himself as the best QB of the four. Cassel is getting the ball to every one of his weapons. Baldwin, Breaston, Boss, McCluster and Hillis all got looks from Cassel that went for good yardage. It is noted that the one thing that has not been seen yet this year are the stupid and ridiculous quick screens that Haley would only allow Cassel to throw.
Call me crazy, but I think that Cassel can best his pro bowl season if he is allowed to actually throw the ball around a little bit.
The picture above represents exactly how I feel the QB situation is going right now. Stanzi is falling behind the pack. He is sailing his throws and holds the ball way too long. Out of the first 5 days, Tanney is really the only QB that has been consistent. I love Tanney for this team and would love to see him make the roster, not the practice squad.
Defense

Romeo mentioned yesterday to reporters that Berry threatened him to get him to practice on Monday. He also mentioned earlier Tuesday that he was going to hold out the ACL group at practice Tuesday Night because of it being a turf field. Charles and Moeaki were not dressed out, but Berry was dressed and ready to go. Something tells me he wants it bad this year.
The defense is looking great as well. It might not sound like it with how much Baldwin is tearing it up, but it really is great competition and the two sides are exchanging blows. Arenas picked off another diving INT. Mikail Jones also picked off Ricky Stanzi.
The defense is looking quick and they fly to the ball extremely well. Berry continues to play close to the LOS and Tamba is extremely fast off the edge.
Torribio is not doing anything extraordinary at nose, but he is not slipping either. Poe at one point came through the line tonight and tackled the back for a loss.
Get a look at the Po(w)e boys!!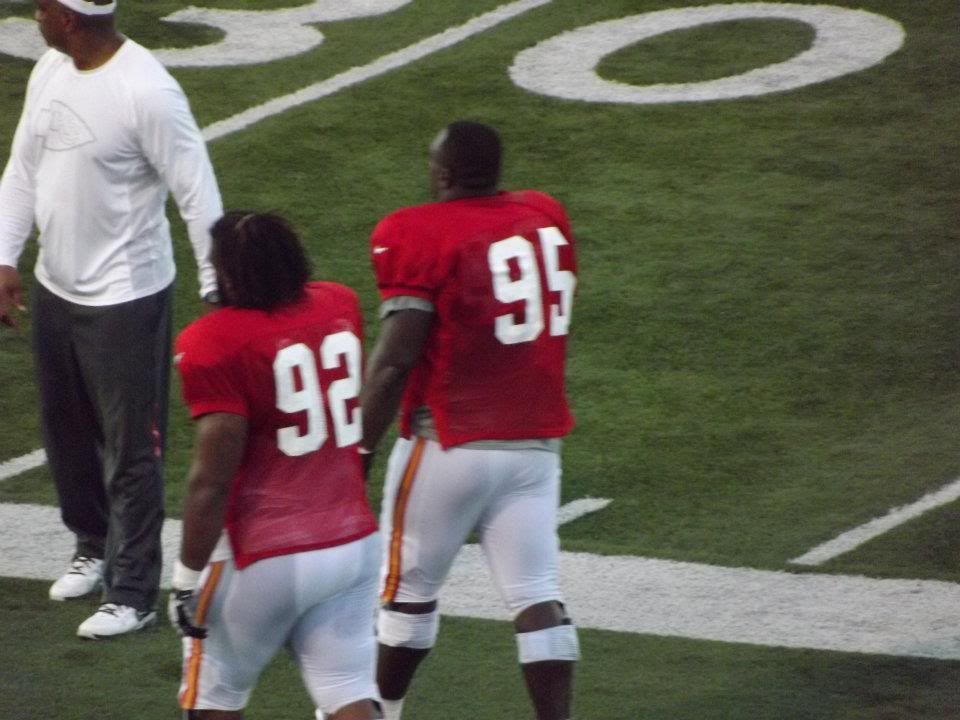 Overheard at Camp
Allen (@savagechiefs92) and I sat next to Jon Baldwin's dad during practice tonight. He also played at Pittsburgh and he played with Bill Maas and Dan Marino. This guy was awesome. He was cheering for the entire team and kept on asking us who the players were. He was impressed with Cyrus Gray.
The coolest thing he did happened before practice actually started. He said, "watch this." He then stood up and cuffed his mouth and hooted a call that sounded like a crow and couple of times. Baldwin was on the other side of the field, but when he heard it, he snapped his head around looking for his dad and when Mr. Baldwin raised his hand, Baldwin waved at him and continued on catching balls. His dad told us, "I have done that for him since he was playing ball as a kid. He would tell me, 'Do the call, daddy, so that I know where you are'" It was extremely heart-warming.
Once again, tweet me @ryanjames28 for any questions or comments. Tell Allen what pics you would like to see and tell him how good of a job he is doing @savagechiefs92. Today's pics were absolutely amazing!
Tags: Kansas City Chiefs