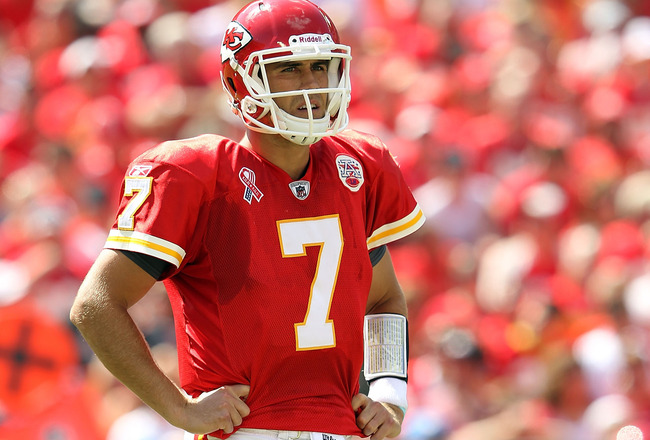 Now that Kansas City Chiefs QB Matt Cassel has gone down with what is likely a season-ending hand injury, it is time to step back and evaluate his performance with the Chiefs.
Kansas City is a team at a crossroad. They've suffered a multitude of devastating injuries in 2011 that they likely won't be able to recover from. Despite all that, it is clear that the defending AFC West champs have significant talent on both sides of the football. Regardless of how 2011 plays out, the Kansas City Chiefs could very well be a good football team in 2012.
The two remaining questions in KC, however, are the two most important questions facing any NFL team. Questions that must be answered.
Do we have the right QB?
Do we have the right head coach?
The head coaching question will work itself out. Todd Haley isn't going on IR any time soon and how he handles his team throughout the rest of the season may well decide his fate. In the end it will come down to Chiefs GM Scott Pioli, but Haley at least still has a chance to coach his way to a contract extension.
For Cassel, however, the jury is in deliberations. Fair or not, Cassel will now likely have to stand on his body of work since coming to Kansas City.
The numbers are not impressive, as AA staff writer Lyle Graverson pointed out last evening.
57.2% Completion Percentage
6.4 Yards Per Attempt
198.8 Yards Per Game
53 TDs to 32 INTs
18 Wins to 21 Losses
What is more damning is the records of the teams Cassel has faced since becoming Kansas City's signal caller in 2008.
Including this season, the opponents Matt Cassel has defeated as QB of the Kansas City Chiefs have a combined record of 97-164.
The teams Cassel has lost to have a combined record of 147-136.
So Matt Cassel is a combined 18-21 vs. teams with a combined record of 244-300.
Of Cassel's 18 wins, only three of them came against teams that finished the season with a winning record or who have a winning record right now.*
*Cassel beat the Steelers in 2008. They finished with a 9-7 record. He also beat the Chargers in 2009. They also finished with a 9-7 record. The third team is this year's Oakland Raiders, who currently have a 5-4 record.
Of Cassel's 21 losses, five of them have come against teams that ended up having double digit losses on the season (losses in 2011 season still TBD). Seven of his 21 losses have come against teams that ended up having a losing record or who currently have a losing record.*
*The 2011 San Diego Chargers are the seventh team and currently have a record of 4-5.
The numbers just don't add up for Cassel. The bad far outweighs the good.
I don't blame Pioli for Cassel not being good enough. The second round pick he spent on Cassel was well spent. After his initial season in New England, Cassel looked to really have a shot at developing into a franchise QB. It didn't work out but it was certainly the best option available to the Chiefs at the time. It just didn't work out. QBs often don't.
What happens now is up to Scott Pioli. His 2012 team will have Pro Bowl talent at RB, CB, ILB, WR (if he re-signs Bowe) SS and OLB. He'll also have young developing talent in Jon Asamoah, Rodney Hudson, Tony Moeaki, Justin Houston, Kendrick Lewis and Jonathan Baldwin.
If Scott Pioli wants to win a championship with this mix of veterans and young talent, he absolutely has to have a QB who is a difference-maker. Whether he acquires that talent through the draft, a trade or free agency, he has to take action this offseason because it is now clear that Matt Cassel is not a difference-maker and is unlikely to develop into one.
Thus far, Pioli has given Cassel just the right amount of time to prove he was the guy. Cassel has failed the test.
Now it's Pioli's turn to be tested. If he brings back Cassel for another season as the unquestioned starter, he's irresponsibly setting his football team back.
Cassel will make an excellent backup in Kansas City. But if the goal is to win a championship, then the QB in Kansas City cannot be Matt Cassel.