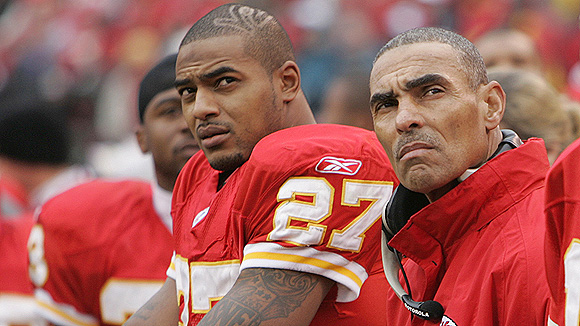 When Kansas City Chiefs fans think back on the Herm Edwards era most probably find themselves with a sudden urge to begin spewing expletives.
Before the team fell into disrepair under Edwards, however, the former coach did lead the Chiefs to a playoff birth in his first season with a 9-7 record. The team wasn't that good and was mostly made up of aging veterans so Edwards saddled up Larry Johnson and rode him into the playoffs. Johnson later held out for a big pay day and while he eventually got paid, the Chiefs never got a return on their investment. Johnson was never productive again and is now out of football.
In a conversation this morning on Mike and Mike in the Morning, while discussing Tennessee Titans RB Chris Johnson's recent struggles, Edwards talked a bit about what he thinks happened to Larry Johnson.
"Larry got hurt," Edwards said. "He held out for a while, he comes into camp, he gets hurt. Then from there it became just a multitude of issues. Obviously we had some guys nicked up on the offensive line..had young…a lot of it, it all just became one of those deals where he had a good career, a short window. He carried the ball a lot, my first year we gave him the ball a lot. He did a great job. Prior to that he was the backup to Priest Holmes and had a great year. Then all of the sudden he got the money. Did the money effect him? I…who knows? But he missed camp, I know that. And then he got injured. He never was the same guy again."
So to review, Larry saw a drop in production because he held out and got hurt but also because of the injuries on the offensive line and the young team and also because he carried the ball a lot in Edwards's first year.
Oh and also maybe because he got paid. Maybe. He doesn't know.
What do you think Addicts? What caused Larry to stop being productive? Was it the money? Larry's attitude? His age? Did Herm run him into the ground that first year? Or was it a combination of things?
Sound off.
Tags: Herm Edwards Larry Johnson