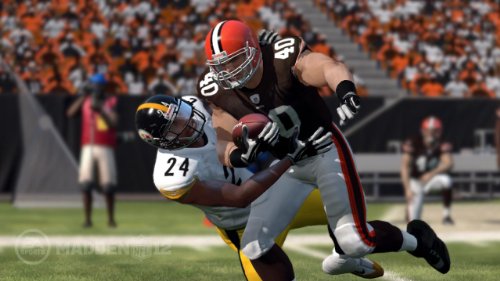 The folks at EA Sports have released the latest roster update for Madden NFL 12.
You can see the full Madden NFL 12 roster update details here.
As for the Kansas City Chiefs, there were a lot of ratings bumps for individual players following the team's convincing win over the Oakland Raiders on the road last week.
Jackie Battle continues to rise, going from a 70 to a 72 overall. Kendrick Lewis inched closer to the 80s going from 75 to 78. Glenn Dorsey jumped a point from 81 to 82. Brandon Carr also jumped from 81 to 82, and his buddy Brandon Flowers jumped two points from 90 to 92. Punter Dustin Colquitt moved up from 88 to 89. Even Barry Richardson got a boost, moving from 78 to 79. He is vastly overrated in my opinion. He's a 73 at best.
The only decrease went to Dexter McCluster, who dropped from 74 to 73.
My biggest complaint is that ILB Derrick Johnson only jumped from 86 to 87 overall. I've thought DJ was ranked low all season and my opinion certainly hasn't changed after his game in Oakland. I think Johnson is a solid 90.
Full details are after the jump.
| | | | |
| --- | --- | --- | --- |
| Chester Taylor | HB | ARZ | Decrease, from 73 to 70OVR |
| A.J. Jefferson | CB | ARZ | Decrease, from 75 to 73OVR |
| Stewart Bradley | LB | ARZ | Decrease, from 80 to 78OVR |
| Kevin Kolb | QB | ARZ | Decrease, from 82 to 81OVR |
| Adrian Wilson | S | ARZ | Decrease, from 91 to 90OVR |
| Larry Fitzgerald | WR | ARZ | Decrease, from 96 to 95OVR |
| Alfonso Smith | HB | ARZ | Increase, from 60 to 64OVR |
| Sam Acho | LB | ARZ | Increase, from 64 to 66OVR |
| Levi Brown | OL | ARZ | Increase, from 67 to 69OVR |
| Darryl Washington | LB | ARZ | Increase, from 75 to 78OVR |
| Beanie Wells | HB | ARZ | Lowered on depth chart (injury) |
| Alfonso Smith | HB | ARZ | Moved to HB #1 on depth chart |
| Early Doucet | WR | ARZ | Moved to WR #2 on depth chart |
| Andre Roberts | WR | ARZ | Moved to WR #3 on depth chart |
| Garrett Reynolds | OL | ATL | Decrease, from 69 to 67OVR |
| William Moore | S | ATL | Decrease, from 82 to 81OVR |
| Matt Ryan | QB | ATL | Decrease, from 89 to 88OVR |
| Corey Peters | DL | ATL | Increase, from 79 to 81OVR |
| Sean Weatherspoon | LB | ATL | Increase, from 82 to 84OVR |
| Brent Grimes | CB | ATL | Increase, from 88 to 89OVR |
| Michael Turner | HB | ATL | Increase, from 93 to 94OVR |
| Will Svitek | OL | ATL | Moved to LT #2 on depth chart |
| Mike Cox | FB | ATL | Now wears #40 |
| Ovie Mughelli | FB | ATL | Removed from depth chart (injury) |
| Mike Johnson | OL | ATL | Removed from depth chart (injury) |
| Mike Cox | FB | ATL | Signs |
| Kirk Chambers | OL | ATL | Signs |
| Joe Flacco | QB | BAL | Decrease, from 88 to 86OVR |
| Billy Cundiff | K | BAL | Decrease, from 90 to 87OVR |
| Ray Rice | HB | BAL | Decrease, from 94 to 93OVR |
| Haloti Ngata | DL | BAL | Decrease, from 98 to 97OVR |
| Matt Birk | OL | BAL | Increase, from 92 to 93OVR |
| Arthur Moats | LB | BUF | Changed position to ROLB (was LOLB) |
| Eric Wood | OL | BUF | Increase, from 80 to 83OVR |
| Chris Kelsay | LB | BUF | Moved to LOLB #1 on depth chart |
| Danny Batten | LB | BUF | Moved to ROLB #1 on depth chart |
| Arthur Moats | LB | BUF | Moved to ROLB #2 on depth chart |
| Antonio Coleman | LB | BUF | Now wears #59 |
| Tim Toone | WR | BUF | Released |
| Shawne Merriman | LB | BUF | Removed from depth chart (injury) |
| Jay Ross | DL | BUF | Signs |
| Antonio Coleman | LB | BUF | Signs |
| DeAngelo Williams | HB | CAR | Decrease, from 88 to 86OVR |
| Jason Phillips | LB | CAR | Increase, from 64 to 67OVR |
| Antwaan Applewhite | DL | CAR | Increase, from 75 to 76OVR |
| Jonathan Stewart | HB | CAR | Increase, from 82 to 84OVR |
| Cam Newton | QB | CAR | Increase, from 83 to 85OVR |
| Chris Gamble | CB | CAR | Increase, from 87 to 89OVR |
| Charles Johnson | DL | CAR | Increase, from 89 to 90OVR |
| Steve Smith | WR | CAR | Increase, from 94 to 96OVR |
| Chris Harris | S | CHI | Decrease, from 87 to 84OVR |
| Chris Conte | S | CHI | Increase, from 69 to 71OVR |
| Roy Williams | WR | CHI | Increase, from 75 to 77OVR |
| Matt Forte | HB | CHI | Increase, from 92 to 94OVR |
| Julius Peppers | DL | CHI | Increase, from 94 to 95OVR |
| Chris Conte | S | CHI | Moved to FS #1 on depth chart |
| Nick Reed | DL | CHI | Moved to LE #3 on depth chart |
| Chris Spencer | OL | CHI | Moved to RG #1 on depth chart |
| Edwin Williams | OL | CHI | Moved to RG #2 on depth chart |
| Lance Louis | OL | CHI | Moved to RT #1 on depth chart |
| Frank Omiyale | OL | CHI | Moved to RT #2 on depth chart |
| Major Wright | S | CHI | Moved to SS #1 on depth chart |
| Chris Harris | S | CHI | Moved to SS #2 on depth chart |
| Craig Steltz | S | CHI | Moved to SS #3 on depth chart |
| Nick Reed | DL | CHI | Now wears #94 |
| Mario Addison | DL | CHI | Now wears #96 |
| Levi Horn | OL | CHI | Removed from depth chart (P-Squad) |
| Dan Skuta | LB | CIN | Increase, from 53 to |
| Mike Nugent | K | CIN | Increase, from 76 to 77OVR |
| Rey Maualuga | LB | CIN | Lowered on depth chart (injury) |
| Bernard Scott | HB | CIN | Moved to HB #1 on depth chart |
| Brian Leonard | HB | CIN | Moved to HB #2 on depth chart |
| Dan Skuta | LB | CIN | Moved to MLB #1 on depth chart |
| Cedric Benson | HB | CIN | Removed from depth chart (suspension) |
| Mohamed Massaquoi | WR | CLE | Decrease, from 76 to 75OVR |
| Tony Pashos | OL | CLE | Decrease, from 77 to 75OVR |
| Josh Cribbs | WR | CLE | Decrease, from 79 to 78OVR |
| Brad Maynard | P | CLE | Decrease, from 80 to 78OVR |
| Peyton Hillis | HB | CLE | Decrease, from 89 to 88OVR |
| Buster Skrine | CB | CLE | Increase, from 60 to 63OVR |
| Jayme Mitchell | DL | CLE | Increase, from 68 to 72OVR |
| Dimitri Patterson | CB | CLE | Increase, from 70 to 71OVR |
| Montario Hardesty | HB | CLE | Increase, from 71 to 73OVR |
| Greg Little | WR | CLE | Increase, from 72 to 73OVR |
| Chris Gocong | LB | CLE | Increase, from 79 to 80OVR |
| Jabaal Sheard | DL | CLE | Increase, from 79 to 80OVR |
| T.J. Ward | S | CLE | Increase, from 85 to 86OVR |
| Ahtyba Rubin | DL | CLE | Increase, from 85 to 86OVR |
| D'Qwell Jackson | LB | CLE | Increase, from 86 to 87OVR |
| Joe Thomas | OL | CLE | Increase, from 96 to 98OVR |
| Joe Haden | CB | CLE | Moved to CB #1 on depth chart |
| Sheldon Brown | CB | CLE | Moved to CB #2 on depth chart |
| Mike Adams | S | CLE | Moved to FS #1 on depth chart |
| Usama Young | S | CLE | Moved to FS #2 on depth chart |
| Chris Ogbonnaya | HB | CLE | Moved to HB #3 on depth chart |
| Doug Free | OL | DAL | Decrease, from 83 to 82OVR |
| Miles Austin | WR | DAL | Decrease, from 91 to 90OVR |
| Phil Costa | OL | DAL | Increase, from 64 to 66OVR |
| Montrae Holland | OL | DAL | Increase, from 69 to 74OVR |
| DeMarco Murray | HB | DAL | Increase, from 71 to 78OVR |
| Dan Bailey | K | DAL | Increase, from 74 to 76OVR |
| Marcus Spears | DL | DAL | Increase, from 78 to 79OVR |
| Mike Jenkins | CB | DAL | Increase, from 79 to 80OVR |
| Abram Elam | S | DAL | Increase, from 82 to 84OVR |
| Dez Bryant | WR | DAL | Increase, from 85 to 86OVR |
| Tony Romo | QB | DAL | Increase, from 88 to 89OVR |
| DeMarco Murray | HB | DAL | Moved to HB #1 on depth chart |
| Kevin Ogletree | KR | DAL | Moved to KR #1 on depth chart |
| Montrae Holland | OL | DAL | Moved to LG #1 on depth chart |
| David Arkin | OL | DAL | Moved to LG #2 on depth chart |
| Dwayne Harris | WR | DAL | Signs |
| Orlando Franklin | OL | DEN | Decrease, from 74 to 72OVR |
| Chris Harris | CB | DEN | Increase, from 60 to 63OVR |
| Jonathan Wilhite | CB | DEN | Increase, from 72 to 73OVR |
| Tim Tebow | QB | DEN | Increase, from 75 to 76OVR |
| Brodrick Bunkley | DL | DEN | Increase, from 79 to 81OVR |
| Von Miller | LB | DEN | Increase, from 83 to 84OVR |
| Chris Kuper | OL | DEN | Increase, from 84 to 85OVR |
| Willis McGahee | HB | DEN | Lowered on depth chart (injury) |
| Knowshon Moreno | HB | DEN | Moved to HB #1 on depth chart |
| Lance Ball | HB | DEN | Moved to HB #2 on depth chart |
| Nick Fairley | DL | DET | Decrease, from 77 to 76OVR |
| Nate Burleson | WR | DET | Decrease, from 79 to 78OVR |
| Amari Spievey | S | DET | Increase, from 79 to 80OVR |
| DeAndre Levy | LB | DET | Increase, from 80 to 81OVR |
| Ndamukong Sug | DL | DET | Increase, from 90 to 91OVR |
| Jahvid Best | HB | DET | Lowered on depth chart (injury) |
| Maurice Morris | HB | DET | Moved to HB #1 on depth chart |
| Maurice Morris | HB | DET | Moved to HB #2 on depth chart |
| Eldra Buckley | HB | DET | Now wears #45 |
| Nathan Overbay | TE | DET | Released |
| Joe Jon Finley | TE | DET | Released |
| Matt Clapp | FB | DET | Released |
| Jerome Harrison | HB | DET | Removed from depth chart (injury) |
| Eldra Buckley | HB | DET | Signs |
| Matt Clapp | FB | DET | Signs |
| Don Carey | CB | DET | Signs |
| Nathan Overbay | TE | DET | Signs |
| James Harrison | HB | DET | Trade voided with PHI – back to DET |
| Ryan Grant | HB | GB | Decrease, from 81 to 80OVR |
| Tim Masthay | P | GB | Increase, from 76 to 78OVR |
| Mason Crosby | K | GB | Increase, from 76 to 80OVR |
| James Starks | HB | GB | Increase, from 78 to 79OVR |
| Charles Woodson | CB | GB | Increase, from 93 to 94OVR |
| Greg Jennings | WR | GB | Increase, from 94 to 95OVR |
| Alex Green | HB | GB | Removed from depth chart (injury) |
| DeMeco Ryans | LB | HOU | Decrease, from 89 to 88OVR |
| Brice McCain | CB | HOU | Increase, from 72 to 74OVR |
| Ben Tate | HB | HOU | Increase, from 76 to 78OVR |
| J.J. Watt | DL | HOU | Increase, from 82 to 83OVR |
| Owen Daniels | TE | HOU | Increase, from 86 to 87OVR |
| Chris Myers | OL | HOU | Increase, from 86 to 88OVR |
| Matt Schaub | QB | HOU | Increase, from 88 to 89OVR |
| Arian Foster | HB | HOU | Increase, from 91 to 93OVR |
| Danieal Manning | S | HOU | Lowered on depth chart (injury) |
| Troy Nolan | S | HOU | Moved to FS #1 on depth chart |
| Shiloh Keo | S | HOU | Moved to SS #2 on depth chart |
| Andre Johnson | WR | HOU | Moved to WR #1 on depth chart |
| Trindon Holliday | WR | HOU | Released |
| Torri Williams | S | HOU | Signs |
| Javarris Williams | HB | HOU | Signs |
| Quintin Demps | S | HOU | Signs |
| Curtis Painter | QB | IND | Decrease, from 70 to 69OVR |
| Dan Muir | DL | IND | Decrease, from 73 to 71OVR |
| Kavell Conner | LB | IND | Decrease, from 79 to 77OVR |
| Dallas Clark | TE | IND | Decrease, from 92 to 89OVR |
| Reggie Wayne | WR | IND | Decrease, from 93 to 92OVR |
| Robert Mathis | DL | IND | Decrease, from 94 to 93OVR |
| Delone Carter | HB | IND | Increase, from 70 to 71OVR |
| Pat McAfee | P | IND | Increase, from 77 to 78OVR |
| Joe Reitz | OL | IND | Lowered on depth chart (injury) |
| Seth Olsen | OL | IND | Moved to LG #1 on depth chart |
| Mike Tepper | OL | IND | Moved to RT #2 on depth chart |
| David Gilreath | WR | IND | Released |
| Kerry Collins | QB | IND | Removed from depth chart (injury) |
| Chris Gronkowski | FB | IND | Removed from depth chart (injury) |
| Michael Toudouze | OL | IND | Signs |
| Jamey Richard | OL | IND | Signs |
| Jeremy Mincey | DL | JAX | Increase, from 74 to 76OVR |
| Derek Cox | CB | JAX | Increase, from 75 to 77OVR |
| Josh Scobee | K | JAX | Increase, from 81 to 85OVR |
| Daryl Smith | LB | JAX | Increase, from 90 to 91OVR |
| Dexter McCluster | HB | KC | Decrease, from 74 to 73OVR |
| Jackie Battle | HB | KC | Increase, from 70 to 72OVR |
| Kendrick Lewis | S | KC | Increase, from 75 to 78OVR |
| Barry Richardson | OL | KC | Increase, from 78 to 79OVR |
| Glenn Dorsey | DL | KC | Increase, from 81 to 82OVR |
| Brandon Carr | CB | KC | Increase, from 81 to 82OVR |
| Derrick Johnson | LB | KC | Increase, from 86 to 87OVR |
| Branden Albert | OL | KC | Increase, from 87 to 88OVR |
| Dustin Colquitt | P | KC | Increase, from 88 to 89OVR |
| Brandon Flowers | CB | KC | Increase, from 90 to 92OVR |
| Jeremy Horne | WR | KC | Released |
| Anthony Becht | TE | KC | Signs |
| Kevin Burnett | LB | MIA | Decrease, from 74 to 73OVR |
| Mike Pouncey | OL | MIA | Decrease, from 80 to 79OVR |
| Matt Moore | QB | MIA | Increase, from 71 to 72OVR |
| Reggie Bush | HB | MIA | Increase, from 73 to 74OVR |
| Paul Soliai | DL | MIA | Increase, from 86 to 87OVR |
| Cameron Wake | LB | MIA | Increase, from 90 to 91OVR |
| Karlos Dansby | LB | MIA | Increase, from 90 to 91OVR |
| Sage Rosenfels | QB | MIA | Removed from depth chart (injury) |
| J.P. Losman | QB | MIA | Signs |
| Asher Allen | CB | MIN | Decrease, from 70 to 69OVR |
| Christian Ponder | QB | MIN | Increase, from 73 to 75OVR |
| Michael Jenkins | WR | MIN | Increase, from 77 to 79OVR |
| Jared Allen | DL | MIN | Increase, from 96 to 98OVR |
| Asher Allen | CB | MIN | Moved to CB #3 on depth chart |
| Michael Jenkins | WR | MIN | Moved to WR #2 on depth chart |
| Stephen Burton | WR | MIN | Moved to WR #5 on depth chart |
| Bernard Berrian | WR | MIN | Released |
| Chris Cook | CB | MIN | Removed from depth chart (suspension) |
| Albert Haynesworth | DL | NE | Decrease, from 84 to 82OVR |
| Josh Victorian | CB | NE | Released |
| Malcolm Williams | CB | NE | Signs |
| Brian De La Puente | OL | NO | Changed position to C (was LG) |
| Devery Henderson | WR | NO | Decrease, from 79 to |
| Tracy Porter | CB | NO | Decrease, from 86 to 85OVR |
| Jonathan Vilma | LB | NO | Decrease, from 90 to 89OVR |
| Tom Johnson | DL | NO | Increase, from 62 to 65OVR |
| Leigh Torrence | CB | NO | Increase, from 68 to 70OVR |
| Brian De La Puente | OL | NO | Increase, from 68 to 73OVR |
| Jed Collins | FB | NO | Increase, from 70 to 73OVR |
| Patrick Robinson | CB | NO | Increase, from 73 to 75OVR |
| Darren Sproles | HB | NO | Increase, from 82 to 84OVR |
| Marques Colston | WR | NO | Increase, from 88 to 89OVR |
| Drew Brees | QB | NO | Increase, from 97 to 98OVR |
| Brian De La Puente | OL | NO | Moved to C #1 on depth chart |
| Olin Kreutz | OL | NO | Retired |
| Tory Humphrey | TE | NO | Signs |
| Alex Daniels | FB | NYG | Signs |
| Garrett McIntyre | LB | NYJ | Changed position to LOLB (was ROLB) |
| Aaron Maybin | LB | NYJ | Changed position to ROLB (was LOLB) |
| Calvin Pace | LB | NYJ | Decrease, from 86 to 85OVR |
| Aaron Maybin | LB | NYJ | Increase, from 61 to 63OVR |
| Marquice Cole | CB | NYJ | Increase, from 62 to 65OVR |
| Muhammad Wilkerson | DL | NYJ | Increase, from 73 to 75OVR |
| Kyle Wilson | CB | NYJ | Increase, from 74 to 76OVR |
| Shonn Greene | HB | NYJ | Increase, from 79 to 80OVR |
| Mark Sanchez | QB | NYJ | Increase, from 82 to 83OVR |
| Plaxico Burress | WR | NYJ | Increase, from 83 to 84OVR |
| Martin Tevaseu | DL | NYJ | Moved to DT #3 on depth chart |
| Garrett McIntyre | LB | NYJ | Moved to LOLB #2 on depth chart |
| Aaron Maybin | LB | NYJ | Moved to ROLB #2 on depth chart |
| Eron Riley | WR | NYJ | Moved to WR #5 on depth chart |
| Colin Baxter | OL | NYJ | Released |
| Matt Kroul | OL | NYJ | Released |
| Logan Payne | WR | NYJ | Removed from depth chart (injury) |
| Martin Tevaseu | DL | NYJ | Signs |
| Desmond Bryant | DL | OAK | Changed position to RE (was DT) |
| Kyle Boller | QB | OAK | Decrease, from 68 to 66OVR |
| Louis Murphy | WR | OAK | Decrease, from 74 to 73OVR |
| Denarius Moore | WR | OAK | Decrease, from 75 to 74OVR |
| Carson Palmer | QB | OAK | Decrease, from 84 to 82OVR |
| Darryl Blackstock | LB | OAK | Increase, from 61 to 65OVR |
| DeMarcus Van Dyke | CB | OAK | Increase, from 66 to 68OVR |
| Jarvis Moss | DL | OAK | Moved to RE #1 on depth chart |
| Desmond Bryant | DL | OAK | Moved to RE #2 on depth chart |
| Dave Rayner | K | OAK | Released |
| Matt Shaughnessy | DL | OAK | Removed from depth chart (injury) |
| Zach Hurd | OL | OAK | Signs |
| Jerome Boyd | S | OAK | Signs |
| Dave Rayner | K | OAK | Signs |
| Ronnie Brown | HB | PHI | Trade voided with DET – back to PHI |
| Max Starks | OL | PIT | Changed position to LT (was RT) |
| Jerrico Cotchery | WR | PIT | Decrease, from 77 to 75OVR |
| Rashard Mendenhall | HB | PIT | Decrease, from 88 to 87OVR |
| Steve McLendon | DL | PIT | Increase, from 65 to 69OVR |
| Emmanuel Sanders | WR | PIT | Increase, from 70 to 71OVR |
| Antonio Brown | WR | PIT | Increase, from 76 to 77OVR |
| Ike Taylor | CB | PIT | Increase, from 88 to 89OVR |
| Mike Wallace | WR | PIT | Increase, from 90 to 91OVR |
| Ben Roethlisberger | QB | PIT | Increase, from 93 to 94OVR |
| Max Starks | OL | PIT | Moved to LT #1 on depth chart |
| Aaron Smith | DL | PIT | Removed from depth chart (injury) |
| Antonio Garay | DL | SD | Decrease, from 82 to 81OVR |
| Antoine Cason | CB | SD | Decrease, from 83 to 82OVR |
| Vincent Jackson | WR | SD | Decrease, from 89 to 88OVR |
| Quentin Jammer | CB | SD | Decrease, from 89 to 88OVR |
| Philip Rivers | QB | SD | Decrease, from 95 to 94OVR |
| Donald Butler | LB | SD | Increase, from 77 to 78OVR |
| Larry English | LB | SD | Lowered on depth chart (injury) |
| Mike Tolbert | HB | SD | Moved to 3DRB #1 on depth chart |
| Curtis Brinkley | HB | SD | Moved to HB #3 on depth chart |
| Jordan Todman | HB | SD | Removed from depth chart (P-Squad) |
| Jarriel King | OL | SEA | Changed position to LT (was RT) |
| Golden Tate | WR | SEA | Decrease, from 71 to 69OVR |
| Charlie Whitehurst | QB | SEA | Decrease, from 74 to 72OVR |
| Justin Forsett | HB | SEA | Decrease, from 76 to 75OVR |
| Mike Williams | WR | SEA | Decrease, from 80 to 79OVR |
| Richard Sherman | CB | SEA | Increase, from 60 to 63OVR |
| K.J. Wright | LB | SEA | Increase, from 70 to 73OVR |
| Red Bryant | DL | SEA | Increase, from 78 to 81OVR |
| Jon Ryan | P | SEA | Increase, from 83 to 86OVR |
| David Hawthorne | LB | SEA | Increase, from 84 to 85OVR |
| Chris Clemons | DL | SEA | Increase, from 89 to 90OVR |
| Richard Sherman | CB | SEA | Moved to CB #2 on depth chart |
| Byron Maxwell | CB | SEA | Moved to CB #3 on depth chart |
| Leon Washington | HB | SEA | Moved to HB #2 on depth chart |
| Justin Forsett | HB | SEA | Moved to HB #3 on depth chart |
| Jarriel King | OL | SEA | Moved to LT #2 on depth chart |
| Tarvaris Jackson | QB | SEA | Moved to QB #1 on depth chart |
| Stephen Franklin | LB | SEA | Released |
| Jason Shirley | DL | SEA | Released |
| Tyler Polumbus | OL | SEA | Released |
| Walter Thurmond | CB | SEA | Removed from depth chart (injury) |
| Heath Farwell | LB | SEA | Signs |
| Ron Parker | CB | SEA | Signs |
| Moran Norris | FB | SF | Decrease, from 77 to 71OVR |
| Carlos Rogers | CB | SF | Increase, from 84 to 85OVR |
| Bruce Miller | FB | SF | Moved to FB #1 on depth chart |
| Moran Norris | FB | SF | Moved to FB #2 on depth chart |
| Braylon Edwards | WR | SF | Moved to WR #2 on depth chart |
| Ted Ginn | WR | SF | Moved to WR #3 on depth chart |
| Rodger Saffold | OL | STL | Decrease, from 80 to 78OVR |
| Quintin Mikell | S | STL | Decrease, from 86 to 85OVR |
| James Laurinaitis | LB | STL | Decrease, from 88 to 87OVR |
| Chris Long | DL | STL | Decrease, from 89 to 87OVR |
| Al Harris | CB | STL | Increase, from 75 to 76OVR |
| Jabara Williams | LB | STL | Released |
| Chad Spann | HB | TB | Added to the game |
| Arrelious Benn | WR | TB | Decrease, from 77 to 76OVR |
| Josh Freeman | QB | TB | Decrease, from 87 to 85OVR |
| Kregg Lumpkin | HB | TB | Increase, from 62 to 66OVR |
| Dezmon Briscoe | WR | TB | Increase, from 66 to 68OVR |
| Adrian Clayborn | DL | TB | Increase, from 78 to 79OVR |
| Kregg Lumpkin | HB | TB | Moved to 3DRB #1 on depth chart |
| LeGarrette Blount | HB | TB | Moved to HB #1 on depth chart |
| Kregg Lumpkin | HB | TB | Moved to HB #2 on depth chart |
| Mossis Madu | HB | TB | Moved to HB #3 on depth chart |
| Andrew Economos | LS | TB | Moved to LS #1 on depth chart |
| Christian Yount | LS | TB | Released |
| Earnest Graham | HB | TB | Removed from depth chart (injury) |
| Donnie Avery | WR | TEN | Decrease, from 72 to 69OVR |
| Nate Washington | WR | TEN | Decrease, from 79 to 78OVR |
| Jake Scott | OL | TEN | Decrease, from 83 to 82OVR |
| Barrett Rudd | LB | TEN | Decrease, from 86 to 83OVR |
| Matt Hasselbeck | QB | TEN | Decrease, from 87 to 86OVR |
| Ahmard Hall | FB | TEN | Decrease, from 88 to 86OVR |
| Michael Roos | OL | TEN | Decrease, from 91 to 90OVR |
| David Stewart | OL | TEN | Decrease, from 91 to 90OVR |
| Chris Johnson | HB | TEN | Decrease, from 93 to 89OVR |
| Kevin Barnes | CB | WAS | Decrease, from 69 to 68OVR |
| Logan Paulsen | TE | WAS | Increase, from 62 to 65OVR |
| John Beck | QB | WAS | Increase, from 73 to 75OVR |
| Adam Carriker | DL | WAS | Increase, from 79 to 81OVR |
| Fred Davis | TE | WAS | Increase, from 84 to 85OVR |
| Roy Helu | HB | WAS | Moved to 3DRB #1 on depth chart |
| Ryan Torrain | HB | WAS | Moved to HB #1 on depth chart |
| Roy Helu | HB | WAS | Moved to HB #2 on depth chart |
| Jabar Gaffney | WR | WAS | Moved to WR #1 on depth chart |
| Tim Hightower | HB | WAS | Removed from depth chart (injury) |
| Santana Moss | WR | WAS | Removed from depth chart (injury) |
| Chris Cooley | TE | WAS | Removed from depth chart (injury) |
| John Malecki | OL | WAS | Signs |
| Jonathan Compas | OL | WAS | Signs |
| Dominique Byrd | TE | WAS | Signs |