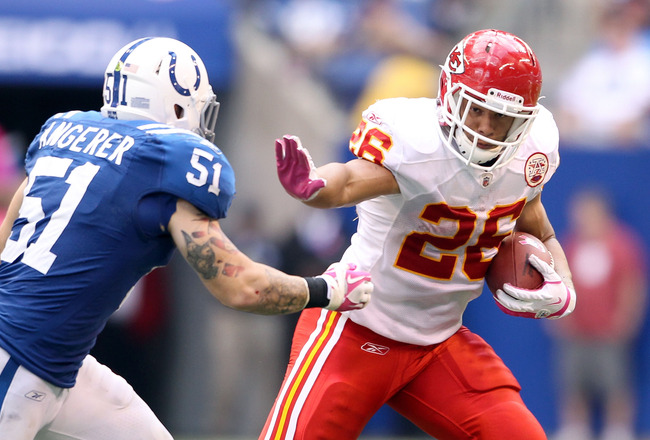 Kansas City Chiefs offensive coordinator Bill Muir confirmed Friday that Jackie Battle is the new lead back of the Kansas City Chiefs.
"We basically have a plan in terms of not equally distributing the carries," Muir said, "but certain plays we maybe like with a certain player. Obviously you get in a situation where a guy is running tough and he's running for extra yards — the kind of game sometimes dictates who that back is."
Battle had a breakout performance two weeks ago against the Indianapolis Colts. It was the first time Battle had ever really been given significant carries in the regular season behind a starting offensive line.
Battle did not disappoint.
"As a staff, we've always known he has talent," Muir said. "Now that he has the opportunity to carry the ball, I think that's a significant thing."
Significant indeed.
I have to be honest, I was wrong about Battle. I used to be very high on the Chiefs giving him a chance but other than the spare carry here and there, they never did. As the years wore on, I figured the Chiefs just saw Battle as a special teams guy.
Then in the preseason this year, Battle looked awful. He wasn't running with much burst, and he was fumbling way more than I could be comfortable with. After that I pretty much lost faith in Battle and even called for the Chiefs to cut him in favor of giving free agent Steve Slaton a look.
Oops.
Battle may not turn out to be anything other than average. The performance against the Colts was just one game, and it may have just been a flash in the pan.
Still, there is a lot to be excited about in Battle. He is a big back with very good speed. He was getting a ton of yards after contact against the Colts which could make a big difference for the KC offense.