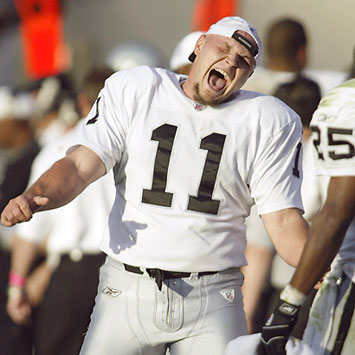 Oakland Raiders kicker Sebastian Janikowski, also known as the fattest NFL kicker in the league's history, may find himself on the sidelines this Sunday with a hamstring injury.
Jason La Canfora of NFLN is reporting that the team is worried about Janikowski and that they may have to "shut him down for a while." He also reports that the team is trying out free agent kickers today.
This is good news for the Chiefs. Janikowski, while he might look more like a lineman than a kicker, has a hell of a strong leg and is very accurate from long distances. The Raiders will likely be less inclined to try long kicks with a free agent kicker, which could mean extra processions for the Chiefs and fewer points for the Raiders.
Janikowski hasn't officially been ruled out yet but if the Raiders are trying out kickers, it is unlikely he'll be ready to go.
While this could be a break for the Chiefs, they will still have to show up Sunday. The only way a kicker will make a difference for the Raiders is if the Chiefs stop the Oakland offense.
Let's hope they are up to the task.
Tags: Kansas City Chiefs Oakland Raiders Sebastian Janikowski