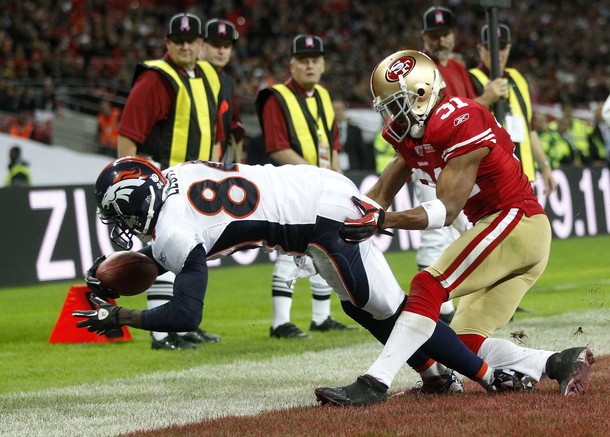 The NFL's trade deadline is tomorrow at 4 p.m. eastern time and the AFC West could be a major player in any deals that go down.
The Denver Broncos are reportedly looking to field offers for WR Brandon Lloyd and QB Kyle Orton. Lloyd is reportedly drawing interest from the San Francisco 49ers and New England Patriots. The St. Louis Rams are also a name entering the conversation for Lloyd as former Broncos Head Coach Josh McDaniels is now the offensive coordinator in St. Louis. Lloyd will be a free agent after the season and the Broncos seem to be ready to move ahead with some of their younger receivers. If they can get something for Lloyd they likely will, rather than get nothing for him at the end of the season.
The other juicy deal that could go down is a trade between the Oakland Raiders and Broncos for QB Kyle Orton. The Broncos have named Tim Tebow the new starter at QB and they are prepared to move on from Orton. The Raiders, on the other hand, are now in a desperate scramble to find a new starting QB. Oakland is 4-2 but lost starting QB Jason Campbell yesterday to a broken collarbone. Reports around the league indicate that the Raiders are aggressively trying to find a replacement.
Orton could be the answer here. He is a veteran and in desperate need of a change of scenery. The Broncos could very well take whatever they can get for Orton. Since Denver isn't likely to contend this year, they don't have a ton to lose by giving up Orton to Oakland.
Oakland is also snooping around in Cincinnati to check on the availability of Carson Palmer. Most don't seem to believe Bengals owner Mike Brown will budge on his promise not to trade Palmer but the Raiders might try to make him an offer he can't refuse.
The Chargers and Chiefs are probably the two teams least likely to make a move. The Chargers are sitting at 4-1 and atop the AFC West. At this point, they probably only view Oakland as their only real competition. Now that Campbell is down, they likely won't want to make any rash moves.
The Chiefs are in a weird position. They are 2-3 and face a four-game stretch that could catapult them back into the AFC West race. Still, the team has only beaten two winless teams, and Scott Pioli may be weary of making any big moves for a team he isn't sure has a legit shot to make a run. Then again, Pioli has been known to surprise us in the past, so don't rule out the possibility that he might have something up his sleeve.
The NFL trade deadline is usually a lot less exciting than that of other leagues like MLB and the NBA. Still, trades do sometimes happen so keep your ears open over the next 24 hours.
Tags: Brandon Lloyd Kyle Orton NFL Trade Deadline Oakland Raiders