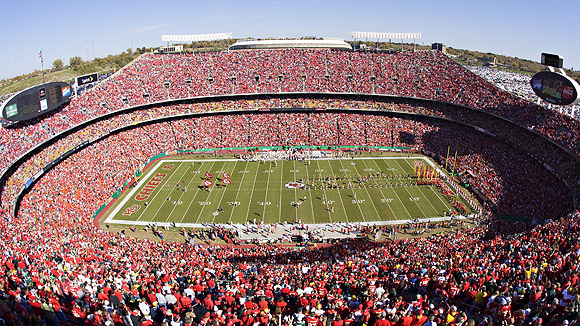 Bob Gretz is reporting that the Kansas City Chiefs have sold the naming rights to either Arrowhead Stadium or the field at Arrowhead Stadium, to a major national sponsor.
Word is that an announcement will likely come in conjunction with the Monday night game against San Diego on Halloween. No leaks on the name of the company involved, but the word is that it's a national name, not local, and that this company has not previously been involved in buying naming rights to sports facilities. I've been told it will be a very familiar name, one that fans won't have to use Goggle to discover what that company does.
Google, eh?
I would venture to guess that the team sold the rights to the field so that they can still keep with tradition and keep the stadium called Arrowhead. In instances like this, teams sell the naming rights to the field. When they do that, the name of the field usually comes first when it is referred to on television.
For example:
Invesco Field at Mile High.
Terrible.
If Bob is dropping a hint with the Google think then we could be looking at "Google Field at Arrowhead Stadium" or, God forbid, Google Stadium.
Excuse me while I go vomit.
Let this be a lesson to you, folks. Nothing is sacred to these guys but the almighty dollar.
I wonder if the tax payers who helped renovate the stadium are going to get a cut of this deal?
Way to go, Clark.
Tags: Arrowhead Stadium