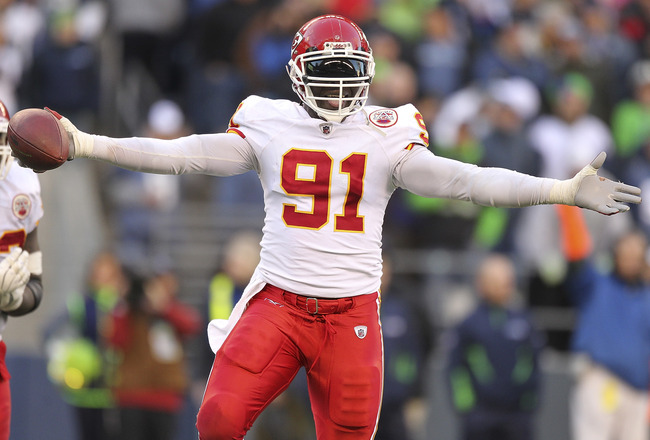 The Kansas City Chiefs took the first steps toward turning their season around when they defeated the Minnesota Vikings 22-17 yesterday at Arrowhead Stadium. For the first time all season, the Chiefs played as a team and got significant contributions from both sides of the football. It wasn't always pretty but the Chiefs showed signs of life, particularly during the second half.
We haven't gotten to give away many Arrowheads this season but today, there is a lot of love to go around. Here's who earned their Arrowheads on Sunday!
Ryan Succop
I was about to start to get really down on Succop, whom I have never been overly impressed with, after his slow start to the season.
Succop quickly erased those bad feelings and worries on Sunday by having his best game as a pro. Succop nailed all five of his FG attempts, including two from beyond 50-yards.
Succop accounted for 15 of the Chiefs' 22 points. Without his big game, the Chiefs likely don't win the game.
Confidence is very important for NFL kickers and going into yesterday's game, Succop was at a bit of a crossroad. Had he continued to struggle, the Chiefs may have started looking around for other options at kicker. Instead, Succop rewarded the team and renewed their faith in him by having a monster day. Big, big Arrowhead going to Succop!
Dustin Colquitt
Colquitt had a pretty good preseason but like the rest of the team, had been struggling entering Sunday's game.
Colquitt also bounced back in a big way. Of his three punts, two were inside the 20-yardline. He also booted an absolutely beautiful 61-yarder that dramatically changed the field position battle for the Chiefs.
For a team that was struggling on offense, Colquitt's contributions were big.
Tamba Hali
Hali looked back in form Sunday, sacking Donnavan McNabb twice and hitting the QB five times. We'll have his pressure numbers later this week when we get our report from Pro Football Focus but chances are, it will be a big number. Hali was in the backfield wreaking havoc all day.
Derrick Johnson
DJ was all over the place Sunday. He had seven tackles and two for a loss. He slithered into the backfield at one point and helped blow up a play. He also teamed up with Belcher to keep Adrian Peterson in check.
Jovan Belcher
You don't want Jovan Belcher dropping back into coverage ever, but if you need some stout run defense, he's your guy. Improve play on the defensive front has really helped Belcher shine the last two weeks. He tied Hali and Johnson for the team lead in tackles with seven.
Tyson Jackson
Another good game for Tin Man. While Jackson only had one tackle, he batted down a pass at a key moment and also generated a little bit of pressure, once flushing McNabb right into the waiting arms of Tamba Hali. If Jackson continues to improve, the Chiefs will be in much, much better shape.
Dwayne Bowe
Bowe caught five balls for 107 yards and a touchdown, including a beautiful 51-yard bomb where he broke two or three tackles to take it into the end zone.
Steve Breaston
Breaston showed up again for this week in what Chiefs fans are hoping will be a weekly event. After a slow start, Breason is showing why the Chiefs went after him in free agency. The speedy Breaston is a big play waiting to happen and as long as Matt Cassel keeps finding him, he should have a big impact on the offense going forward.
Keary Colbert
It is an unusual occurrence for three Kansas City Chiefs WRs to contribute in a single game. Usually it is one WR, a TE and a RB out of the backfield.
That was not the case Sunday. Todd Haley finally woke up and benched the totally useless Jerheme Urban and inserted Keary Colbert into the game. Colbert made the most of his opportunity, catching three of his four targets for 33 yards.
Colbert's contribution is amplified because the KC passing attack has been struggling so mightily. There is a chance the Chiefs will get Jon Baldwin back this week but how quickly the rookie will be able to make an impact remains to be seen. Colbert being a steady contributor in the passing game could help the offense keep ticking until Baldwin is ready. He can also give the Chiefs more options in case they want to run some four or five WR sets.
Regardless of how things turn out for Colbert, he's already proven himself more valuable than Urban.
Jackie Battle
I have to throw some love Battle's way. Not because I think he is that good of a player, but he came through yesterday by getting the tough yards the Chiefs needed to put the game on ice and when players come through, they get an Arrowhead.
I still think the Chiefs need to get themselves a running back if they hope to keep winning this season. I guess if given the choice between the two, I'd take Battle over Jones, if only because Battle will likely hold up throughout the entire season where Jones will wear down.
The Chiefs seem to be leaning Battle's way as well. When the game was on the line, they went with him over Jones, which I find telling. Jones only averaged 3.4 yards per carry so it might not hurt to give Battle more carries to see what he can do with them. He can't be any worse than Jones and besides, the Chiefs don't have any other options.
Todd Haley
I have to give the head coach an Arrowhead today. If we're going to hold him accountable for the bad, then we have to give him credit for the good.
I am still frustrated over the way he handled the preseason but all that is in the past now. The fact of the matter is, the Chiefs are still playing hard when they could have given up and credit has to go to Haley for that.
For this game in particular, though, Haley gets an Arrowhead for being a good coach. He drew up the play to Bowe that went for the winning TD on the sidelines. Haley noticed that the defense was cheating a little and told Bowe to run a hitch and Cassel to pump fake. It worked like a dream and the rest is history.
Well done, Coach.
Brandon Flowers
Flowers played hurt and he played well, defending two passes. What guts!
Brandon Carr
Carr had a crucial pick that helped keep the Vikings offense sputtering.
And last, but most certainly not least,
Matt Cassel
Cassel looked his usual, terrible self in the first half. Then, after Todd Haley yelled at him on the sideline for throwing the ball in the dirt instead of trying to make a play in the red zone, Cassel came alive. He gave a passionate locker room speech to his teammates and the QB came out firing.
Cassel's second half performance was that of a confident QB. He threw the ball downfield and made quicker, sounder decisions. With no Jamaal Charles, the Chiefs need Cassel to play like that all year if they want to have a chance.
I don't know if it was the fight with Haley that sent Cassel on the path to being productive but if it did, it worked. Confidence seems to be a huge part of Cassel's game, so if he can continue playing like he has something to prove, the Chiefs might be alright.
Those are my Arrowheads, Addicts. Did I miss anyone?
Tags: Kansas City Chiefs Matt Cassel Minnesota Vikings Todd Haley