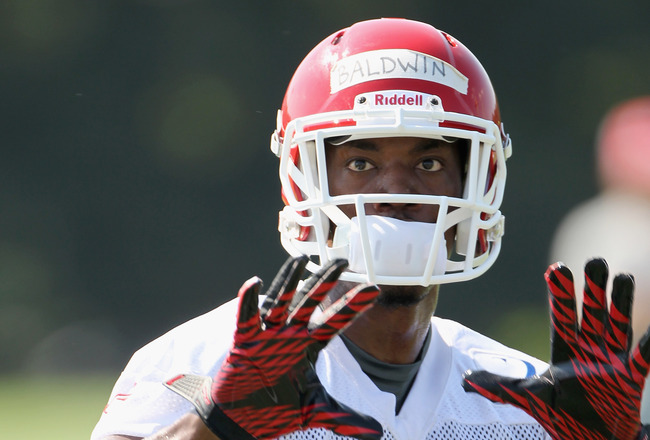 Kansas City Chiefs first-round draft pick Jon Baldwin is unlikely to see action Sunday when the team takes on the Detroit Lions.
Baldwin has been out since the preseason when he reportedly got into a "scuffle" with Thomas Jones. The said scuffle resulted in Baldwin having a cast on his thumb and wrist ever since.
That is still the case this week. Baldwin has been seen by various media members going through footwork drills on the sidelines at practice but he has been extremely limited. He obviously isn't catching any balls.
Baldwin was supposed to be a big target for Matt Cassel on the outside. It was expected that the rookie would pair with Dwayne Bowe and Steve Breaston to create a formidable passing attack for the Chiefs. Instead, Cassel is stuck with Jerheme Urban, a thus far underachieving Bowe and a slot receiver in Breaston who has yet to make any real impact.
It is hard to tell if Baldwin being in the lineup would make much of a difference for the Chiefs' offense. He is a rookie after all and some folks think the problems in the passing game lie more with QB Matt Cassel than his receivers.
Still, having Baldwin on the field probably wouldn't hurt.
At this point, however, it looks like Chiefs fans will have to wait at least another week before they get to see their first-round pick in action.