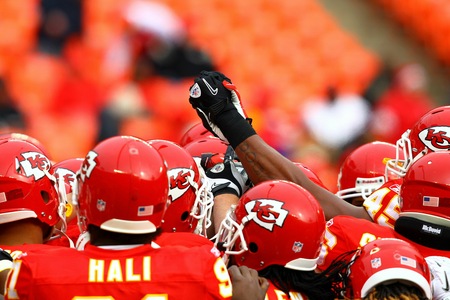 The Chiefs' season is not lost.
Don't get me wrong. It's bad. Eric Berry could be seriously injured. Tony Moeaki is lost for the season. The team can't tackle or move the football. They got blown out at home by a team that, while improved, probably isn't a Super Bowl contender. They've lost seven games in a row, in fairly ugly fashion. Five of those seven games were at Arrowhead. Two of them technically "didn't matter" but the starters still played poorly.
The hell of it is, crazy as it might sound, I still think the 2011 Chiefs are a much more talented football team than the 2010 Chiefs. Talent isn't the problem. The problem is a lack of preparedness, combined with a group of inexperienced players.
On the preparedness front, Todd Haley dropped the ball. I don't know exactly what he did but he messed up. That is clear. The team wasn't ready. As the San Diego Chargers have taught us year after year, no amount of talent can save you if you aren't ready to play football when it is time to play football. There is no excuse for a team as talented as the Chiefs playing as poorly as they did yesterday.
Still, the Chiefs did a lot of good this offseason. Cutting Brian Waters was the right move. Not re-signing Mike Vrabel was also smart. Drafting Justin Houston was brilliant. Jon Baldwin, if he can handle his off-field problems, could be a very good receiver. Drafting Rodney Hudson was a solid investment in the team's future. Re-signing Jamaal Charles at a bargain was shrewd. Going after Steve Breaston and Le'Ron McClain was also smart. Getting Jerrell Powe and Ricky Stanzi as project players at positions of need was the type of move good teams adding depth have to make.
It just didn't translate into good football Sunday. And it may not for a while.
There was even some good yesterday. Haley sneakily started Justin Houston over Andy Studebaker. It was the right thing to do. He had earned it with his play in the preseason. Sure, Houston played like a rookie starting his first game but he is still probably the best option. The sooner he can cut his teeth, the better. It was a bold, potentially costly move by Haley, but I respect it. I think it pays off down the line.
Jon Asamoah also got the start. Talented as he is, his play is likely to be a little up and down as he adjusts to playing full-time. Still, it was time to move on from Brian Waters. Another season of mediocre play from an aging Waters might have made the KC offensive line more consistent but it wouldn't have make Asamoah any better.
Another bright spot from Sunday was that Thomas Jones was truly a backup. Things got out of hand fairly fast and while Jamaal Charles could have maybe gotten a few more carries in the second half, the good news is that Jones getting carries at the wrong time was not the reason the Chiefs lost. If the team can turn things around a bit, I think Jones could have real value only getting a handful of carries a game. He has excellent field vision, he's just old. It looks like Haley has finally realized that and he is reacting accordingly.
The fact the offense is struggling actually makes a lot of sense. Matt Cassel is once again working with a new mentor. When all is said and done, Jim Zorn will probably make Cassel a better QB. For now, however, Cassel is in the middle of changing his golf swing. Cassel and Zorn haven't had nearly enough time together because of the lockout. On top of that, Cassel is learning to play with some new pieces in WR Steve Breaston and "WR" Jereheme Urban. He has a new G blocking for him and Barry Richardson at RT. He has to stop missing wide open WRs, but I wouldn't start dreaming of Andrew Luck just yet.
The KC defense may not be deep but they still have a ton of talent. Flowers, Carr, DJ, Hali and Berry can all be great. While nobody looked great playing defense for the Chiefs yesterday, these guys didn't just suddenly become bad football players. Tamba Hali looked a little rusty all preseason and the Bills double teamed him early. Still, Hali adjusted and found his way to the QB.
The fact of the matter is that the Chiefs are underachieving right now. Miserably. The combination of the bad preseason plan, some injuries, the lockout and some green players have left them reeling a bit.
But I'd rather have them be bad for a few weeks because of a lack of focus and preparedness than because the players just aren't any good. The 2008 and 2009 Chiefs were bad football teams. The 2011 Chiefs are a good football team playing bad football.
The good news is that could change at any time. They've got 15 games to go.